Alpha FX - Expectations-beating and LT Compounding Potential
High quality compounders are gems, but rare beasts for UK investors

High quality, compounding stocks are the holy grail for small cap investors. Many of these operate with disruptive business models and normally have some form of technology embedded that creates a barrier to entry. These stories can compound, year after year, for 10-20 years if onboarded at an early stage, and if the business models are profitable. Unfortunately for UK investors, while many of these business models exist, the cream of the crop are usually run as private businesses before being listed onto the US markets, rather than the UK ones, lured by the higher valuation multiples. But to do that you need critical mass and a market capitalisation over >£500m ideally. The most common mistake I've seen investors make with these stocks is selling out when the valuation starts to become toppy, failing to appreciate their ability to continue outpacing expectations. In my experience, when the sole reason for selling a stock is its valuation, when the growth runway is long, and the company is small, this is often a mistake.
But there are some in the UK markets and Alpha FX is an underappreciated choice
Because of this, these long term compounders are generally under £500m in the UK and are few and far between. There are several I like the looks of, including Sopheon (LON:SPE), Ideagen (LON:IDEA), On the Beach (LON:OTB), Bioventix (LON:BVXP), Zotefoams (LON:ZTF) and Tracsis (LON:TRCS). However, my pick of the bunch heading into the new year, is a £230m player called Alpha FX. The stock has stormed out of the gates since it listed in April 2017, raising £13m, but in my opinion, Alpha FX has all the hallmarks of a high quality compounder, with potential to smash current market expectations over the course of 2019. At 630p to buy, my price objective is 945p in one year's time. 

What does Alpha FX do?

Alpha FX (LON:AFX) is an FX provider. The company's heritage was in providing FX solutions (consultancy, technology platform, spot and derivative trades) to small and medium sized corporates, but has scaled rapidly, to an expected >£20m of revenues this year. Clients have also been scaling up, and disclosed names now include the likes of Asos, Halfords, Rotork, and Holland & Barratt. 
Does Alpha FX meet the usual criteria to be a long term compounder?

To try and illustrative Alpha's competitive advantage and why I think it has the hallmarks of being a compounder, I've broken down the criteria that I think a compounder needs to have.
1) What is the competitive advantage of Alpha FX?

Alpha brings high service quality, and new technology to, currently SME businesses in the realms of FX. At the moment, generally only large enterprises have proper FX controls in place, given their size, and typically use an in-house treasury team, or a bank as their control partner, the likes of Lloyds and Barclays being big players in this space in the UK. The corporate will often have multiple relationships over multiple geographies, with different banks or specialist consultancies. Just as is happening in new lending, and the payments industries, banks are being disrupted, also because their technology is decades old and they simply cannot compete. To top it off, FX management services are not profit leaders for banks, and so enterprises face questionable service quality. Should Alpha move into large enterprises, I suspect the same pattern would play out, with banks beginning to lose share (from 85% of the market at the moment) and unable to do much about it. However, for now, Alpha's focus is SMEs given it has been a small business, and these SMEs do not have proper FX controls in place. Yet if they transact overseas, or have costs overseas, small swings in FX can cost hundreds of thousands to millions per annum. Client retention rates stood at 97% in 2016. As Alpha continue to invest in new technological innovations, whether Alpha Pay, or PSD2, their competitive advantage only strengthens.
By way of customer example, this is from Halfords' head of tax and treasury: 
"One of the key differentials we perceived Alpha s being able to provider over other brokers was their portal. Developed in house and with resource dedicated to continue development bespoke to Halfords' requirements, the results to date have been outstanding"
2) Does Alpha FX already exhibit strong growth and can this continue?

Yes, the business has grown very strongly over the last few years. Growth in revenues last year was 60%, and in the first half of this year was 55%. Liberum forecast 52% for the full year.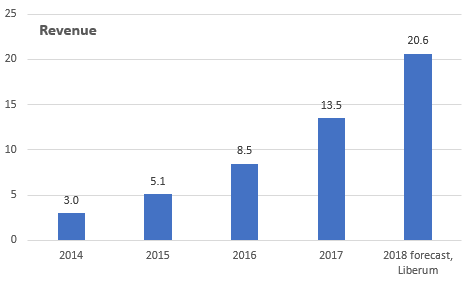 There are several reasons for why this can continue, and the business is accelerating, rather than decelerating. First, Alpha grows with its SME customers, so if they are growing overseas revenues/costs by 5% a year, then Alpha benefit from this. Secondly, Alpha usually gets 10-20% of a company's FX book to start with, maybe starting with their UK base. As they impress the customer, they can scale up towards being the majority provider of the entire FX book. So Alpha can grow within its customers it already has. Then there is new customer growth which is also strong. Clients in the first half of 2018 increased from 310 to 392. These three pipes of growth combine to provide a strong pipeline and good visibility. 
3) Does Alpha FX have a massive market to grow into?

Yes. Alpha still has under 1% of the total UK corporate FX market. In addition to this, Alpha continues to pursue new growth avenues, seeking to grab as much market share as possible, recognising the incremental cost of extra transactions it accomodates is low. Alpha has already begun initial expansion inroads into several other markets, still within its SME focus. For example, its UK institutional division was only launched in March 2018. As well, earlier this year, Alpha received approval from the FCA to be an Account Information Services Provider and Payment Initiation Services Provider, opening up new capabilities after PSD2 regulations from the EU. This means Alpha can now directly connect to client bank accounts and view balance and transaction data in real time, meaning more accurate FX products can be developed. Longer term, larger enterprises may be an option, though pricing there would likely be lower. Last year, only 5% of revenue was generated outside the UK, and so the European opportunity remains barely touched. Alpha has said it will set up a Canadian office late this year to look at the Canadian market, apparently very similar in structure to the UK.

4) What is the operating margin of Alpha FX and is it sustainable?

Operating margins have been between 40% and 50% over the last few years. Margins have come down from 50% to 42% at the first half of 2018. However, this is not because of competition in the market, it is because Alpha has been investing heavily into new staff (10 new staff, taking total to 61) and technologies. There is significant gearing in the business, and revenue per front office employee has increased from £284,000 in 2013, to £422,000 in 2017. 
Margins are sustainable. How can I say that margins haven't come down from competition, and won't in the future? Because of the business model. Alpha does not charge upfront or retainer fees, or access to its technology portal. That's thrown in for free and customers benefit over time from the continuing technology innovation that Alpha rolls out. Alpha charges on a percentage cut basis, taking a very small share of the value of each transaction. That can be as low as 0.2% for a spot FX transaction, or towards 0.6% for a more complex derivative forward transaction. That commission is the revenue line. Competition in the market would be shown in a reduction of those percentages, and slower revenue growth, not on internal margins, and so internal margins are purely related to operating costs. So margins are sustainable, though may continue to run closer to 40% in the short term as Alpha FX prioritises growth initiatives such as opening an office in Toronto.
5) How cyclical is Alpha FX today?

Not very cyclical at all. The percentage cut business model means that as long as Alpha's clients continue to transact overseas, or incur costs overseas, Alpha will continue to be generate revenues. And quite frankly, this does not significantly change in a recession. Sure, total client volumes may come down, but like we have seen with Visa and Mastercard, once you aggregate it, the business smooths out and is very steady. Add on top the rapid growth prospects from taking more FX book from existing clients, existing client growth, and new client growth, and cyclicality is not a factor at least over the medium term. With every client added, it becomes less and less of an issue, and as the average client size scales up, this is also true. 
6) Are Alpha FX's management competent and aligned to shareholder interests?
Yes. The CEO, Morgan Tillbrook founded the company in 2009, and owns over 26% of the stock.  Commercial director Jonathan Currie owns nearly 9%. Alpha also runs share schemes for almost all employees. The CFO, Tim Kidd, is the former Group Financial Controller and EMEA CFO for ICAP, and non-executive Chairman Clive Kahn is the former CFO of Travelex, and current CEO of Cardsave.
Institutional backing is very strong with Hargreave Hale, Soros Fund Management, M&G Investment Management, and Unicorn Asset Management all large holders of the stock, and strong names in the fund industry. There have not been notifications of holdings RNSs since the placing from new institutions, again lending support to the idea that these funds were keen to increase or match their existing exposure.
The most important consideration in the current climate - can Alpha FX beat estimates?
Yes, in my opinion. Alpha FX is under-covered and under-researched. Only one broker, Liberum, covers the company, and only one independent publication, Small Company Share Watch, has written on the company favourably. That is a good starting point.
However, Alpha FX trades on 25x Liberum's 2019 forecast. That will put many investors off as they simply don't want to pay a high multiple for stocks in the current environment. In reality, such a blanket approach is questionable (as most long term quality compounders have a high multiple, let alone one growing so strongly with such strong margins), but I can understand it.
Therefore, to be a buyer now I want to be able to see earnings forecasts likely to increase and bring that PE multiple down. And I think that is what we will see. I present my own forecasts versus Liberum's in the graphic below.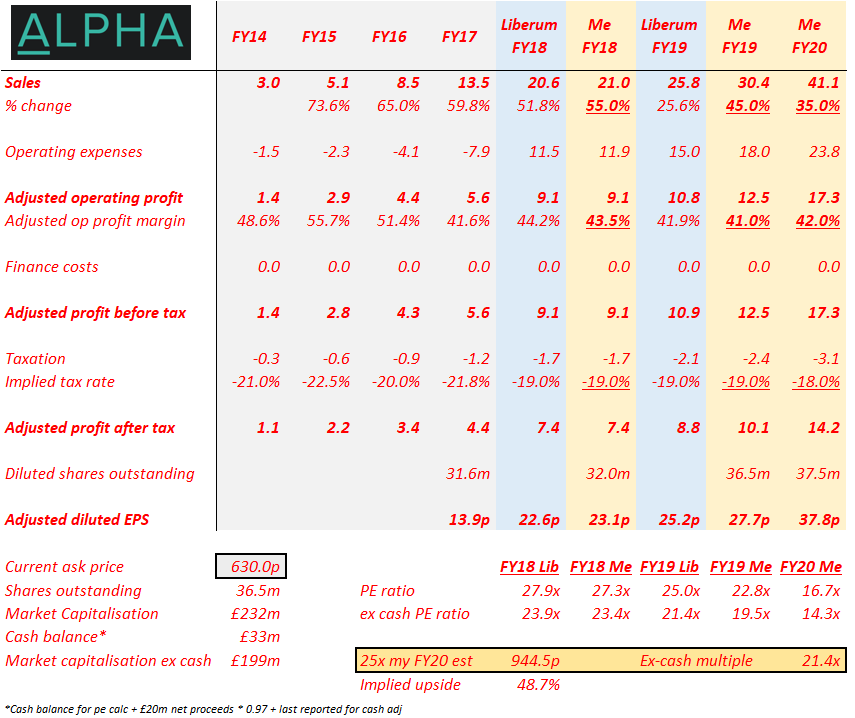 What's to note here? My FY19 EPS forecast is 27.7p versus Liberum on 25.2p. And my FY20 eps forecast is 37.8p. In other words, in one year's time, when investors are valuing stocks off an FY20 basis, the stock, if I'm right, will be valued on just under 17x earnings, versus 25x today, for growth still in excess of 30% and margins over 40%.
Why do I think Liberum's FY19 forecast is way too low (and they don't have an FY20 forecast). Growth is accelerating not decelerating. Growth was +55% in H1, and in September, Alpha FX released a trading update saying: "The Board is pleased to announce that trading for the month of September to date has been particularly strong as the positive impact from investments made in the first half has begun to accelerate. Given the strong sales performance, the Board anticipates that the results for the full year ending 31 December 2018 will be ahead of current market expectations." 
On top of this, continued new innovations are opening up Alpha to new clients. Alpha Pay, a new mass volume payment platform had created "a waiting list of businesses who have expressed a desire to work with Alpha, contingent on the product launching". This is a classic case of expectations being too low, similar to what we have seen at Games Workshop, and Fevertree in my opinion.
As well as this, I think institutions can see it. Alpha FX raised £20m gross proceeds in an accelerated book build a few months ago, at just a 3% discount to the prevailing share price. In other words, they announced at 10.24am that they were going to raise £20m, at a 3% discount, and this was taken up in full by institutions by 4.29pm. For such a small cap stock, this smells to me like the institutions wanted more stock, and given the lack of liquidity, were more than happy to pay up, even without a big discount. I even suspect they pre-flagged to Alpha their willingness to participate in any fundraising. Unquestionably, in my eyes, a positive. Yet Liberum have also not changed their forecasts to reflect that Alpha now has another £20m, less a few percent in costs, to use to accelerate growth. With revenues still only at £20m, the runway could be substantial. Alpha now has £33m, I estimate, in free funds. The share price rallied after the fundraising but has fallen back to the institution's buy-in price following market weakness.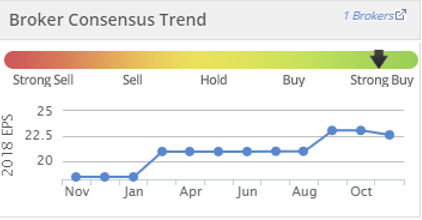 Indeed, EPS estimates have been trending up for Alpha FX over time, the only slight dip recently arising from the placing, now factored into EPS forecasts.
Stockopedia's algorithms are only moderately keen on the business. Quality rank is high at 77, as is momentum at 97, but the value rank is only 6, extremely low. This gives the overall StockRank of 66. However, this is often the case for asset light, high margin business models, as the likes of Price to Book and Price to Sales will screen badly. That does not detract from the true value of the business, and many of the world's best businesses like Microsoft are in fact asset light (value rank 20). 
Although Alpha FX trades on 22.8x my FY19 EPS estimate, it's actually one of the cheapest growth stocks around, with a sub 17x multiple in FY20. Excluding own cash, that multiple would be just 14.3x in FY20.

Which I think has been evidenced by its relatively solid price performance as many other growth names have sold off.  That does mean, that if those growth names rebound, then the potential upside is higher, but I will discount that for now. To put it into context, I estimate EPS will grow by over 35% in FY20, similar to sales growth. That means, that if we fast forward by 12 months, and my numbers are hit, and the market continues to value Alpha FX on 25x next year's earnings, the stock would trade at 945p, upside of nearly 50%. And that is the power of compounding.
My last thoughts... how does Alpha FX compare to other high growth names in the UK market? So I compiled a list of stocks with a £5bn>market capitalisation >£25m, revenue >£5m, and a PE ratio >20, with forward forecasts available.
In short, on my estimates, aside from Accesso Technologies, Alpha FX is the cheapest growth stock on an CY20 basis at 16.7x versus the group average at 22.4x, for margins 80% higher than the group average, and sales growth a factor of 4 higher than the average. My price objective of 945p is nearly 50% upside. On a 5 year horizon, if they execute well, that may just be the beginning.
Last year Alpha FX produced a middle of January trading update, so that is the next event to watch for. Disclosure note: I hold stock in Alpha FX.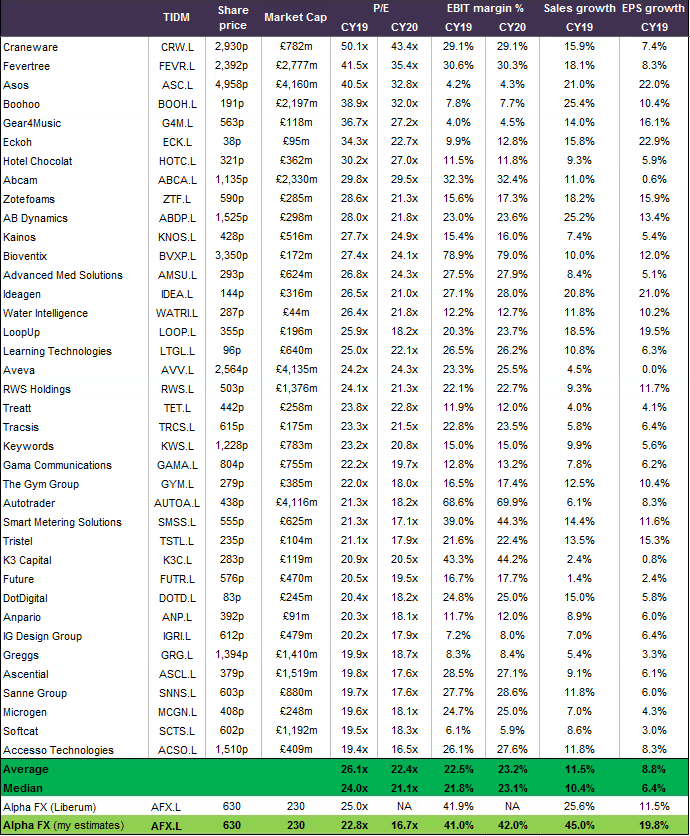 EPS growth only under 20% in CY19 because of dilution from the £20m share issue
Disclaimer:
As per our Terms of Use, Stockopedia is a financial news & data site, discussion forum and content aggregator. Our site should be used for educational & informational purposes only. We do not provide investment advice, recommendations or views as to whether an investment or strategy is suited to the investment needs of a specific individual. You should make your own decisions and seek independent professional advice before doing so. The author may own shares in any companies discussed, all opinions are his/her own & are general/impersonal. Remember: Shares can go down as well as up. Past performance is not a guide to future performance & investors may not get back the amount invested.
---
---
Alpha FX Group PLC is a corporate foreign exchange (FX) broker with a focus on helping its clients to control the impact currency volatility has on their business. The Company operates Alpha FX. Alpha FX develop tailored hedging programmes that help businesses balance when, how much and how far forward to buy currency. Its Approaches include Passive Hedging, Active Hedging, Hedge Accounting, Dispute Resolution and Key Features. Passive Hedging Strategies are focused on protecting businesses from the unpredictable nature of currency markets in order to provide a predetermined level of financial stability. Active Hedging Strategies provide the protection and stability of a passive strategy. Hedge Accounting helps businesses, who are susceptible to volatility in their Profit and Loss over their reporting period. Dispute Resolution provides a resolution to mis-sold FX options. Key Features include technical analysis, hedging facilities, settlement, reporting and pricing. more »

LSE Price