Amino Technologies: Stock Rank of 98 and down 20% in 4 months
As a newbie to the world of Stockopedia, and for my first post, I thought I'd gauge the thoughts of other, more experienced members, on the situation regarding Amino Technologies Amino Technologies (LON:AMO), in which I hold a long position.

Stockopedia rates it as a Super Stock, with a StockRank of 98.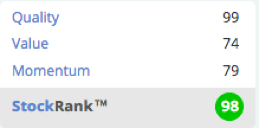 The company states that:

"Amino is an IPTV innovator - developing new solutions to enable operators to deploy high quality value added services that drive customer retention and growth. We now offer a range of devices, content and home monitoring solutions for the connected home - drawing on over a decade of IP experience and expertise. With over seven million devices sold – and over 1,000 customers in 100 countries - our award-winning solutions are trusted by operators and service providers worldwide."

It is the type of smaller company I like, with a Yield of c. 4%, and a low PE ratio of 12.9.

Its quality looks sound, and it has a wide moat, another attraction for me.

Financial Results:

On 11th July 2017, the company released its interim results for 6 months until 31st May 2017.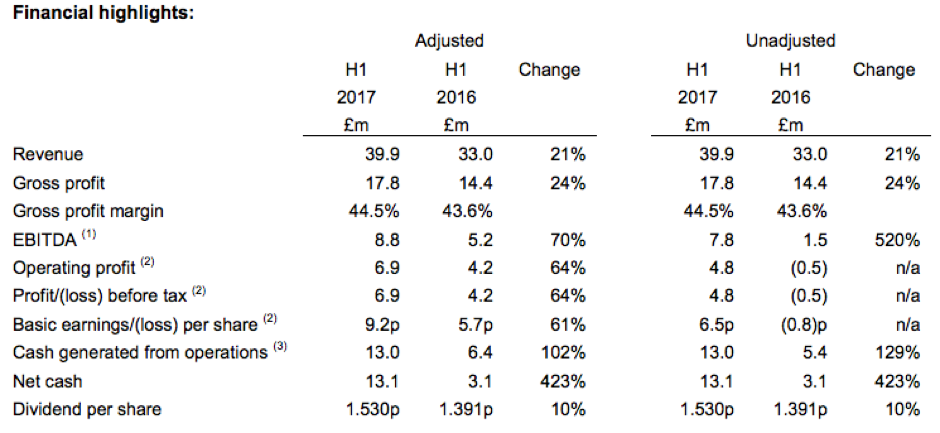 Highlights:

• Revenue growth of 21% to £40m, in line with management's expectations
• Underlying revenue growth of 4% in constant currency, in line with management's
expectations
• Gross margin increased to 44.5% from 43.6%, as a result of a higher proportion of mature
products sold in the period
• Adjusted profit before tax up 64% to £6.9m
• Adjusted basic EPS up 61% to 9.2p
• Adjusted cash generated from operations up 102% to £13m, representing 148% of adjusted EBITDA
• Net cash of £13.1m at 31 May 2017, up £6.9m since 30 November 2016, after paying final
dividend of £3.3m
• Increase in interim dividend to 1.530p per share, up by 10% year on year in line with the
Company's stated progressive dividend policy, and representing the sixth consecutive year
the interim dividend has been increased
• Strong first half performance as anticipated, executing on entry order book
• Continued sales growth in North and Latin America with growing traction in the transition from cable to IP
• Launch of Enable™…

Finish reading with a 14 day trial
Already have an account?
Login here