Cash/bonds just bore me… Event-driven investing is a far better alternative. It's low risk, low correlation, and it offers attractive annualized returns. But the safest short term event-driven investing is time & research intensive, and low absolute returns present a risk ('picking up pennies…'). Longer term event-driven/catalyst investing usually offers far better absolute returns, but at a price: i) increased market/economic correlation, and ii) no assurance your returns will be positive. I've written about thishere.
My solution: All I want is a low risk & uncorrelated investment which guarantees significant increases in intrinsic value over time. That's like asking for the sun, moon & stars…but here's a snap-shot of the ultimate in event-driven investments: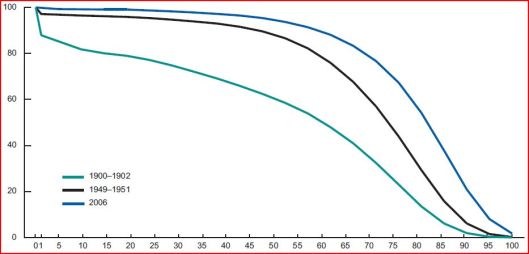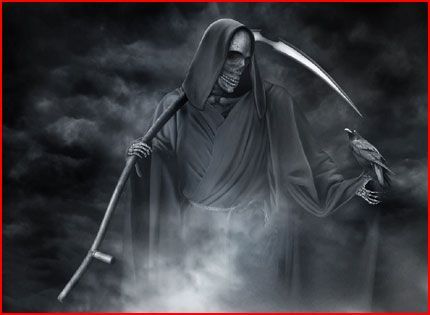 Recognize that? It's an example of this gentleman's calling card. Yeah, the Grim Reaper, our constant companion, as he patiently waits for our own ultimate event. The chart above was the evolving Life Expectancy (LE) curve in the US. Clearly, in the past century, we've learned to (on average) delay the Reaper's gratification. But with little success in extending the bounds of our mortality, and zero success in shifting that 0% survival rate. Death really is even surer than taxes…
But this very predictability brought forth a life insuranceindustry centuries ago. For a small/regular premium, people could assure themselves of an increasingly valuable financial asset which transforms into a large lump-sum payment upon death. Buying these life insurance policies from the original owner (and insured) is known as a life settlement – it offers an investment that steadily increases in value, is uncorrelated with the market/economy, and has a relatively predictable (& ultimately certain) value realization event.
But…find a perfect investment, and inevitably the promoters & brokers ruin it for everybody. And life settlements proved a real cess-pit: LEs were under-estimated, miscalculated, or simply falsified. Investors/funds over-leveraged themselves, and/or lacked the resources to maintain premium payments (in which case the policies would lapse!). Viatical settlements were all the rage, only for the insured to live another decade or two as new…

Unlock this article instantly by logging into your account
Don't have an account? Register for free and we'll get out your way
Disclaimer:
As per our Terms of Use, Stockopedia is a financial news & data site, discussion forum and content aggregator. Our site should be used for educational & informational purposes only. We do not provide investment advice, recommendations or views as to whether an investment or strategy is suited to the investment needs of a specific individual. You should make your own decisions and seek independent professional advice before doing so. The author may own shares in any companies discussed, all opinions are his/her own & are general/impersonal. Remember: Shares can go down as well as up. Past performance is not a guide to future performance & investors may not get back the amount invested.
---
---