Any fizz left in mid-cap beverage stocks?
Warren Buffett's long-term investment in the iconic soft drinks group Coca-Cola has paid off in spades.  There are currently four mid-cap soft drinks groups listed in London: Fever-Tree, AG Barr, Nichols and Britvic.  They have all delivered impressive long-term shareholder returns but have mixed international growth prospects.

Soft drink companies make non-alcoholic beverages and have benefited from strong consumer brand loyalty.  In this article I will examine of the strengths of the four UK mid-cap soft drinks groups, their prospects for growth and current valuations.
Sector headwinds include changing consumer preferences and the UK levy on sugary drinks, introduced in April.  New distribution channels have also been a challenge with discount supermarkets, for example, copying the fruit drink brand Robinsons.
---
Shares Awards: If you'd like to help support Stockopedia, you can vote for us in 'Best Investment Software Programme' (Category 15) and 'Best Customer Service' (Category 7) at the Shares Awards. Here's the link.
---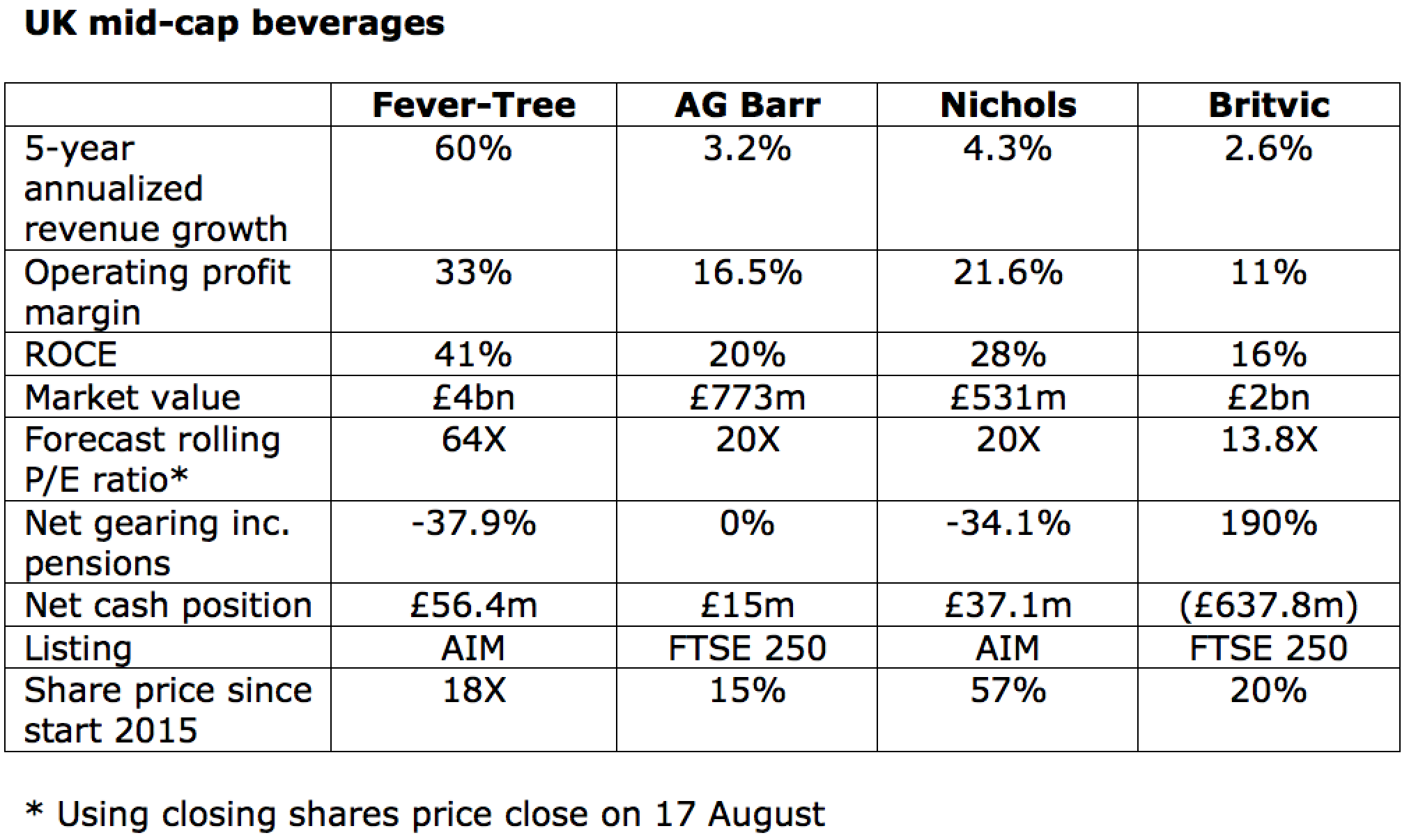 AG Barr: IRN-BRU leads in Scotland
AG Barr's was established in 1875 and its most important brand, IRN-BRU, famously outsells Coca-Cola in Scotland.  IRN-BRU sales rose 8% in fiscal 2018, hitting a new record, and is "seen by many as part of the culture of the Scottish nation."
The group launched no sugar IRN-BRU XTRA in 2016 and the sugar content of original IRN-BRU has been reduced by half.  Other brands include Strathmore mineral water, Rubicon exotic fruit juice and the fast growing cocktail mixer brand Funkin.
The group also has long-term partnerships with Rockstar, Snapple, Bundaberg and San Benedetto (from January 2018). AG Barr's share of the UK soft drinks market rose to 3.3% in fiscal 2018 from 3.1% in the previous year.
Group revenue fell in fiscal 2016 and 2017 but increased 8% in fiscal 2018 and is up 5% in the first half of fiscal 2019.  Rest of World sales (outside the UK) are based on an "export-led model" and rose 3.8% in fiscal 2018 to £10.9m i.e. 4% of total revenue.
AG Barr's operating profit margin is solid at 16.5% and the ROCE respectable at 20%.  The circa 20X forecast rolling P/E reflects the unassailable position of the IRN-BRU in Scotland and a modest net cash position on the balance sheet.    
AG Barr's brands


Unlock the rest of this Article in 15 seconds
Already have an account?
Login here