AO World (LON:AO.) is an online electrical retailer. It describes its mission as "to be the best electrical retailer in Europe. It may well be succeeding in that mission, claiming industry-leading scores on customer review websites and very high net promoter scores. The price of delivering that level of service, however, as I will set out below, is that is a loss-making business that seems structurally incapable of ever delivering a profit.

AO started out in the UK business, and the chart below shows revenue and gross margin progression for this division.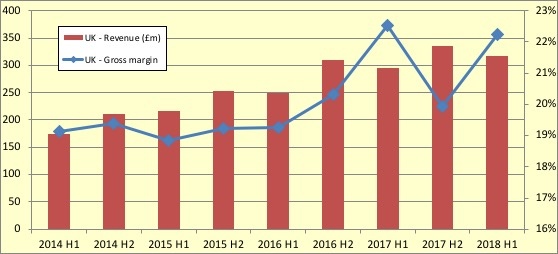 As can be seen, revenue has grown consistently period on period, although this growth is showing signs of running out of steam in the last twelve months, with 2017 H2 just 8% ahead the corresponding prior period, and 2018 H1 just 7% ahead. Margins are reasonable and have averaged over 20% for the last four half year periods. The growing importance of "Black Friday" to this business can be seen in the escalating seasonality in the chart, with an H2 peak in revenue and fall in gross margin.

The Europe division serves Germany and The Netherlands and is performing to a much lower level than the UK division, as illustrated below.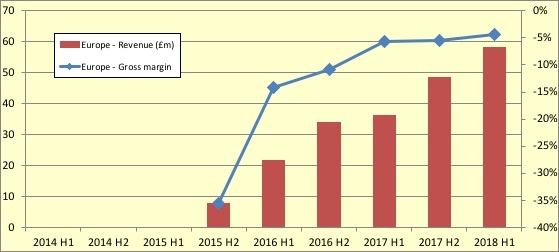 Revenue is rising rapidly, at a far greater rate than the UK, but gross margins have been consistently negative.

Pause a moment to consider the implications of that: it costs AO more money to source the products and deliver them to the customer than the customer pays them for it. In other words, even before allowing for overheads, they are selling their products for less than they cost them. Not much wonder revenue is growing so strongly.

Now, turning to expenses, this are split into three categories: advertising, warehousing and other expenses. For the last category, I have backed out share-based payment charges, "strategic post go-live costs", depreciation and amortisation, to try and arrive at a level of underlying cash expenses. These three categories are charted below, relative to revenue. I have also added a trend line for each one.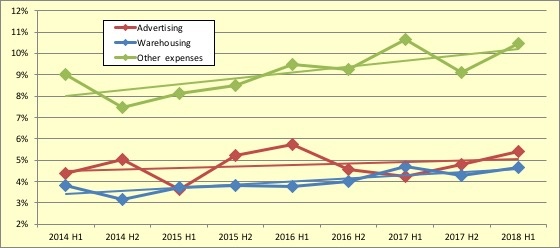 Remarkably, all three of these expense categories are trending up. AO manages to achieve reverse operational gearing in every component of its overheads.

Following a fundraising last year, AO has pots of cash and is not going to go bust any time soon. Yet there is nothing about its performance that suggests there is any sort of viable business here.

With a market cap of £640m, NTA of £25m (and falling daily), and a business that is, in my view, worthless, I consider this share to be massively overvalued.
I am short from 136.96.
Disclaimer:
As per our Terms of Use, Stockopedia is a financial news & data site, discussion forum and content aggregator. Our site should be used for educational & informational purposes only. We do not provide investment advice, recommendations or views as to whether an investment or strategy is suited to the investment needs of a specific individual. You should make your own decisions and seek independent professional advice before doing so. The author may own shares in any companies discussed, all opinions are his/her own & are general/impersonal. Remember: Shares can go down as well as up. Past performance is not a guide to future performance & investors may not get back the amount invested.
---
---

AO World Plc is an online retailer of electrical products. The Company operates through two segments: online retailing of domestic appliances to customers in the UK, and online retailing of domestic appliances to customers in Europe (excluding the United Kingdom). The Company offers over 5,500 stock keeping units (SKUs) in the United Kingdom, approximately 2,000 in Germany and over 600 in the Netherlands. The Company offers a range of ancillary services, such as customer finance options, an unpack and recycle service, product care packs, and disposal and connection services. In the United Kingdom, the Company operates in approximately three categories: Major Domestic Appliances (MDA), Small Domestic Appliances (SDA) and Audio Visual (AV). The MDA market offers built-in appliances, such as dishwashers. The SDA market comprises small appliances, food preparation and floor care. The AV market includes television, audio, set-top boxes, digital versatile disc (DVD) and Blu-Ray players. more »

LSE Price