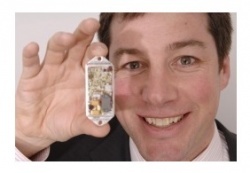 Advanced Power Components (LON:APC) founded in 1982 is an AIM listed specialist distributor of electronic components and is a company I have followed for a number of years.  As a business, APC is split into a number of autonomous units, who supply a wide range of specialist components and equipment to a wide range of customers within different sectors such as, aerospace, defence, display technology and specialist industrial and commercial markets.  However, although contributing, the components side of the business is not the part of the businesses that interests me the most as an investor, it is more the diversification strategy followed by APC which has resulted in a controlling interest in three subsidiaries within the energy saving products and technologies market.
Following the third substantial reported order for LED lighting products from a supermarket chain through the Minimise brand, Mark Robinson the APC Chief Executive Officer has taken time out to discuss various aspects of the business, including, the LED orders, QV Controls, Minimise energy services and funding for growth:
Q1. How are the general trading conditions for the core components business? Do you have any thoughts on potential market or brand consolidation going forward?
The general trading conditions in the electronic component distribution sector have been tough to say the least for the past two years. AFDEC (Association of Franchised Electronic Component Distributors) statistics indicate that monthly sales have declined by 26% during the previous 24 months. Our distribution business has declined by less than 10% over the same period indicating that we've increased market share which is some consolation. We would expect this to mean that we have the potential to maintain this increased market share when the market begins to grow again, which I believe will coincide with an improvement in general economic conditions.
As far as brand consolidation is concerned, we have done some of this internally over the past couple of years as part of reducing management overhead but we still have specialist technical sales people focussing their efforts on promoting the brand and the products in which they have a high level of expertise. This is critically important to us as consolidating the brands and have everyone selling everything would ultimately dilute the expertise we bring to niche markets which is ultimately why we exist .
Q2. Can you please explain…

Unlock this article instantly by logging into your account
Don't have an account? Register for free and we'll get out your way
Disclaimer:
This content has been created for information purposes only, and is NOT, in any way, a recommendation to invest.  This communication is a snapshot of a certain aspect of a discussed business at a moment in time, and is merely a basic starting point for research.  The article/thread has been created with honesty and integrity in mind and is based on publically available information sourced in relation to the title, such as from, RNS announcements, published reports, management comments, analyst reports, media coverage etc.  To this extent the author who has written the piece in good faith accepts no liability for the accuracy of the information and urges all readers to verify the content independently.  Please note that the value of investments may fall or rise and you may not get back the amount originally invested, or in some cases your investment may be wiped off altogether.  When investing, bear in mind that past performance is not a guide to future performance and that qualified independent financial advice should be sought before buying or selling shares.  The Author of this article may hold shares in the companies discussed.
---
---

APC Technology Group PLC is a United Kingdom-based company, which provides design, specification and distribution of electronic components and systems, lighting technologies and connectivity products. The Company's product ranges from critical components and Internet of Things (IoT) solutions to light emitting diode (LED) lighting. The Company's specialist electronic component distribution business, trading as Advanced Power Components (APC), is a distributor of specialized electronic components. APC Lighting Technologies trades as Minimise Energy Limited (MEL), which is engaged in the design, specification, supply and installation of individual LED projects. The Company, through Minimise Solutions Limited, offers advisory services to monitor, measure, analyze and verify energy and water usage. The Company, through EEVS Insight Limited, offers energy savings solutions. The Company provides services to the defense, aerospace, industrial, real estate, logistics and healthcare sectors. more »

LSE Price