Introduction
The past decade saw 80 listings originated from China and over this period 45 companies have left the market leaving shareholders empty.
Back then, China was the engine of economic growth for the world economic and was growing four times faster than the UK.
Therefore, it made sense to invest in China because it equates to higher stock returns.
The UK investors had learned their lessons and stayed away from Chinese AIM businesses, even if it has a significant cash balance and orbital growth prospects, these financial results can't be trusted any longer!
They have stayed away!
You don't need to talk to the fishes to know Aquatic Foods smell fishy
Despite a lack of interest from the UK investors, the Chinese did not shy away from the UK stock market, especially the AIM market. One of these companies, in particular, is called Aquatic Foods, which is today's assignment.
So, a twenty minutes skim at Aquatic Foods statements and annual reports tell me several worrying things.
These are:
1. Strange asset turnover numbers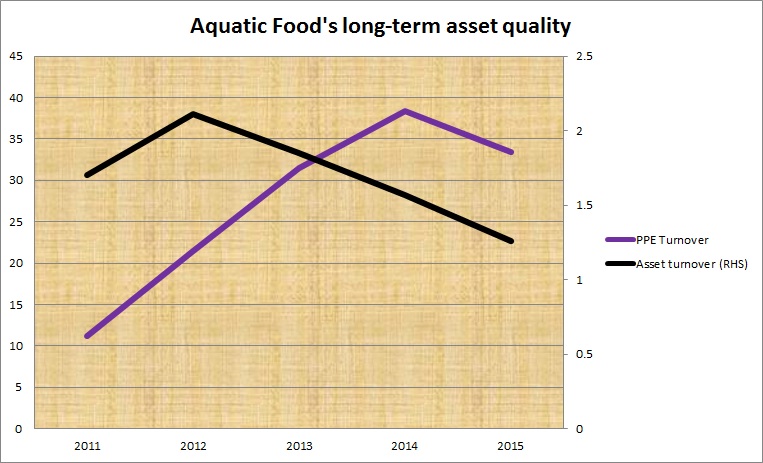 Source: Aquatic Foods annual reports (Graph reconstructed by the writer.)
Aquatic Foods monstrous sales growth didn't stop its asset turnover from declining at an alarming rate since 2012.  
On a separate measurement, Aquatic Foods grew sales by 354%. Therefore, measuring against Property, Plant, and Equipment (PPE) showed the opposite result it jumped by 400%, before declining slightly.
This led me to question how it was possible to triple sales, but not add additional capacity because the value of its PPE has stayed the same.  
Unless fish prices jumped by 300% or Aquatic Foods were operating at a 20% capacity, I can't see how this could happen!
2. Dodgy dividend policies
If a business grew cash in the bank at a compounded rate of 46% per year in the last five years to £50m, but paid under a million pounds in dividends since its IPO, this raise a major red flag.
A bigger alarm is Aquatic Foods paying a much larger dividend three years before its IPO (See it for yourself):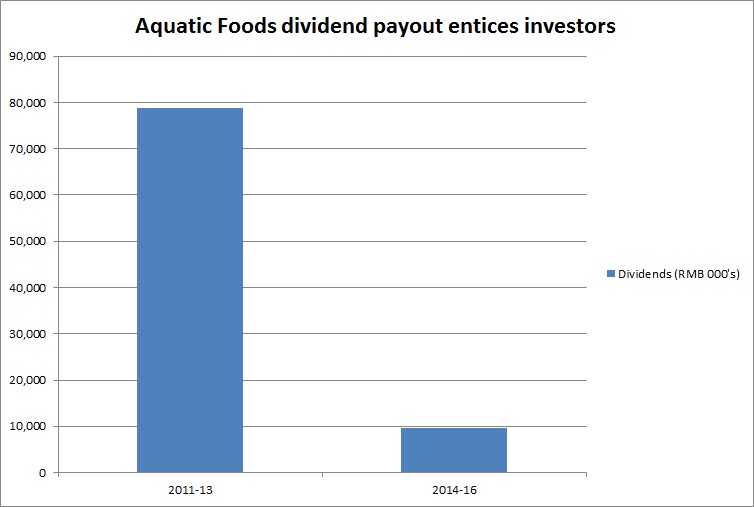 Source: Aquatic Foods annual reports (Graph reconstructed by the writer.)
*2011-2013 dividends total £9m.
A normal growth business pays higher dividends in future years, not in past years!
Another contradiction is calculated using return on retained earnings (%), if the % is high, it should seek more investment to maximise return.
But, when returns are low, Aquatic Foods should return dividends to shareholders.
| | | | | | |
| --- | --- | --- | --- | --- | --- |
| Item | 2011 | 2012 | 2013 | 2014 | 2015 |
| Return on retained earnings (%) | 92.2 | 97.4 | 63.7 | 42.7 | 31.1 |
The funny thing is Aquatic Foods paid dividends during periods where they should re-invest, but cut down dividends payout when it can't get superior returns from new investment.
3. Deposit rate + Finance income not matching
Aquatic Foods earn 1/10 of what it should make if it invested in a 1-year deposit rate account in China.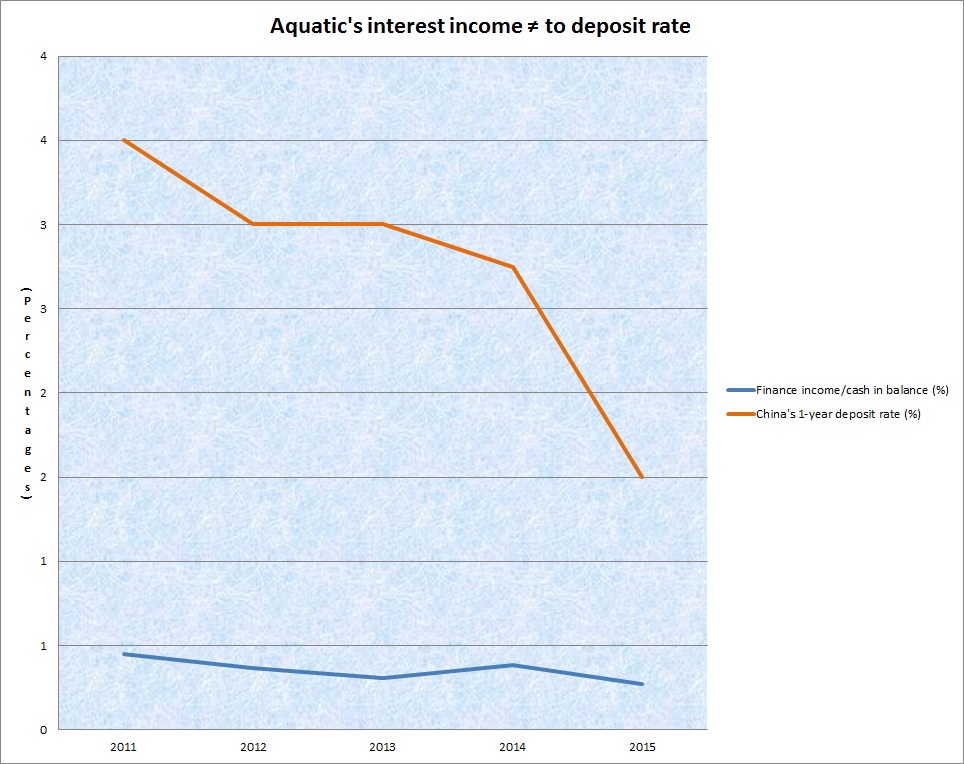 Source: Aquatic Foods annual reports (Graph reconstructed by the writer.)
Aquatic Foods's cash balance earns less than 1% in interest in the past five years, while Chinese 1-year deposit rate is four times as large.
4. Working capital mismanagement
An assessment of Aquatic Foods working capital management reveals a somewhat surprising revelation.
Back in 2011, its working capital turnover was 6.12 meaning management is highly efficient, as it optimises their operations.
Over the years, its working capital turnover has declined to 1.85 meaning it either has too many receivables or inventories, but loaded with "excess" cash.
They should return the cash to shareholders. Instead, it is earning less than 1% from the bank.
5. Market Value
Aquatic raise £9.3m in the AIM Market. The IPO price is 70p/share = £79.3m. Today, its 12.5p/share = £14.15m, a fall of 80%!
This is a company with net earnings growth of 29%/year for 5 years. Its latest annual profit of £15m is greater than the market capitalisation!
On a free cash flow basis, it generated £21m in 2015.
Where is the logic
With a valuation this low and its earnings so high, its value should exceed £100m (easy), instead we got a business that is trading for "FREE" to market investors.
This is because liquidating the firm would realise £35m (after debt repaid) earning shareholder 2 and a half times its money back.
But, investors wary of other Chinese firms like Naibu and Camkids, both reported large cash positions suddenly went bust!
So, this is a company showing similar symptoms.
Fun Facts logic
1. Cash grew from 57m RMB to 153m RMB in 2011-13, when it paid out 78m RMB in dividends in the period.
But cash balance increased from 193m RMB to 380m RMB in 2014-15 but manages to pay ONLY 7.6m RMB in dividends.
2. Aquatic manages to grow cash balance faster by not collecting from its receivables which have increased by 750% compared to net sales 354%.
Also, it pays its suppliers, as payables grew by 265%.
The only explanation is the 85m RMB raise during its IPO.
3. For a business that relies on processing plants to turn raw fish into frozen products, its CapEx appears non-existent, till it raise money from AIM investors and it decides to invest in capacity.
Verdict: Avoid the stock at all costs, because delisting is its next stop.
Disclosure
I wrote this article myself, and it expresses my opinions. I am not receiving compensation for it. I have no business relationship with any company whose stock is mentioned in this article.
Plus, I do not own the stock of the company mentioned, unless stated.

Disclaimer:
By reading my articles and newsletters, you agree to use the research of Walbrockresearch.com at your risk. The purpose of this site is to educate and entertain readers. In no way, we are giving investment advice though the information provided is to my knowledge accurate at the time of the report. You should do your research, or seek advice from qualified professional investment advisors.
---
---

Aquatic Foods Group Plc is a marine foods and seafood processor and producer, supplying its products to export and local markets. The Company also processes and trades other aquatic products, agricultural and meat products. It geographical segments include PRC and Outside PRC. Its product categories include Fish, Sea Cucumbers, Cephalopods, Shrimp & Shellfish, and Others. Its products are processed frozen seafood, seaweed-based foods and marine snack foods. It has over 50 regional distributors, covering approximately 16 provinces, municipalities and autonomous regions in China. Its subsidiaries include Yantai Kanwa Food Co., Ltd, which is engaged in processing and trading of aquatic products agricultural and meat products; Yantai Zhenhaitang Foodstuff Co., Ltd, which is engaged in trading and distributing of processed frozen aquatic products and pre-packaged food, and Hong Kong Hanhe Holding Company Limited and Aquatic Foods Group PLC, which are engaged in investment holding. more »

LSE Price