Are ASX: GXL and ASX: VHT good to buy in FY19
With FY19 already being entered into, let's look at some stocks that market is considering for a punt in the coming time - firstly, Greencross Limited (ASX: GXL), a one stop-shop that relies on its integrated pet care model driving 9% growth in the revenue of the group, has caught many eyes. Group's like for like (LFL) sales growth of 4.5%, 7.5% LFL sales growth at integrated sites vs 3.3% at standalone sites have been key, as at 42 week trading update. 45 in-store clinics have been opened in Australia and New Zealand, and 18% stores have an in-store clinic. 92% increase in Australian online share has been driven by click and collect. 4.0% LFL sales growth was supported by a strong Christmas trading period and 6% revenue growth. The retail gross margin stands at 47.4%, and a double-digit growth in retail services revenue was indicated.
The Australian veterinary division growth drivers are performing well, with 5.9% LFL sales growth and 14% revenue growth. In-store clinics delivered over 40% revenue growth and the margins were seen to be meeting expectations. Specialist and emergency hospitals achieved 31% revenue growth with the network expansion continuing to grow. After soft start to the year, New Zealand is bouncing back with 11% revenue growth and 4.5% LFL sales growth.
CEO of Greencross Limited, Mr. Simon Hickey, however, downgraded the profit guidance recently by about 9 percent while GXL has been the target of short sellers in the meantime. He has also unveiled plans to cut costs by about 5 percent as part of a strategic review. The profit downgrade has led the stock price plunging and this happened as the group faced challenging conditions driven by high level of competition. Now the board is trying to reposition Greencross as the structural changes enter the industry including more consumers buying products online. ASX: GXL stock traded at a market price of $4.360 as at market close on July 16, 2018, and has an annual dividend yield of 4.44% which is fully franked. Looking at the shortcomings, it might be key to wait for some more positives or a turnaround while the group will release full year result on August 20, 2018. FY18 EBITDA is expected to be $97 million and $100 million owing to non-cash impairments.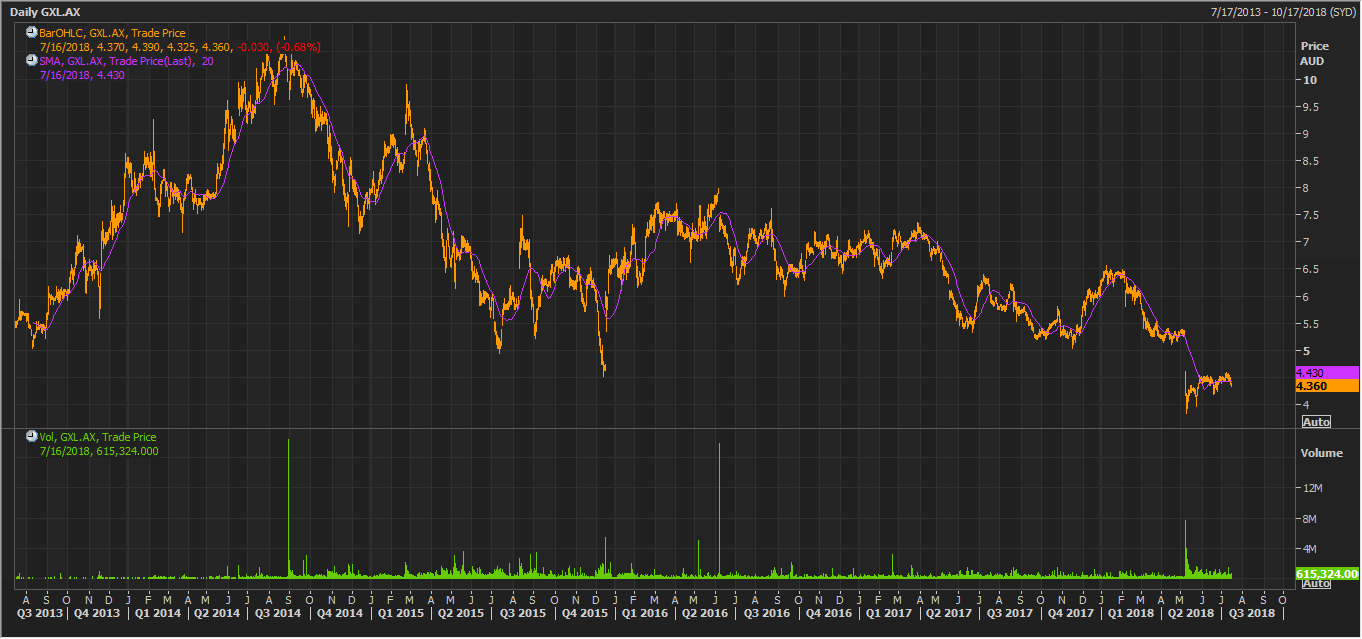 GXL daily price chart as at July 16, 2018, (Source: Thomson Reuters.)
The other stock…

Unlock the rest of this Article in 15 seconds
Already have an account?
Login here