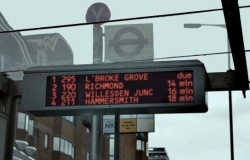 It is often said that "there are plenty of opportunities" in the equity market or that "it doesn't matter when you miss an opportunity, because there'll be another one along in a minute". Indeed that is observably true because, in line with the old proverb that "it's an ill wind that blows nobody any good", there will always be some company somewhere benefitting from whatever turn of events has occurred.
Indeed, it is usually so often true that people get quite blasé about it - and they simply assume that the market is replete with good opportunities all the time. But is that true?
Some people will know that at one time I was a transport planner......but you probably won't know that 30 years ago I did some of the earliest pioneering work in trying to mathematically quantify the timekeeping qualities of London's buses. The big problem/joke at the time was that the buses frequently turned up in bunches (3 or 4 at a time), followed by a long gap.....and then followed by another bunch. There were a host of behavioural and mathematical reasons for this and, these days, the vast majority of such bunching has become a thing of the past. Indeed it has become true that "there will be another one along in 10 minutes", because considerable effort and technology is now applied to keeping bus headways as constant as possible and in line with the advertised timetable.  In fact we have become quite used to it, just as we have with the regular appearance of  opportunities for stock market investments.
But what if the stock market (or the bus network) were to lose the factors that keep fresh boarding opportunities appearing at regular intervals? What if the markets (or the bus network) suddenly became more random, unpredictable and uncertain? And what if we face an unexpected dearth of opportunities for jumping aboard and going "somewhere nice"?
I wonder whether we might be on the cusp of such changes for the markets.
It seems to me that low interest rates, limited lending, consumer squeezes and growth concerns are all beginning to take their toll on equity markets  - and the result is that we have more randomness, with hopes being raised and swiftly dashed for both individual stocks and the markets as a whole.......and share prices (broadly speaking) just wandering around and going nowhere in particular.
Certainly I…

Unlock this article instantly by logging into your account
Don't have an account? Register for free and we'll get out your way
Disclaimer:
As per our Terms of Use, Stockopedia is a financial news & data site, discussion forum and content aggregator. Our site should be used for educational & informational purposes only. We do not provide investment advice, recommendations or views as to whether an investment or strategy is suited to the investment needs of a specific individual. You should make your own decisions and seek independent professional advice before doing so. The author may own shares in any companies discussed, all opinions are his/her own & are general/impersonal. Remember: Shares can go down as well as up. Past performance is not a guide to future performance & investors may not get back the amount invested.
---
---