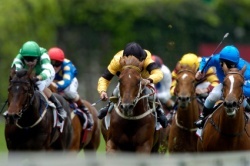 A simple question and easy to answer. "I am an investor of course, I don't throw my money around willy nilly as if I'm betting on a horse." However if we delve a little deeper we can uncover the characteristics of a successful investor and then measure ourselves against these qualities to see how we measure up.
1. System
Successful investors have a "system" that gives them an edge and tips the probability of success slightly in their favour. It is this edge that leads to the steady accumulation of capital over time, rather than the erosion of capital over time. When I say "system" it could be a process/methodology/algorithm or an automated system or whatever else you choose to label it as. What I mean by "system" is a defined process of identifying stocks to invest in based on predetermined criteria.
You should write it down and be able to easily communicate it to someone else (but if you're like me you won't as you don't want to give away your competitive edge).
2. Research
Once your system has identified a potential investment opportunity then you need to research that stock. What industry does it operate in, what countries does serve, what are it's future business prospects, who are the management, what's the opinion of the management team, what do the latest published accounts say about the business, are there any hidden statements buried in the notes to the accounts, do the management have large shareholdings…..?
Then you need to apply your general economic knowledge to your potential investment opportunity. Is it a bank or exposed to banks? Is it a retailer or exposed to retailers? Does it have significant sovereign debt exposure? Does it have refinancing requirements coming up?
General research is an ongoing task and something that I love doing anyway, this is the fun bit! Reading the FT, investment websites, business news stories, news blogs and discussion boards. The key is to pick up general news, trends and sentiment, but not to let it unduly influence your investment decisions (unless of course the news directly relates to your potential investment).
3. Understanding
I mentioned reading the company's accounts and annual report. Reading a set of accounts is not straight forward the first time but you need to be comfortable with looking through the accounts as this is a way of identifying concerns that the directors don't…

Unlock this article instantly by logging into your account
Don't have an account? Register for free and we'll get out your way
---
---