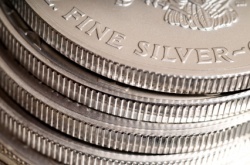 Arian Silver (LON:AGQ) has poured the first batch of sliver concentrate from its San Jose mine, as the explorer transitions to emerging producer. Arian has produced 120 tonnes of silver bearing concentrate and has sold approximate 68 tonnes, since production commenced at San Jose in October 2010. The plant is currently undergoing optimisation testing, with normal production of silver concentrate expected to be around 125 tonnes per month containing a minimum 400 ounces of silver per tonne. 
Ore for production is currently mined from two mining blocks which have the potential to supply 500 tonnes of ore per day and the company is already planning to increase this daily figure to 1,500 tonnes per day with additional milling capacity that is currently under assessment. This is a significant step-up from the current plant configuration which would when implemented boost cash flow to the company in a major way.
To aid in quality and assay control the company is now using its own onsite semi-mobile laboratory. Use of an onsite laboratory will improve the turnaround time for assay results from the current two plus weeks to around 48 hours.
To support the proposed upgrade in the plant capacity the company is partway through an approved 10,000 metre drill programme at the San Jose vein.  Grades along the San Jose vein have been exceptionally high and suggest that vein will be a major silver producer. 
It is our opinion the current investment environment driving the silver price should continue to support a robust price going forward. With silver remaining at elevated prices, we expect Arian's operating margin and free cashflow from operations will only improve over the coming months.
San Jose has an indicated mineral resource of 2.2 million tonnes of ore showing 127.7g/t silver, 0.51% lead and 0.88% zinc for approximately 9 million ounces of silver. The inferred resource stands at 11.2 million tonnes of ore showing 93.4g/t silver, 0.39% lead and 0.83% zinc for approximately 33.8 million ounces of silver.
These resource numbers are based on 10% of the Sane Jose resource having been resource definition drilled. We are of the opinion the current round of drilling will significantly boost these numbers when the company next upgrades its San Jose resource.
Not to be outdone the Calicanto project is showing its potential, with four silver veins discovered in a vein…

Unlock this article instantly by logging into your account
Don't have an account? Register for free and we'll get out your way
Disclaimer:
Fat Prophets has made every effort to ensure the reliability of the views and recommendations expressed in its reports. Fat Prophets research is based upon information known to us or which was obtained from sources which we believed to be reliable and accurate at time of publication. However, like the markets, we are not perfect. This report is prepared for general information only, and as such, the specific needs, investment objectives or financial situation of any particular user have not been taken into consideration. Individuals should therefore discuss, with their financial planner or advisor, the merits of each recommendation for their own specific circumstances and realise that not all investments will be appropriate for all subscribers. To the extent permitted by law, Fat Prophets and its employees, agents and authorised representatives exclude all liability for any loss or damage (including indirect, special or consequential loss or damage) arising from the use of, or reliance on, any information within the report whether or not caused by any negligent act or omission. If the law prohibits the exclusion of such liability, Fat Prophets hereby limits its liability, to the extent permitted by law, to the resupply of the said information or the cost of the said resupply. 
---
---

Arian Silver Corporation is an exploration and development company. The Company is engaged in the acquisition and development of mineral resource assets. The Company is focused on the development of the San Jose project. It has approximately 20 owned mining concessions split between distinct project areas, including Calicanto project, San Celso project, Los Campos project and Others. The Calicanto property consists of over seven contiguous mining concessions totaling approximately 75 hectares. The Calicanto property is located in the Zacatecas mining district. The San Celso project consists of over three contiguous mining concessions totaling approximately 88 hectares, which are located in the historic mining district of Panfilo Natera-Ojocaliente. The Los Campos project comprises over four concessions covering an area of approximately 500 hectares located on the south side of the city of Zacatecas. It holds approximately five additional concessions covering over 900 hectares. more »

LSE Price