Asset Managers' Q2 data highlights a few "ones to watch"
Q2 of 2023 was mostly a tough quarter for asset managers' AUM growth, but the quarter has highlighted a fascinating mix of resilience, potentially changing fortunes, and ongoing struggles (commentary below charts):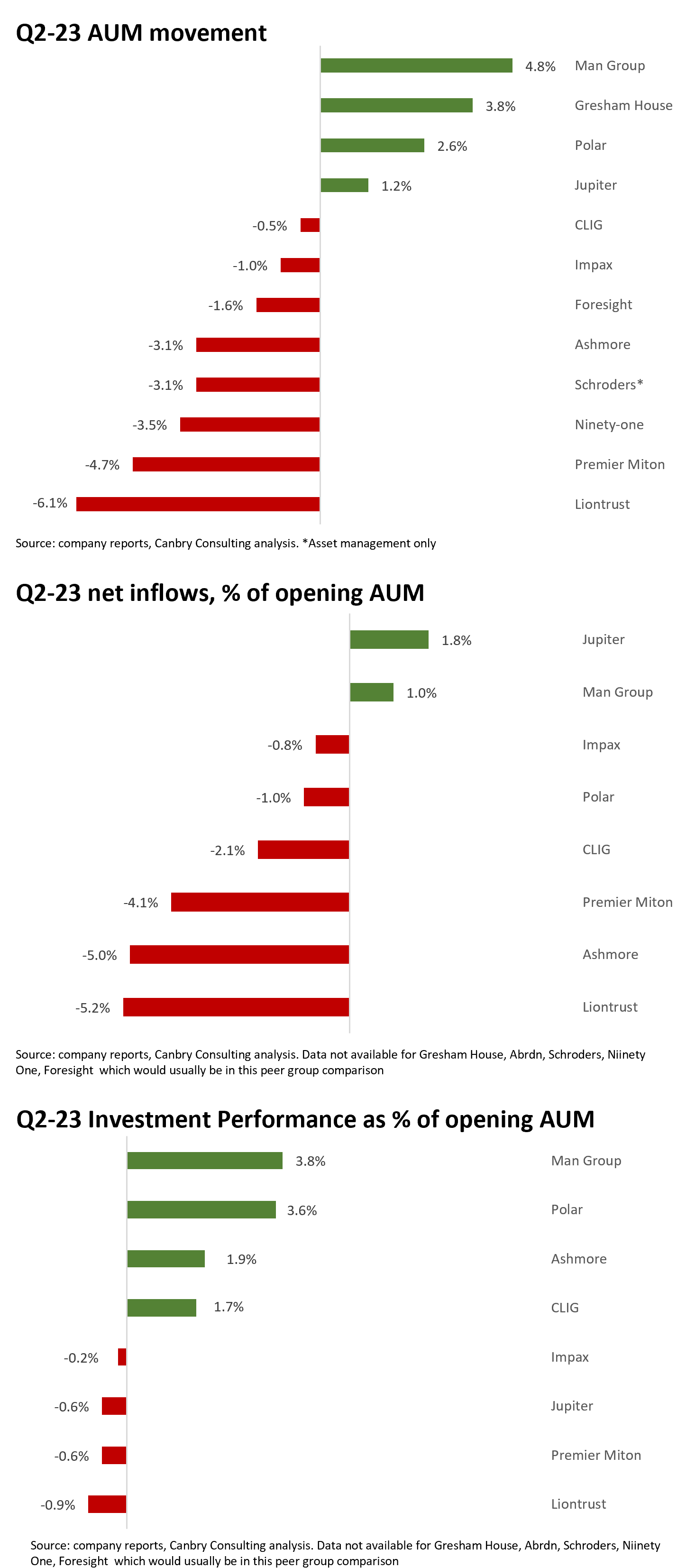 Resilience:
Man (LON:EMG) - had a good quarter when it comes to AUM recording positive flows and a strong investment performance. Nine out of the last ten quarters have shown positive flows although interestsingly, long-only strategies attracted assets this quarter whereas absolute return strategies had been popular prior to that. Share price hammered in early trade though with the big fall in performance fees (half year results released on 1 Aug 23).
Impax Asset Management (LON:IPX) - on an absolute basis not great but on a relative basis pretty strong - ESG has been out of favour, so Impax's very small net outflow looks pretty good on a relative basis (and its net flows were positive during the worst of 2022, except for 1 quarter which saw a tiny outflow, and it has recorded only two quarters of negative flows since 2015).
Gresham House (LON:GHE) - looking strong again but doesn't split flows and investment performance on a quarterly basis. Sadly, with the announced acquisition, it looks like we'll be losing this one from public markets soon.

Changing fortunes?
Polar Capital Holdings (LON:POLR) - very strong investment performance, benefited by tech rally no doubt, but probably just as importantly, after heavy outflows in 2022, net flow situation definitely improving. One to watch.
Jupiter Fund Management (LON:JUP) - after really torrid period the new strategy under the new CEO is showing positive signs with 2nd quarter of positive flows out of last three. Institutional flows strong, retail flows weak (see additional comment below). One to watch.

Ashmore (LON:ASHM) - I'm torn between putting this one in the 'changing fortunes?' or 'ongoing struggles' category. A strong investment performance with its EM debt focus - which is looking much more positive as an asset class - but investors are still withdrawing funds, when will inflows return? Flows must follow returns at some point?
Ongoing struggles

Unlock the rest of this article with a 14 day trial
Already have an account?
Login here