Barratt Developments off the boil
Shares in the UK homebuilder Barratt Developments recently hit their lowest level since June 2015. The upcoming EU vote, weakness in the prime London housing market and a weak update from Persimmon have all hit sentiment. However, Barratt is currently expected to return 100p a share by November 2017.    
The UK home building sector is cyclical and can see periods of optimism and pessimism even in the midst of a long-term bull market. Barratt Developments, for example, saw its shares fall 25% from the 2014 peak to the year's low point.
Last week's closing share price of 509.5p is 23% lower than the high of 662.5p seen in September 2015. This time around we are further into the UK housing cycle, which increases the risk that the market will turn in the near-term.
In April the extra 3% stamp duty came into effect on second homes and buy-to-let property in the UK. The uncertainty of the EU vote may be hitting demand and in London the top end of the market is seeing weakness.
Barratt Developments: turning farm land into homes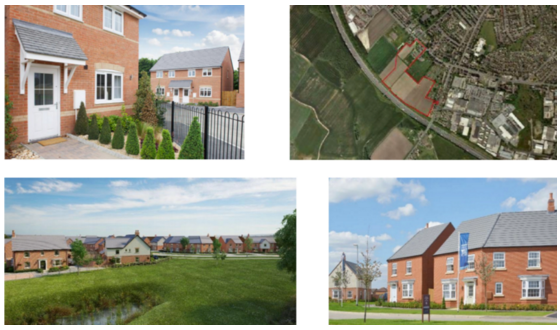 Source: Barratt Developments

Turning to UK homebuilders and the latest trading update from Persimmon showed a slowdown. Weekly private sales per site so far in 2016 increased by 6% on a year ago which means that the last seven weeks only saw a 2.5% increase.
The update led to a sell-off across the UK homebuilding sector with Barratt ending the week 6.4% lower than the high it saw on Wednesday. The next update from the group is on 11 May with final results set for 7 September.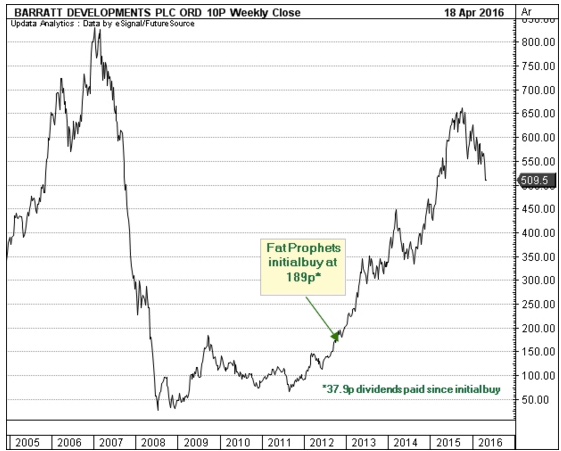 Barratt Developments' valuation: yield appeal

Forecasting the future is easier said than done and therefore the near-term valuation of a stock is a good place to start. A low valuation should offer investors a "margin of safety" even if there is a difficult period ahead.
Barratt Developments saw earnings per share in the six months to December 2015 increase by 40% to 23.9p. The operating margin improved by 1.9% on a year ago to come in at 16.1% in the period.
The most recent forecast for earnings per share for the financial year to June 2016 is 54.2p. The forecast P/E for the next 12 months comes in at a relatively modest figure of 8.68X earnings (based on a share price of 509.5p).
Barratt Developments had a modest net cash position…

Unlock the rest of this Article in 15 seconds
Already have an account?
Login here