Beating the market by 14% year to date
My defensive value model portfolio is ahead of the market by just under 14% so far this year. The reasons are 1) a sensible strategy and 2) some luck.
To be honest, the FTSE 100 and FTSE All-Share are not providing much in the way of competition at the moment because both of them have fallen in value this year.
However, I can't be blamed for that; all I can do is focus on the model portfolio's goals which are:
High yield – A higher dividend yield than the FTSE All-Share at all times
High growth – Higher total return that the FTSE All-Share over any 5-year period
Low risk – Lower risk than the FTSE All-Share over any 5-year period
The chart below shows the performance from inception of the model portfolio and its FTSE All-Share benchmark, the Aberdeen UK Tracker Trust.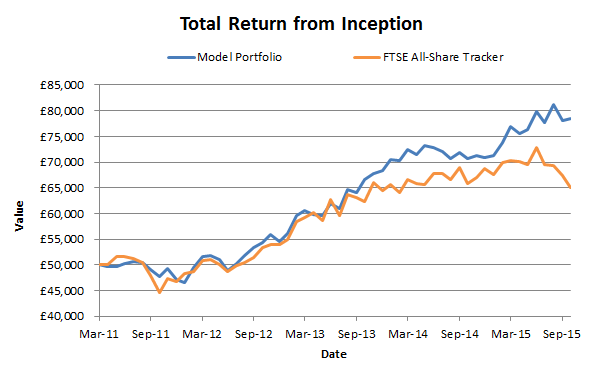 Both the model portfolio and the All-Share tracker are virtual portfolios which started with £50,000 in March 2011. They both reinvest all dividends and take account of broker fees and bid/ask spreads.
I have basically all of my family's long-term savings invested in the same stocks as the model portfolio.
Ahead on a total return basis
Clearly, the All-Share portfolio has not done well lately. At the start of October it was down 3.7% relative to its value in January. In contrast, the model portfolio gained 10% in the same period, producing a relative outperformance of 13.7% year to date.
The gap between the two portfolios is now £13,370, which is 27% of their original value.
In annualised terms the All-Share portfolio has generated a return of 5.9% per year (including dividends) while the model portfolio has returned 10.3%.
One of my goals for the model portfolio is to beat the market's total return by 3% per year, and that goal is still firmly on track.
Ahead on dividend yield and (probably) dividend growth
Another of the model portfolio's goals is to have a high dividend yield at all times. This goal has always been met since 2011 and the portfolio's current yield is 4.2%, which compares well with the All-Share tracker's yield of 3.7%.
Dividend growth has also been relatively good too.
The All-Share tracker has paid out the full 2015 dividend already (of £2,384), while the model portfolio's cumulative dividend is ahead so far (at £2,650) and still has three months of dividends to go.
I fully expect its total…

Unlock the rest of this Article in 15 seconds