Synopsis
The mining industry has been in a downwards slump for the last four years. However, this year, in particular, is very alarming because China the world biggest consumer of all things 'commodities' is in a slowdown. 
Here is the 'Year-to-Date' chart of the UK mining industry: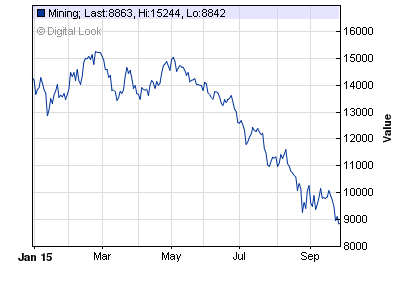 The mining sector index took a hammering; the average loss on a mining stock came to 37%. Within the index, it included two of the biggest miners in the name of RIO TINTO and BHP BILLITON.
Their performance year to date has been on a downwards slope, with BHP down by 26.7% and RIO down by 25.8%.
If the mining industry suffers capitulation meaning the weak performers goes 'belly up'. We should see the big miners like BHP and RIO be able to survive the downturn (pending on a surprise) and possibly thrive if supply tightens back to levels closer to demand.
A quick summary
| | | |
| --- | --- | --- |
|   | BHP Billiton | Rio Tinto |
| Market Cap. (£BN) | 60.2 | 43.7 |
| Share price (£/share) | 9.83 | 21.15 |
| Share price at peak | 26 (2011) | 46.33 (2011) |
| Sales ($ BN) | 43.5 | 47.6 |
| Net profit ($ BN) | 4.4 | 6.5 |
Both are diversified miners, with Rio's majority sales coming from iron ore and aluminium (two-thirds), and BHP has 71% of sales from iron ore, oil & gas and copper.
Seven things to take on board when doing due diligent on a mining company
Here are seven things you need to know about BHP and RIO TINTO:
1. Commodities prices matter
When commodities prices start falling, the mining sector follows in tandem, even 'big fish' miners like BHP and RIO do the same:  
Rio:


Unlock this article instantly by logging into your account
Don't have an account? Register for free and we'll get out your way
Disclaimer:
By reading my articles and newsletters, you agree to use the research of Walbrockresearch.com at your risk. The purpose of this site is to educate and entertain readers. In no way, we are giving investment advice though the information provided is to my knowledge accurate at the time of the report. You should do your research, or seek advice from qualified professional investment advisors.
---
---

BHP Group PLC, formerly BHP Billiton Plc, is a global resources company. The Company is a producer of various commodities, including iron ore, metallurgical coal, copper and uranium. Its segments include Petroleum, Copper, Iron Ore and Coal. The Petroleum segment is engaged in the exploration, development and production of oil and gas. The Copper segment is engaged in mining of copper, silver, lead, zinc, molybdenum, uranium and gold. The Iron Ore segment is engaged in mining of iron ore. The Coal segment is engaged in mining of metallurgical coal and thermal (energy) coal. Its businesses include Minerals Australia, Minerals Americas, Petroleum and Marketing. It extracts and processes minerals, oil and gas from its production operations located primarily in Australia and the Americas. It manages product distribution through its global logistics chain, including freight and pipeline transportation. more »

LSE Price

Rio Tinto plc is a mining and metals company. The Company's business is finding, mining and processing mineral resources. The Company's segments include Iron Ore, Aluminium, Copper & Diamonds, Energy & Minerals and Other Operations. The Company operates an iron ore business, supplying the global seaborne iron ore trade. Its Iron Ore product operations are located in the Pilbara region of Western Australia. The Aluminium business includes bauxite mines, alumina refineries and aluminum smelters. Its bauxite mines are located in Australia, Brazil and Guinea. The Copper & Diamonds segment has managed operations in Australia, Canada, Mongolia and the United States, and non-managed operations in Chile and Indonesia. The Energy & Minerals segment consists of mining, refining and marketing operations in over 10 countries, across six sectors: borates, coal, iron ore concentrate and pellets, salt, titanium dioxide and uranium. more »

LSE Price

Vale S.A. is a global producer of iron ore and iron ore pellets, key raw materials for steelmaking, and producer of nickel. The Company also produces copper, metallurgical and thermal coal, potash, phosphates and other fertilizer nutrients, manganese ore, ferroalloys, platinum group metals, gold, silver and cobalt. The Company's segments include Ferrous minerals, which comprises the production and extraction of ferrous minerals, as iron ore fines, iron ore pellets and its logistic services, manganese and ferroalloys and others ferrous products and services; Coal, which comprises the extraction of metallurgical and thermal coal and its logistic services; Base metals, which includes the production and extraction of non-ferrous minerals, and are presented as nickel and its byproducts, and copper (copper concentrated), and Others, which comprises sales and expenses of other products, services and investments in joint ventures and associate in other business. more »
NYQ Price