Billington Holdings: an undervalued high growth Super Stock?
Billington Holdings (LON:BILN) is a UK-based structural steel and engineering company with activities in the UK and, more recently, Europe. Cyclical it may be, but this small cap Super Stock's growth over the past five years has been phenomenal. If it can keep this up going forward, then I think today's share price of 383p could still prove to be a bargain.
Since 2013, the group's performance has been powered at least in part by a resurgent steel market. According to management, however, it has used these favourable macro conditions to also develop value added, complimentary products and services.
More often than not over this timeframe, Billington has positively surprised the market with its trading updates. The group's operating margin has increased from 1.9% to 6.5% and revenues have almost doubled. The group's latest full year trading update says it will once more beat revised market expectations of £78m of revenue and £5.2m of profit.
Billington has an enviable collection of five-year compound annual growth rates (from FY13 through to FY18):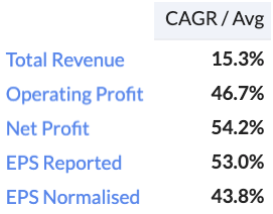 This does show Billington at its absolute best however, capturing its performance right from when it started to benefit from the latest cyclical upswing.
The market is wary of ascribing a standard growth multiple to these shares. Despite its sterling record of growth in recent years, Billington trades on an historic PE ratio of just 12.3 and a forecast PE ratio of 11.
Given this, it is no surprise that Billington has a lot going for it from a factor perspective. It is a Super Stock that rates highly as both a Value-Momentum and a Quality-Momentum play. It qualifies for seven screens across Growth, Momentum, Quality and Value.
This combination of factors, along with its historic rates of growth and a market cap of just £50m suggests there plenty of scope for further earnings growth and multiple expansion.
That said, companies at the top of a cycle do often look cheap on an earnings and sales perspective, only for earnings to decline in the following years. For now, Billington continues to make positive noises about market conditions. More on this in a bit.
Are people harshly discounting a promising growth stock?
Operating structure - can Safety Solutions fuel margin expansion?
Billington splits itself into two operating divisions.
Structural Steel includes Billington Structures and…

Unlock the rest of this article with a 14 day trial
Already have an account?
Login here