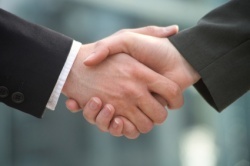 There are few opportunities for the ordinary investor to get involved with the activities of E&P companies controlled by people from the United Arab Emirates. Anything important within the country is usually state-controlled, while, when they're active overseas, the only option has tended to be through investing in companies with whom they share acreage. Now, though, there's an opportunity, through a reverse take-over deal between a Canadian minnow, Blackbird Energy (CVE:BBI), listed on the Toronto Venture Exchange, and Dubai-based Thani Emirates Petroleum.
The details of the deal are here but, in essence, Thani are selling their Netherlands subsidiary, Thani Netherlands Holding, TNH, (which holds their exploration acreage) to Blackbird, in exchange for an issue of shares amounting to 72,5 per cent of Blackbird's authorised share capital and a payment of $ Can 15 million. Following conclusion of the deal, Thani will control Blackbird and will have seven members, a controlling number, of its board of directors, while the company will then be re-named Thani Emirates Petroleum Inc. Consummation of the deal is also dependent on a number of factors, including
Completion of a financing in the amount of up to CDN$32.5 million shall  be completed on such terms and conditions to be determined by the Parties (the "Financing"), in compliance with Exchange policies
Clearly, getting access to some more funds is pretty crucial! Prior to the creation of the new Thani-controlled board, details of Blackbird management can be found
here
.  Interestingly, the Chairman is Robert Booth, who is also not unconnected to the UAE himself:
Currently the CEO for Emaar in North America, Mr. Booth oversees Emaar Canada and until June of 2009, also John Laing Homes the second largest home builder in the U.S. In addition, Mr. Booth is also a Director for Hamptons International, a European Real Estate Brokerage with 100 offices and 1,000 staff. Robert's career with Emaar since 2001 has covered various parts of the world in his responsibility for Development, Sales and Marketing. Robert Booth, in his capacity as the CEO of Emaar for North America, is to assist Emaar's entry into the Canadian market, and its subsequent expansion into the rest of North America.
Emaar is one of the big Dubai-based  property developers, (31.2% owned by the Dubai Government) so I guess that may have been the original link to Thani. The…

Unlock this article instantly by logging into your account
Don't have an account? Register for free and we'll get out your way
Disclaimer:
The author may hold shares in this company. All opinions are his own. You should check any statements that appear factual and seek independent professional advice before making any investment decision.
---
---