BooHoo (BOO): a rare bright spot in an ugly UK retail environment
UK retail is clearly still being beaten up in general, judging by the footfall data from the British Retail Consortium (BRC) for the month of March:
Year-on-year, footfall in March decreased by 6.0 per cent, a substantial decline compared to the positive rate of 1.3 per cent seen for March 2017 and the steepest year on year fall since the end of 2010. The 12-month average is -1.4 per cent.
There was no growth in Footfall for any UK regions, most notable declines (year-on-year) were seen in Greater London, -7.5 per cent, South East, -6.5 per cent, and in the East Midlands, -5.6 per cent. 
Growth fell in all shopping destinations: high Streets saw a decline of 8.6 per cent, retail parks of 1.8 per cent and shopping centres of 4.8 per cent.
Hardly a surprise then, that in addition to pressure on retail sales volumes on the High Street, that there are consequent price pressures too in April, again according to the BRC:
Shop price deflation held at 1.0% in April. Shop Prices have been deflationary for 60 months now and this is the deepest deflation since February 2017.
Deflation in Non-Food prices was deeper in April than in March: prices decreased at a rate of 2.2% compared to March when prices declined by 1.9%.
But there are some bright spots that investors can still focus on, notably in the growth areas of online clothing retail and also sportswear. 
The online distribution channel continues to conquer the UK retail scene, which is one of the most advanced online markets in the world, especially in non-food retail (e.g. electricals, clothing, shoes):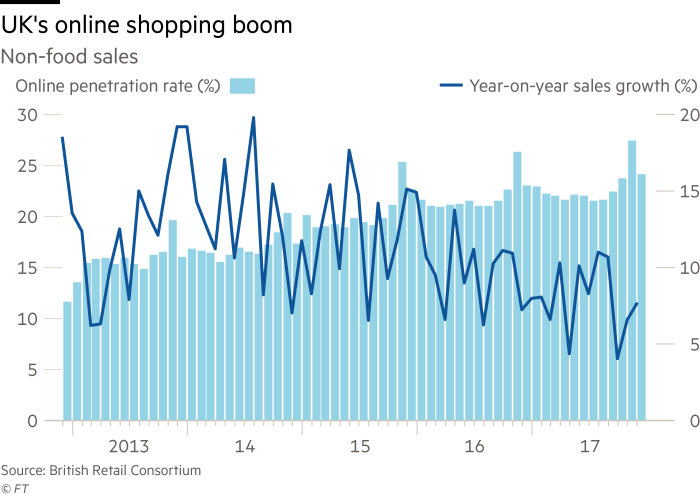 1. Boohoo.Com (LON:BOO): I have to admit, this one an online stock that I bought very well post profit warning at around 30p back in early 2015, but subsequently sold far too early... And now I have finally worked up the courage to revisit this well-managed growth story, with the stock having retraced from a mid-2017 high of 267p to a recent low of 140p. 
Quite a wild ride, with the stock gapping up on April 25 on the back of the announcement of strong top-line growth (delivered in good part by their PrettyLittleThing teen clothing website) underlining Boohoo's FY2019 expansion target of 35-40%, combined with the outlook of a stable operating margin (9-10% EBITDA margin). 
Be warned: this is not…

Unlock the rest of this Article in 15 seconds
Already have an account?
Login here