British American Tobacco's smoking 2015
British American Tobacco saw constant currency revenue increase by 5.4% in 2015 and earnings per share rose by 10%. A key driver was the increased contribution from the group's 42% stake in Reynolds American. On a reported basis earnings per share was unchanged due to ongoing currency headwinds.
In the book Barbarians at the Gate, which covers 1980s Wall Street deal making, Warren Buffett stated that:
"I'll tell you why I like the tobacco sector. It costs a penny to make. Sell it for a dollar. It's addictive. And there's fantastic brand loyalty." (Page 218)
Increasing regulation has also strengthened the barriers to entry facing new competitors. An inability to advertise in most markets would make it nigh impossible for a new business to make headway in the tobacco industry.
The existing players have also undertaken consolidation in order to generate economies of scale and enhance profit margins. A side effect of increased concentration has been a reduction in the intensity of sector competition.
While tobacco is a high return business it is also experiencing a slow decline in volumes. However, growth in premium Western brands and emerging market volumes offer some support.
Four of British American Tobacco's five Global Drive Brands

Source: British American Tobacco investor presentation
British American Tobacco in 2015
British American Tobacco (BAT) has a market value at £73bn while its UK rival Imperial Brands' stands at £36bn. BAT is notable for its exposure to emerging markets with Asia Pacific the largest profits generator in 2015.
This positioning meant that cigarette volumes fell by only 0.5% in 2015 against a 2.3% drop for the industry. The figure was also an improvement on the 1.4% decline in cigarette volumes British American Tobacco experienced in 2014.
BAT actually saw cigarette volumes increase in three of its four regional markets last year. The largest region by cigarette volumes in 2015 was Eastern Europe, Middle East & Africa with the Asia Pacific region in second place.
BAT cigarette volume and adjusted profit contribution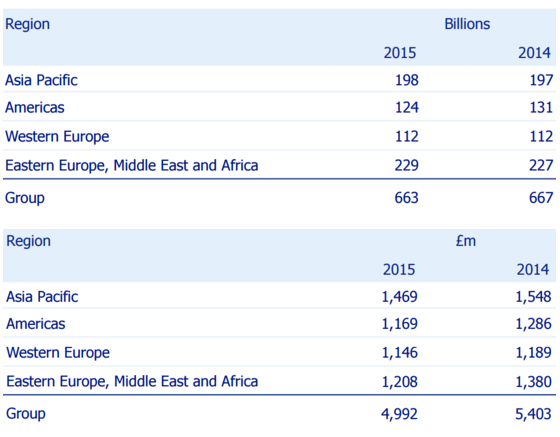 Source: British American Tobacco investor presentation

BAT's headline volumes only tells half of the story with the group's Global Drive Brands (GDB) seeing 8.5% volume growth in 2015 to 301bn. The five GDB's are Kent, Lucky Strike, Pall Mall, Dunhill and Rothmans.
Global Drive Brands were 45% of cigarettes sold in 2015 versus 34% in 2011 and are described as "a key pillar of future growth." They helped to increase…

Unlock the rest of this Article in 15 seconds
Already have an account?
Login here