Brookfield Global Listed Infrastructure Income Fund: Potential for Diversified Protection in Volatile Markets

Brookfield Global Listed Infrastructure Income Fund: Potential for Diversified Protection in Volatile Markets
Stock investors have experienced rising volatility levels since the summer, and this has generated new rounds of analysis which suggests that equities markets have become overvalued.  This is particularly true in the technology sector, where companies like Apple (NASDAQ:AAPL), Amazon (NASDAQ:AMZN), and Facebook (NASDAQ:FB) have witnessed substantial declines after posting all-time highs earlier in the year.  Global trade tensions and the prospect of tighter interest rate policy at the Federal Reserve have weighed on stocks, and reversed many of the gains posted earlier this year.
Ultimately, this means long-term investors must adopt proactive strategies in order to more effectively manage their positions.  Closed-end funds may offer some interesting opportunities in these types of environments because they often trade at substantial discounts relative to net asset value.  One name which is currently trading at attractive valuations relative to its historical averages, is Brookfield Global Listed Infrastructure Income Fund (NYSE:INF).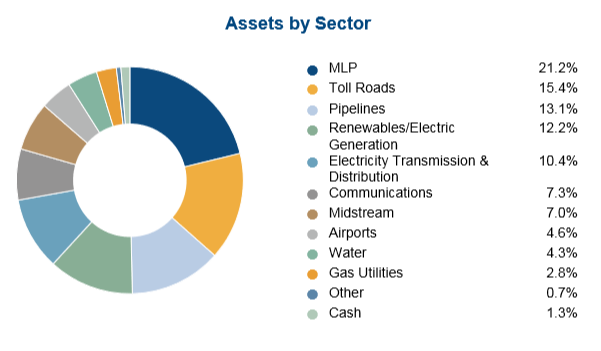 The Brookfield Global Listed Infrastructure Income Fund is a well-diversified instrument with assets allocated across major sectors within the global listed infrastructure universe.  The Fund seeks to provide a high level of total return, with an emphasis on income, typically investing at least 80% of its net assets in publicly traded equity securities of infrastructure companies.  
As of September 30, 2018, Master Limited Partnerships (MLPs) currently represent the largest sector for the Fund and Utilities currently make up the majority of the Fund at 21.2%, followed by Toll Roads (15.4%), Pipelines (13.1%), Renewables/Electric Generation (12.2%), Electricity Transmission & Distribution (10.4%), Communications (7.3%), Midstream (7.0%), Airports (4.6%), Water (4.3%) and Gas Utilities (2.8%).  This high level of asset diversification may help investors ensure greater protection from potential market declines in any individual industry.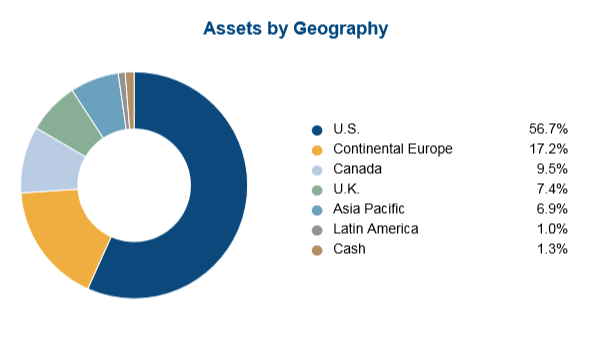 Further evidence of potential protective diversification can be found in the Fund's regional exposure as of September 30, 2018.  A majority of the holdings in the Brookfield Global Listed Infrastructure Income Fund are centered in the United States (at 56.7%).  Companies in developed European nations are second in defining the Fund's regional exposure (at 17.2%).
Finally, companies in Canada (9.5%), the United Kingdom (7.4%), Asia Pacific (6.9%), and Latin America…

Unlock this Article with a 14 day free trial
Already have an account?
Login here