Brookfield Real Assets Income Fund: Safety Strategies in a Volatile Global Environment
On the whole, trading conditions in 2018 produced many challenges for investors focused on global equities. During the first three months of the year saw drastic declines, the Dow Jones Industrial Averages experienced what many considered to be 'flash crash' conditions.  This set a precarious tone for the markets in the months that followed, and the S&P 500, NASDAQ Composite, and Dow Jones Industrials dropped sharply in the fourth-quarter.  Ultimately, U.S. stock markets experienced the worst year in a decade, with all three benchmark indexes closing in the red for 2018.
Many of these conditions have been worsened by global trade tensions, and rising economic uncertainty continues to influence valuations in equities.  Some market sectors performed better than others, and real asset debt has performed well when compared to global credit instruments. Natural resources (backed by rising oil prices) and infrastructure assets (backed by supportive trends in telecommunications) have also performed reasonably well, while real estate investors have found themselves lagging behind the rest of the pack.

Opportunities in Undervalued Stocks
The relative weakness has created opportunities to find undervalued stocks, and this is precisely why it is important for investors to diversify their equity portfolios through real assets.  Investors looking to improve resilience in the event of another significant economic downturn might consider watching the Brookfield Real Assets Income Fund (NYSE: RA), which pursues a multi-portfolio, multi-sector approach that gives investors broad access to many of these sectors.    
The Brookfield Real Assets Income Fund is comprised of listed real asset securities with each component managed by an experienced team of industry specialists. The portfolio is representative of dynamic asset allocation strategies in a diverse basket of stocks, and it currently trades at a discount to net asset value (NAV). 

Asset Allocation: Delivering Diversified Exposure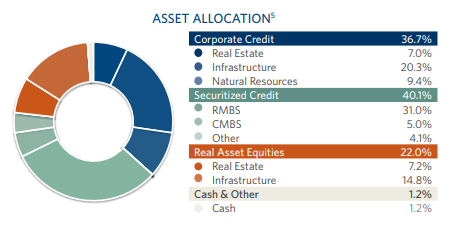 (As of December 31, 2018. Brookfield Public Securities Group LLC)
Securitized Credit makes up the largest portion the total fixed income assets (at 40.1%), while Corporate Credit makes up 36.7%, and Real Asset equities account for 22% of the holdings, as of December 31, 2018.  In calendar year 2018, stocks overwhelmed by global cues the Brookfield Real Assets Income Fund traded under significant macroeconomic pressure and was down -9.12% (based on market price) for the period. After stumbling to a 52-week low of  $17.95 on December 21st, the stock has roared…

Unlock the rest of this Article in 15 seconds
Already have an account?
Login here