Hi Pete here again, for those of you who don't know me, I'm an amateur investor attempting to develop my techno-fundamentalist skills. This is really just my investment diary, and is not intended as investment advice. I hold a long position in many of the shares discussed.

The CAN-SLIM-esque Screen Review

5 drop outs this week. They are:-

Plus500 (LON:PLUS) - out of price drop - below 50 day MA and more than 15% below 52 week high

Gamma Communications (LON:GAMA) - Out of Q on Q EPS growth

Morgan Sindall (LON:MGNS) - Like Plus 500 - 50 DAY MA and 52 week high\

ASOS (LON:ASC) - RS 1 year < 75% and price fell below 50 day MA

Spirax-Sarco Engineering (LON:SPX) - Poor old Spirax - only in for a week then out again on RS 1 year.

What is in:

TCS Holding (LON:TCS)

The Russian finance company - it has had 6 days in the red last week, Friday had huge volatility, briefly dipping below the 50 day MA but bounced back.

Globaltrans Investment (LON:GLTR)

This is following the rest of the market this week - stalled.

Fevertree Drinks (LON:FEVR)

Quite positive how little interest there has been in selling Fevertree this today. Very low volume, tight range. One too look out for when conditions improve?

Kaz Minerals (LON:KAZ)

See comments for Fevertree - almost same pattern

Tatneft' PAO (LON:ATAD)

I don't cover this. Why do I bother writing this each week? I may as well write something! Ok here goes. Volume is reasonably high at the moment, but no real price movement.

IG Group (LON:IGG)

Latest addition to the portfolio - lost 2.5% today but pleased to see volume is lowest recently.

Robert Walters (LON:RWA)

Everyone in the comments has been talking about this and I was slow to cotton on. I have to say, I'm impressed with how it has performed this week considering the general market. I think this could be one of the leaders out of the correction (if it is a correction!)

Abcam (LON:ABC)

Following the pack…

Numis (LON:NUM)

Down 7.3% from the peak last week. Interesting, has not had the double correction like some of the other shares in the screen. One of the possible leaders?

Avon Rubber (LON:AVON)

1,2,3,4,5,6,7 positive days in a row! 3 and a bit positives weeks! Up 1.6% today! That is going against the general market trend and then some… Is there some wind in the sails of this share? Although the volumes are relatively low, there has been a trend up in volume in recent months so there is clearing growing interest. I will follow closely but wait a few days before deciding.

Johnson Service (LON:JSG)

Timing wise I don't see anything exciting in this trend. The lows are getting lower, the highs are getting lower.

Gresham Technologies (LON:GHT)

Same as many of the others - double correction, 1.5+% down today… let's see how it goes.

OK, so in summary, very interesting to see how Avon Rubber (LON:AVON), Numis (LON:NUM) and Robert Walters (LON:RWA) (and maybe Fevertree Drinks (LON:FEVR) ) are performing ahead of the pack in this turbulent week - and how Johnson Service (LON:JSG) is performing perhaps worse than the pack. Possible leaders and laggards?
---
M is for Market Direction
Both O'Neil and Minervini emphasise trading with the market direction and with the recent volatility it seemed a good time for me to review the market direction  This is my investment log that I share, and  I wanted to record a snapshot of the market before the trend develops. It is always easy in hindsight to look back, so I want to capture my thoughts at this moment, without any hindsight analysis. But I know many readers are much more thorough in their analysis and  will have already gone through this exercise themselves.
Also bear in mind, I wrote this the day after my guru screen review, and today the markets recovered somewhat.
Firstly, a look at the big picture, price development of some major indices from 2010 to date. The S&P500 shows the strongest performance along with the FTSE Small Cap (red line, sorry for the lack of key)  The FTSE 100 and All share (blue and orange) follow closely, with the FTSE100 trailing somewhat. The AIM All Share (grey) has similar overall performance, but in the last 12 months has outperformed. Nothing new here, this has all been covered before. We had the 2014 to 2016 plateau with some heavy volatility, and the 2011 correction, before a reasonable bull run. At the moment, there is no doubt we have had a minor correction, the question I'm struggling with is will it develop into a further bull run like 2011, a plateau like 2014/15 or a full blown correction like in 2008. Now, I've been investing for some years, but this is the first time I've been actively trading through this type of volatility, so a real learning period for me. In the past I was a buy and hold type of investor.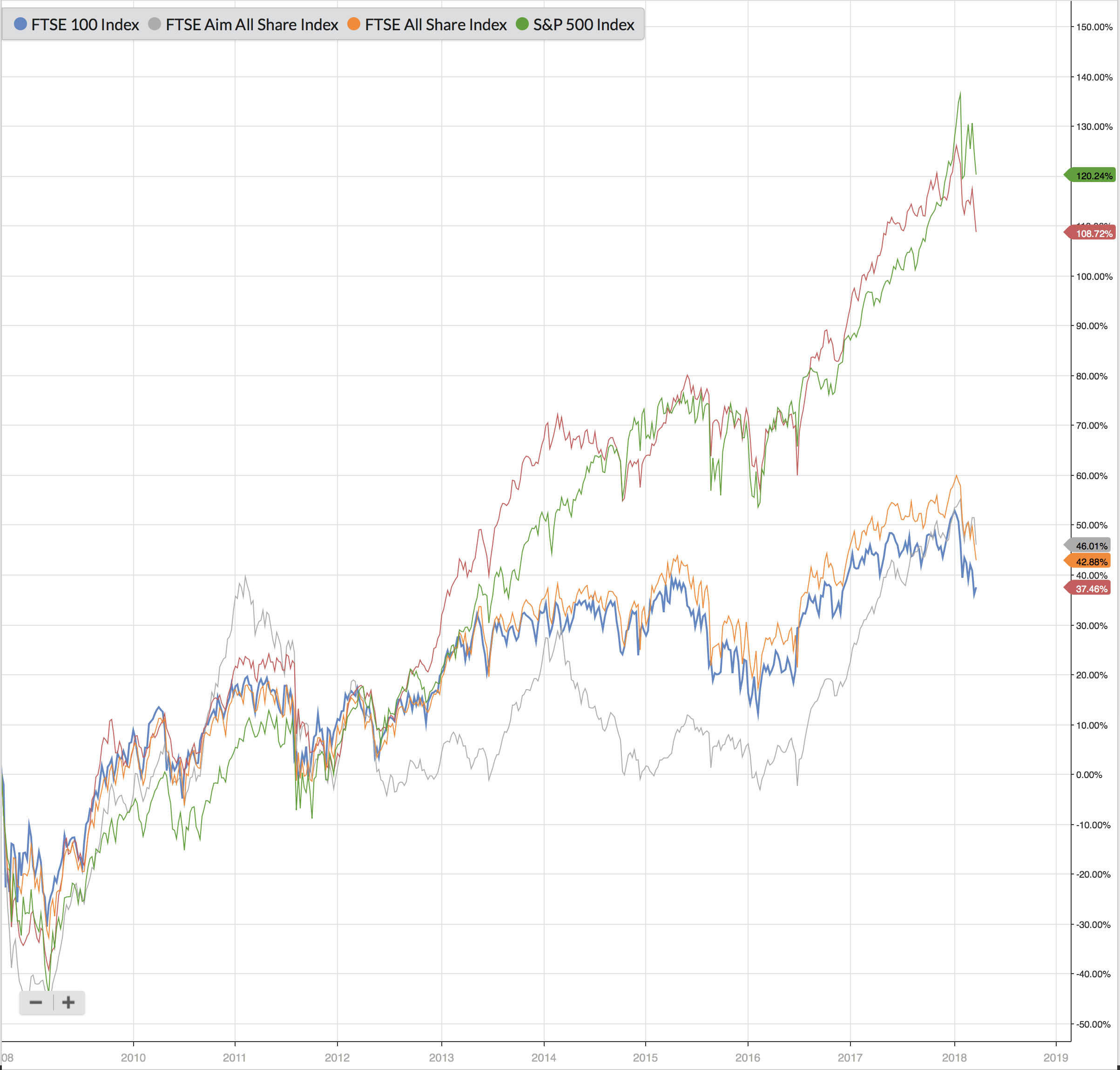 After reviewing the guru screens, I thought it would be interesting to look at the recent performance of each index over the Jan - March corrections. The first thing to note is the FTSE All, 100 and Small Cap peaked earlier than the AIM All Share and the S&P500. In other words, the two index that had the most powerful performance in 2017, ran on for a little further., reaching their peak 13 days later. I've started recording distribution days - maybe this could have helped me spot this earlier (more on distribution days later)
Also, the indices that reached the peak first, have suffered there largest % loss. In order of magnitude, to 27/3/18:-
FTSE100 -> -10.4%
FTSE All Share -> -9.75%
FTSE Small Cap -> -8.5%
S&P500 -> -7.6%
Aim All Share -> -5%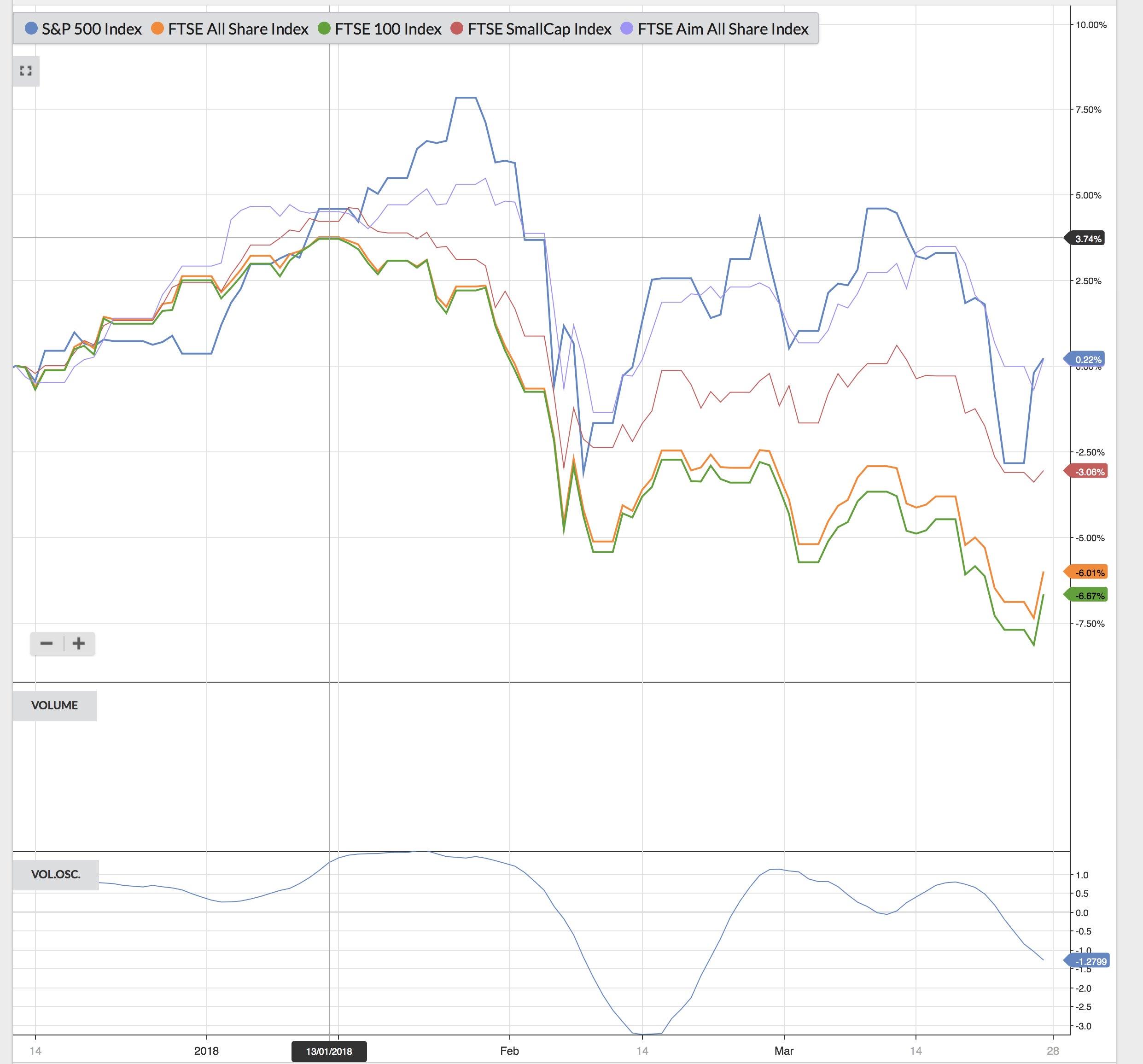 Ohh... just noticed the lines have moved on my graph!! Sometimes they stay put, other times they don't! What this was meant to show is how the FTSE 100 and All Share  have lost all of their 2017 gain and the Small Cap index is at the August support. The S&P and the AIM are only back to October and November levels respectively.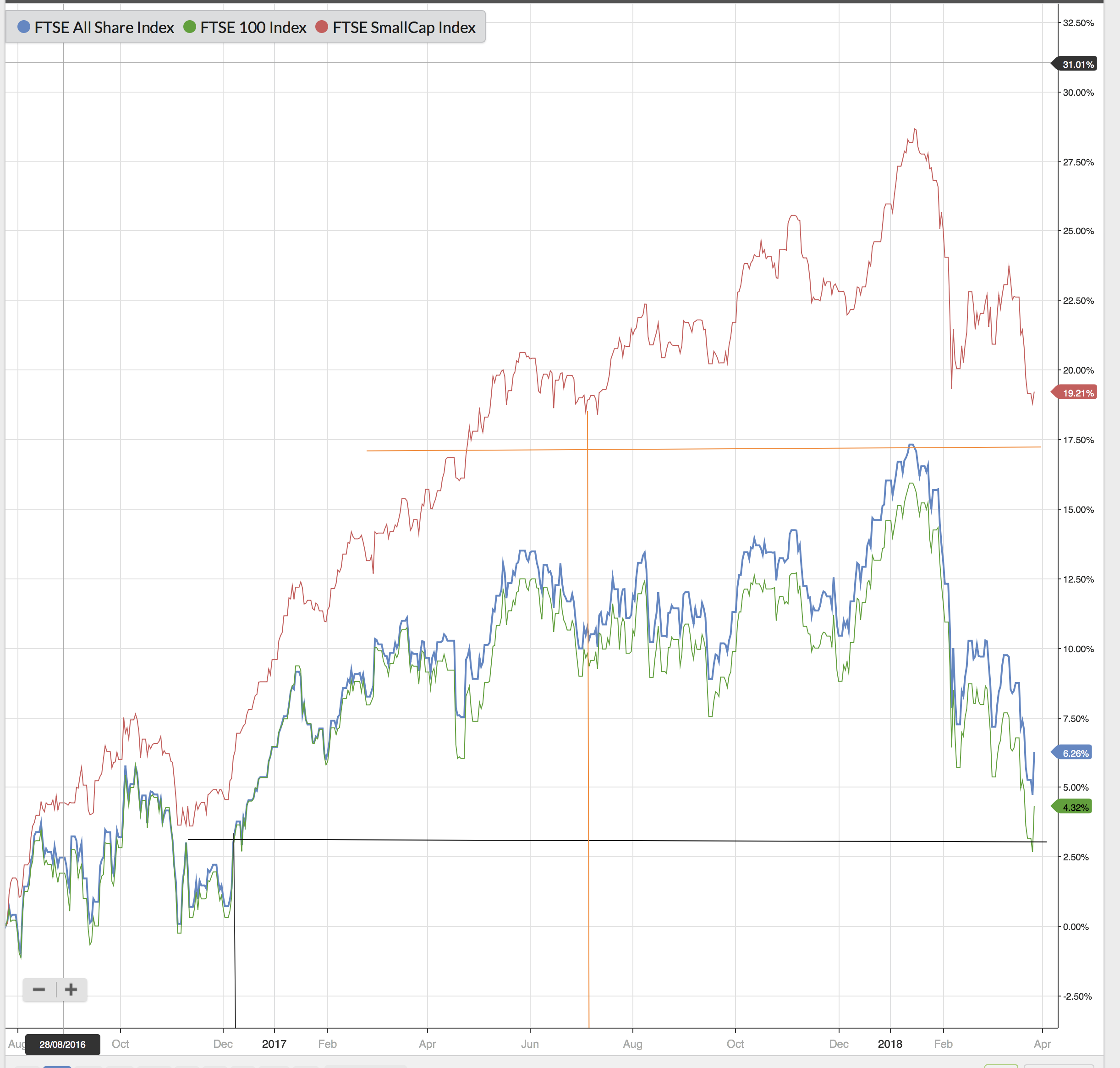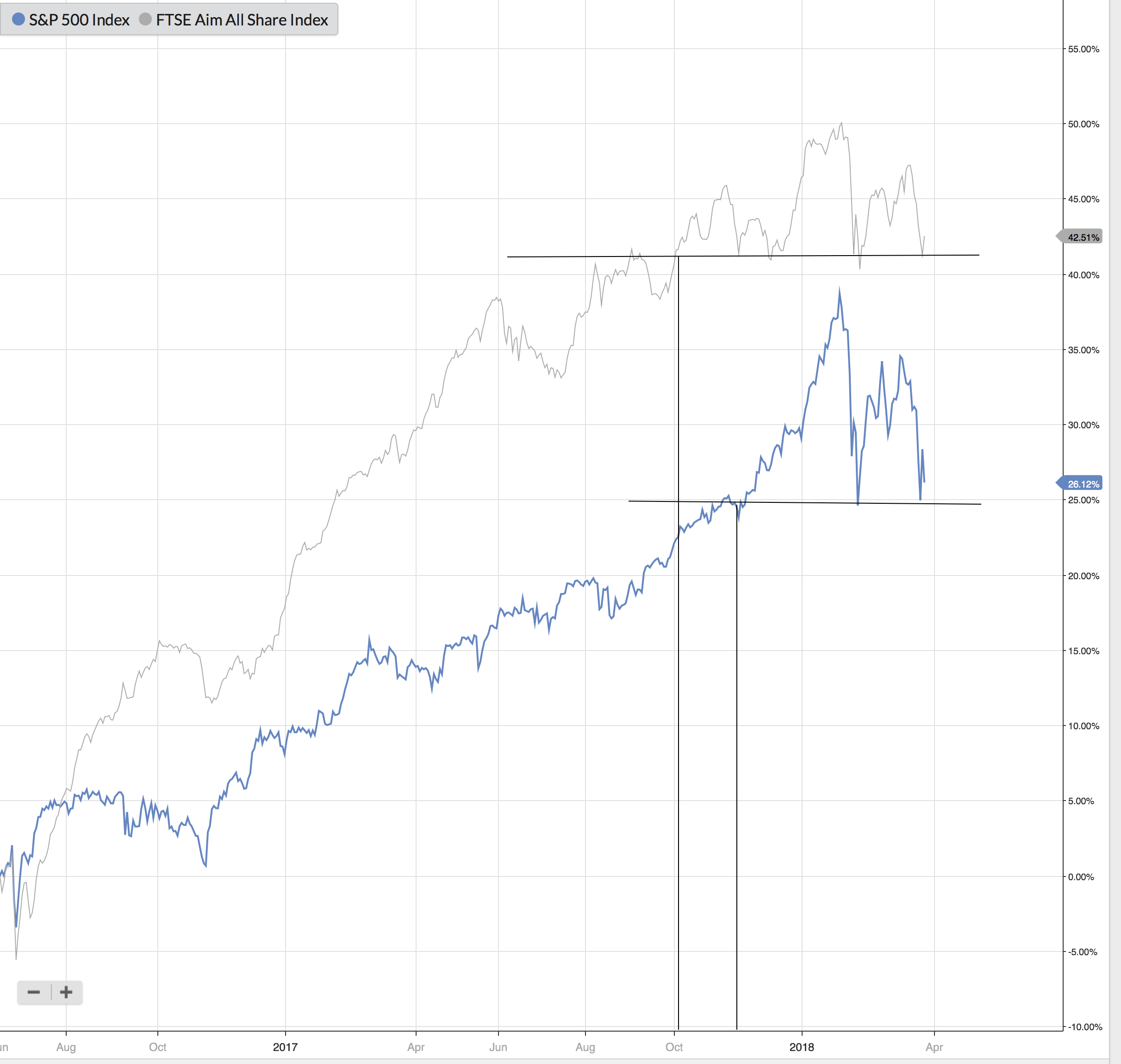 Distribution Days
I've recently started recording daily index volumes and price changes in a diary. Is one of those page a week diaries, so it gives a nice overview of the week's movements. I track the FTSE100, the Small Cap, the FTSE All Share and the AIM All share. I mark a red dot for the down days and a green dot for the up days. I use a blue dot for the distribution days. O'Neil defines the distribution day as being a day where the index price decreases by more than 0.2% on higher volume. It doesn't matter how much higher the volume is, but it must be higher. He considers it to be a strong indicator of the market sentiment. Does anyone else record distribution days? If so do you think -0.2% works for the UK stock market? In the last week we had 5 distribution days and O'Neil considers 4 - 6 of these occurrences to be a strong bearish signal (see page 210 for details)
How are people doing at the moment? I have not done well particularly after this week, of course nothing more than -8%, as a true CAN-SLIMer, but I've been trying for the 20 to 30% but only getting 10 to 15% before a reversal, often wiping out all gains.  Minervini does suggest adjusting profit expectations to 10 to 15% in difficult trading conditions, and reducing stop losses. Perhaps this is something to consider - I'm certainly not 100% in at the moment - I like HumourMe's approach he outlined the comments this morning - I will be coming up with a similar plan until the market direction becomes clearer... Thanks for all the other comments. I'll be digesting them this evening.

Good Night!
Disclaimer:
As per our Terms of Use, Stockopedia is a financial news & data site, discussion forum and content aggregator. Our site should be used for educational & informational purposes only. We do not provide investment advice, recommendations or views as to whether an investment or strategy is suited to the investment needs of a specific individual. You should make your own decisions and seek independent professional advice before doing so. The author may own shares in any companies discussed, all opinions are his/her own & are general/impersonal. Remember: Shares can go down as well as up. Past performance is not a guide to future performance & investors may not get back the amount invested.
---
---

Gresham Technologies Plc, formerly Gresham Computing plc, is a software and services company. The Company is engaged in specializing in real-time transaction control and enterprise data integrity solutions. Its segments include Clareti Solutions, which supplies cash management and payment solutions to the finance and banking markets across Asia Pacific, Europe, Middle East and Africa (EMEA) and North America, and Other Solutions, which supplies a range of solutions to enterprise level customers in a range of end markets. The Company's portfolio of applications based on the Clareti platform, including Clareti Transaction Control (CTC), Clareti Accounts Receivable Management (Clareti ARM) and Clareti Loan Control (CLC), provides solutions for real-time data management based on business-driven controls. The Company's Clareti software platform is designed to address, regulatory compliance, financial control, internal risk management, data management and regulatory compliance problems. more »

LSE Price

Johnson Service Group PLC is a United Kingdom-based company that provides textile rental related services. The Company is the supplier of workwear and protective wear. The Company operates through Textile Rental segment. The Textile Rental segment is engaged in the supplying and laundering of workwear garments and protective wear; linen services for the hotel, restaurant and catering markets, and high volume hotel linen services. The Textile Rental segment principally consists of workwear garments, cabinet towels, linen and dust mats, are initially treated as inventories. It operates Textile Rental business under the brands, including Apparelmaster, Stalbridge, Bourne and London Linen. Its market workwear rental business, providing a clothing portfolio to the workplace, supported by sourcing supply and aftercare service solutions. Its Johnsons Stalbridge Linen Services offers the laundry service to the hospitality sectors. more »

LSE Price

Avon Rubber p.l.c. is a United Kingdom-based technology group. The Company specializes in respiratory protection systems and milking point solutions through its two businesses, Avon Protection and milkrite InterPuls. The Company designs, tests and manufactures specialist products and services. Avon protection is the advanced chemical, biological, radiological and nuclear (CBRN) respiratory protection systems for the military, law enforcement and fire markets. The milkrite InterPuls is providing complete milking point solutions to customers across the world. more »

LSE Price