Hello Everyone, Pete here again. For those of you who don't know me, I'm an amateur investor attempting to develop my techno-fundamentalist skills. This is really just my investment diary, and is not intended as investment advice. I hold a long position in many of the shares discussed.

No posts from me last week - the house has been full of relatives over for Easter - it felt a bit rude to lock myself in the study writing on Stockopedia. But really interesting to read the debate - lots of interesting shares on the CAN-SLIM-esque screen and plenty that almost qualify too. It has been a beautiful day here in Norfolk - the weather is warming, and the first lambs are in the fields. The wife is out at a friend's house so a good time for a spot of writing. :-)
---
Screen Review
So a few changes this week - still 12  qualifiers, but some drop outs and new entries.
So dropping out we have:-
And What is In?
Plus500 (LON:PLUS) New Entry - but not new to the screen - it hit a new 52 week high at the end of last week. Sustained increase in volume last week (1million plus per day vs 500k the previous week). Possible breakout buy point? To be considered.
Kaz Minerals (LON:KAZ) 2 weeks ago, I was impressed by how little  movement there had been during the general market sell off in March. The last two weeks has seen some selling, but volume is low. Possible constructive base building.
Fevertree Drinks (LON:FEVR) - some price erosion, and certainly not increasing at the same rate as in 2017. Still like it, still drink it (although I did try a new brand last week - maybe Evil had a point??)
Globaltrans Investment (LON:GLTR) - No comments
IG Group (LON:IGG) - Got stopped out on this. Dropped over 10% in a day, then recovered. @Shine66 had a comment about the tight stops suggested by O'Neil and Minervini being difficult to apply to (Uk) small caps, particularly with the spread. I'll be considering this over the coming weeks and doing some calculations how adjusting stops would have affected my performance on a trade by trade basis. Anyway, I don't see a re-entry point immediately.
Robert Walters (LON:RWA) - A lot of interest in this in the comments and one I have bought into personally. I bought on what I thought was a breakout, it didn't develop immediately as expected, but saw heavy buying last Friday, and the week finished up positive (making 3 weeks in a row). The base itself looks strong to me, but another entry point could be this week.
Abcam (LON:ABC) - I'm not sure about this  in terms of base building. 10 days ago, the volume was super high and the day finished where it started. O'Neil and Minervini, both suggest we should look for volume drying up at the bottom of the cup bases - I suppose the next few days saw lower volume. This is not clear to me.
Numis (LON:NUM) I bought this a few weeks ago, but my timing was poor. Still slightly in the red on this trade. I haven't written it off yet. I see nothing to suggest an immediate sell, and a possible entry point could be this week.
Integrated Diagnostics Holdings (LON:IDHC) NEW ENTRY - Less than 1 year since the IPO (plus point for Minervini), this is an Egyptian healthcare diagnostics company. Good results, increasing broker consensus and not a bad stock rank at 85. The forward guidance was positive:-
" we continue to target full-year 2017 revenue growth in excess of 20% for the full year and confirm our guidance for EBITDA margins at or above 40% as we move past the seasonal impact of Ramadan."
One concern is being based in Egypt, the are exposed to the Egyptian pound (EGP) - the previous year, they suffered high foreign exchange losses when there was a massive devaluation in the EGP. Whether this happens again, I have no idea, but the EGP to GBP rate is on a long terms downward trend (source XE.com)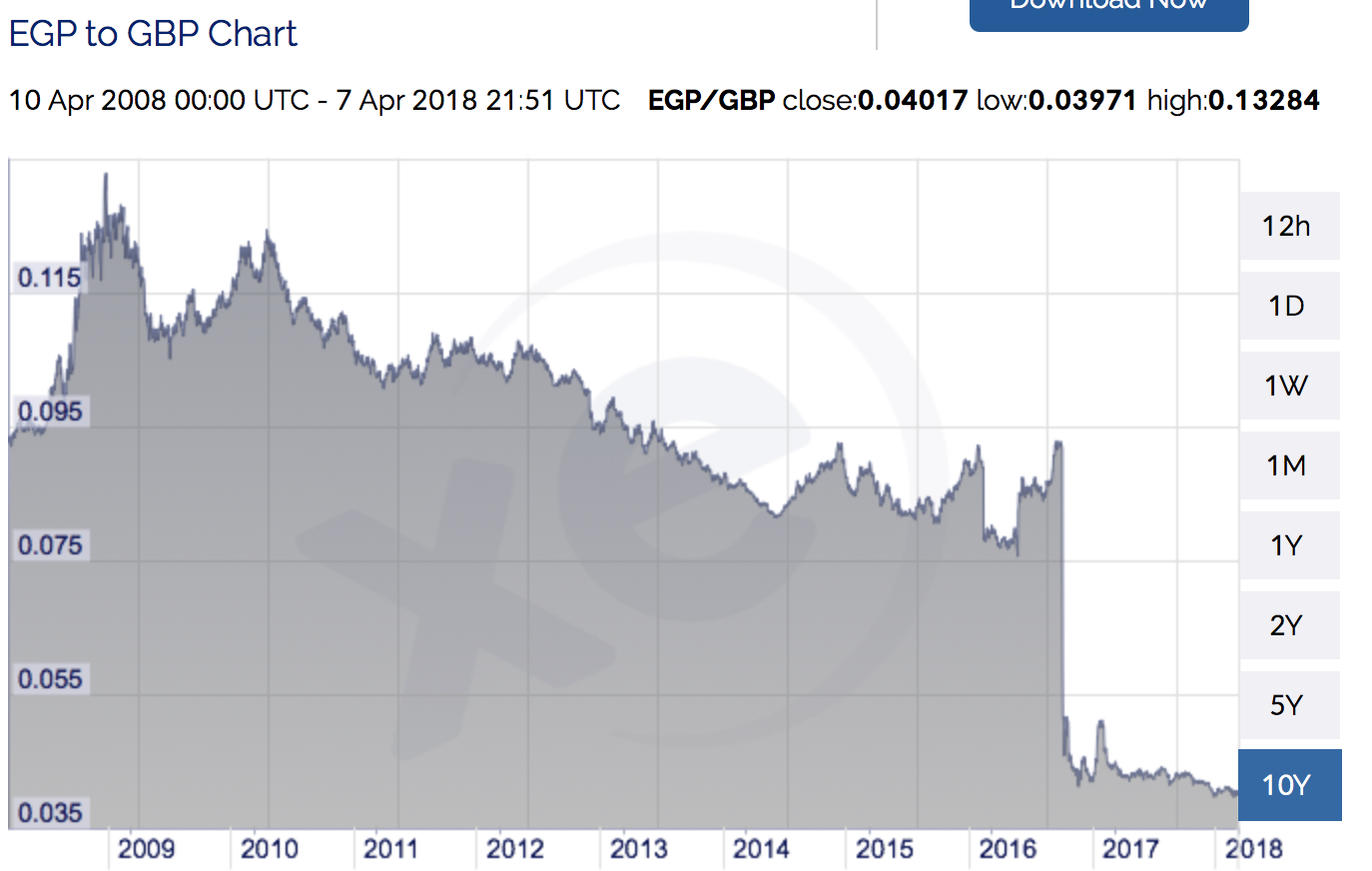 What about the price / volume charts? well, the volume is low (<100k typically), the daily spread is very high. It regularly moves more than 8% in a day. Try trading this on a tight stop! 
Avon Rubber (LON:AVON) - As @Ricky65 wrote "Looks like a textbook cup, lovely symmetry." Possible buy point on Monday for me.
Joules (LON:JOUL) - NEW ENTRY - back again, but with the 150 day below the 200 day, I won't be paying too much attention. 
Countryside Properties (LON:CSP) - NEW ENTRY - A new one to me - IPO just over 2 years ago.  Won large house builder of the year in 2017, they specialise in "place making" whatever that means and "urban regeneration"  (i know what that means) The January forward guidance said they had a good end to the year and expect results to be in line with market expectations.  30 week MA is below the 40 week MA, so does not qualify for consideration under Minervini's pre-screen.
---
Portfolio
Currently I hold Craneware (LON:CRW), On The Beach (LON:OTB), Numis (LON:NUM), and a 50% position  Robert Walters (LON:RWA). I'm 36% cash due to the recent more volatile markets recently. My hit rate has been low since  December, so I've gone in with only a 50% of my normal position in Robert Walters (LON:RWA) as a tester. 
Market Direction

The general market recovered somewhat in the last two weeks - I have not recorded any more distribution days. I don't see a confirmed general market uptrend yet, so for now I'm approaching with caution until I'm satisfied with my timing and choices. I will keep higher levels of cash and for now only being buying  50% positions.
---
UK Investor Show
Is anyone going to the UK investor show? I've been for the last 3 years and found it a worthwhile day. 
Disclaimer:
As per our Terms of Use, Stockopedia is a financial news & data site, discussion forum and content aggregator. Our site should be used for educational & informational purposes only. We do not provide investment advice, recommendations or views as to whether an investment or strategy is suited to the investment needs of a specific individual. You should make your own decisions and seek independent professional advice before doing so. The author may own shares in any companies discussed, all opinions are his/her own & are general/impersonal. Remember: Shares can go down as well as up. Past performance is not a guide to future performance & investors may not get back the amount invested.
---
---

Plus500 Ltd is an Israel-based online provider of Contracts for Difference (CFDs). The Company develops and operates an online trading platform for retail customers to trade CFDs internationally over more than 2,200 different underlying global financial instruments comprising equities, indices, commodities, options, exchange-traded funds (ETFs) and foreign exchange. The Company enables retail customers to trade CFDs in more than 50 countries and in over 30 languages. The Company's trading platform is accessible from multiple operating systems, such as Windows, smartphones (iOS, Android and Windows Phone), tablets (iOS, Android and Surface), Apple Watch and web browsers. The Company conducts operations in the European Economic Area (EEA), Gibraltar, Australia and certain other jurisdictions across Asia, the Middle East and elsewhere. Its subsidiaries include Plus500UK, Plus500AU, Plus500CY and Plus500IL. more »

LSE Price

KAZ Minerals PLC is a United Kingdom-based copper company. The Company operates in the natural resources industry through five segments: East Region, Bozymchak, Bozshakol, Aktogay and Mining Projects. The East Region, Bozshakol and Aktogay segments are engaged in mining and processing of copper and other metals in Kazakhstan. The Bozymchak segment is engaged in mining and processing of copper and gold in Kyrgyzstan. The Mining Projects segment is engaged in the development of metal deposits and processing facilities Kazakhstan. The East Region segment contains the entity Vostoktsvetmet LLC (VCM), whose principal activity is the mining and processing of copper and other metals, which are produced as by-products from four underground mines and three concentrators located in the eastern region of Kazakhstan. more »

LSE Price

Fevertree Drinks plc is a United Kingdom-based holding and investment company. The Company is a developer and supplier of premium mixer drinks. The Company's premium mixers consist of a range of all natural carbonated mixers, including Tonics, Ginger Ale, Ginger Beer, Bitter Lemon and Lemonades. The Company sells a range of products under the Fever-Tree brand, which include Indian Tonic Water, Naturally Light Tonic Water, Elderflower Tonic Water, Mediterranean Tonic Water, Ginger Ale, Ginger Beer, Naturally Light Ginger Beer, Bitter Lemon, Sicilian Lemonade, Lemonade, Spring Soda Water and Premium Cola. The Company caters to hotels, restaurants, bars and cafes, as well as supermarkets. The Company sells its products to a range of markets, such as the United Kingdom, Europe and North America. more »

LSE Price