Hi everyone, I hope your investments are doing well. I'm going to write a bit about Boohoo.Com (LON:BOO) today... (I have a long position already in this share) I know a lot has been written about this share on this discussion boards. It attracts a lot of attention / has it / has it not over extended. Is it nothing more than "a jumped up market trader" etc, but, as usual I won't offer any insights into the financials - others on Stockopedia are far better qualified, but I can talk about it in relation to CAN-SLIM...
If you are not familiar with the CAN-SLIM method there is a great overview on the CAN-SLIM-esque screen page, and I really recommend buying Bill O'Neil's book and studying it. I'm still fairly new to this method, so any comments on my interpretations are welcome, in fact requested.
Boohoo.Com (LON:BOO) has been featured in the CANSLIM-Esque screen for as long as I have been doing this blog, with impressive EPS growth, ROE and Relative Strength, covering the C, A and L of the CAN-SLIM acronym. N stands for New - new companies / products or management. It certainly qualifies there. S is supply - compared to many stocks in my portfolio, Boohoo.Com (LON:BOO) is heavily traded, with around 6 million shares / day.  
In summary, in my opinion, very suitable choice for the CAN-SLIM portfolio. One of the more important aspects of the method is choosing buy points correctly. Us CAN-SLIMers have to sit patiently, following shares for weeks, months, often watching significant upwards and downwards movements before we pounce! I think the moment for Boohoo.Com (LON:BOO) was today. 
14 weeks ago, the price peaked around 270p, since then a cup with handle base has potentially formed. I say potentially, because we can only expected to be right 1 in 3 times. Hopefully more often, but 1 in 3 is sufficient. Today it closed over 6% up, pretty much in line with the top of the handle (dotted line). This combined with the huge increase in volume (preceded by a period of low volume and fairly tight closes) could be a positive sign. This will be an "Add" for the portfolio tomorrow, accompanied by a tight stop loss of no more than -7 - 8%. I may sell sooner if I have a feeling nothing is happening. The great thing about this blog is I can look back and analyse my thinking better if it proves to be a failure - a lot of people recommend keeping a log with the reasons why you make a trade - this is the first time I have accomplished this  over a long period and I've found it invaluable. 
I should add, this is a record of what I have done, but certainly not advice!! DYOR!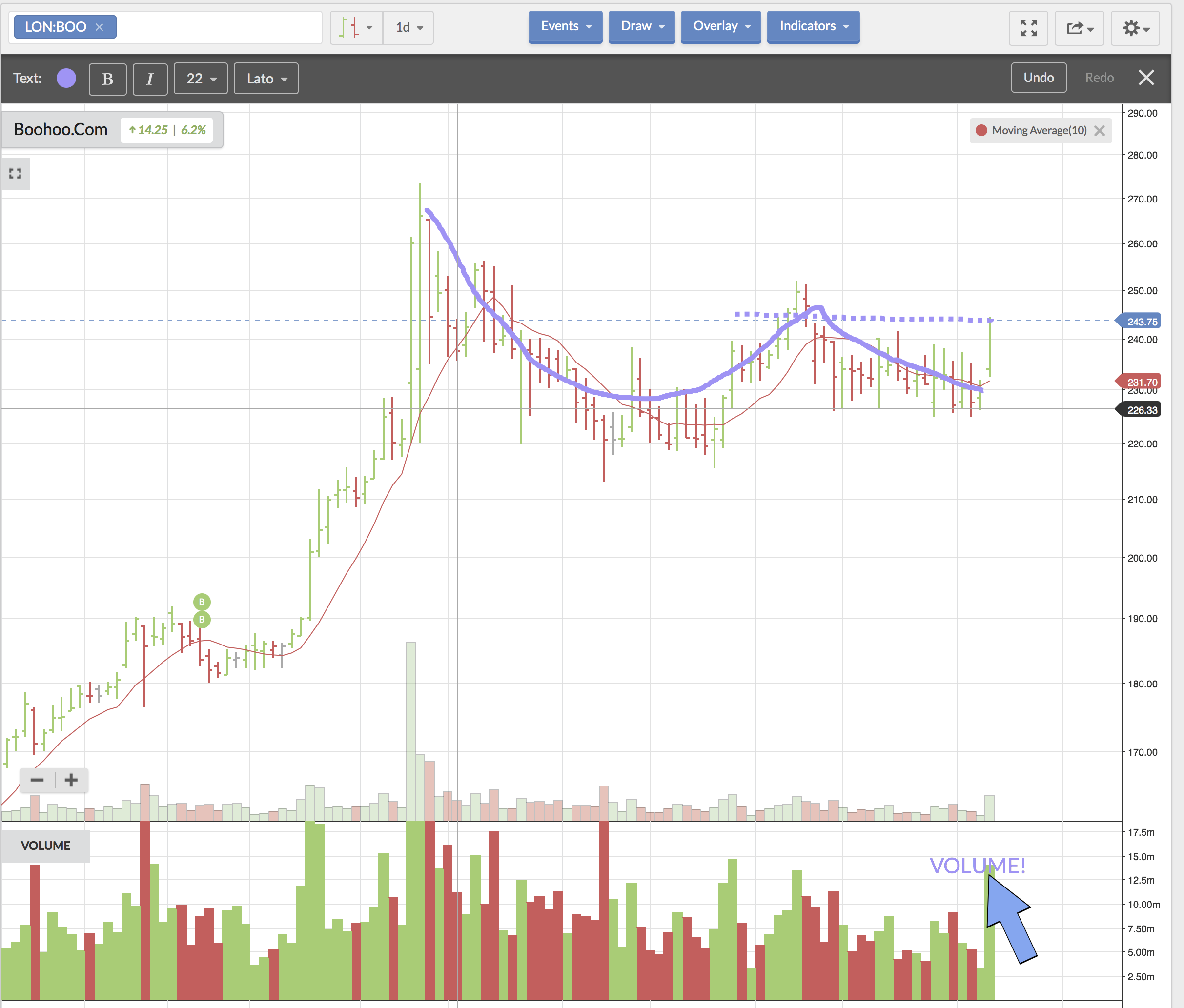 Disclaimer:
As per our Terms of Use, Stockopedia is a financial news & data site, discussion forum and content aggregator. Our site should be used for educational & informational purposes only. We do not provide investment advice, recommendations or views as to whether an investment or strategy is suited to the investment needs of a specific individual. You should make your own decisions and seek independent professional advice before doing so. The author may own shares in any companies discussed, all opinions are his/her own & are general/impersonal. Remember: Shares can go down as well as up. Past performance is not a guide to future performance & investors may not get back the amount invested.
---
---

Boohoo Group PLC, formerly boohoo.com plc, is an online fashion retail group. The Company is based in the United Kingdom and has a strong presence in the United Kingdom, the United States, Europe and Australia, selling products to almost every country in the world. The Company owns the boohoo, boohooMAN, PrettyLittleThing and Nasty Gal brands. These brands design, source, market and sell clothing, shoes, accessories and beauty products targeted at 16-30 year old consumers in the United Kingdom and internationally. more »

LSE Price