Can I CAN-SLIM? 8 - I'm Back - Looking Forward to 2018!
I'm back firstly - sorry for not writing for a couple of months - I'll be totally honest, I've been really lax with my trading - basically doing the bare minimum of protecting the assets, but not really moving forward, and no writing. And then I log on and see I have some really interesting comments left by thoughtful people. Thanks for those. I hope everyone is doing well and 2018 is kind to your investments!
So new year's resolution; Don't be so poor at writing in 2018!
 Does anyone else struggle to maintain momentum constantly? `To try to understand this, I recently read Gretchen Rubin's new book, The Four Tendencies. If you are not familiar with it, look it up - she basically reckons our typical behaviours fit into 4 tendencies, you can take a quiz to find out what you are here... I'm classed as "Rebel" and apparently we find routines very difficult! Anyway, I digress.
---
CANSLIM Progress

I'm quite pleased with the 8 months of CANSLIM trading, bearing in mind, I only bought the book in April. The favorable market has been helping, but over the same time period I've outperformed the indices. In  numbers:-
20% increase in portfolio value over 8 months (30% 12 month equivalent)
18 buys
13 sells
FTSE 250 7.94% (21/4/17 - to date)
FSTE 100 5.4% (21/4/17 to date)
AIM All Share 12.9% (21/4/17 to date)
The individual trades are outlined in the chart below (sorry for the hard to read formatting, I'm using the web version of excel):-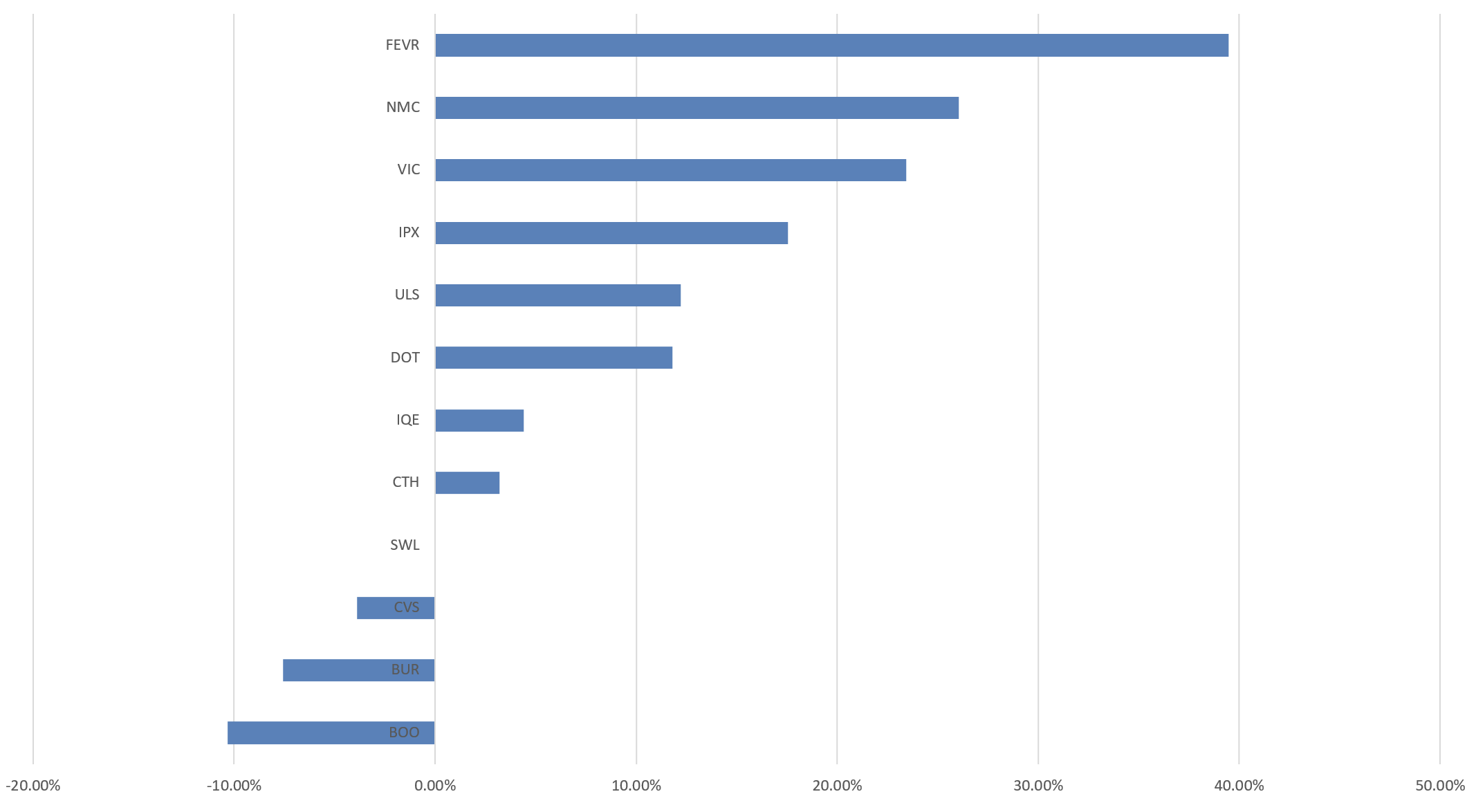 The good points from the chart are the gains were not limited to 1 or 2 trades, and most of the losses except BOO are limited to less than 8%. The 8 positive to 4 negative ratio is exactly where O'Neil suggests is likely with his method (1/3 failure rate) so, performance is in line with expectations outlined in his book.
Boohoo.Com (LON:BOO) was a sad story, covered earlier so I won't dwell - I threw away good gains on an ill thought out second buy resulting in a 10% loss on paper, but from where I was it was much higher.
Because I wasn't in in the market before 21/4/2017, I missed the big movements at the beginning of the year, so it has been hard to compare my performance with say, Ed's excellent NAPS portfolio for example. To see how bad my timing was look at the indices below (FTSE 100, 250 and AIM All share). The blue arrow is when I started - I basically bought just before everything levelled off.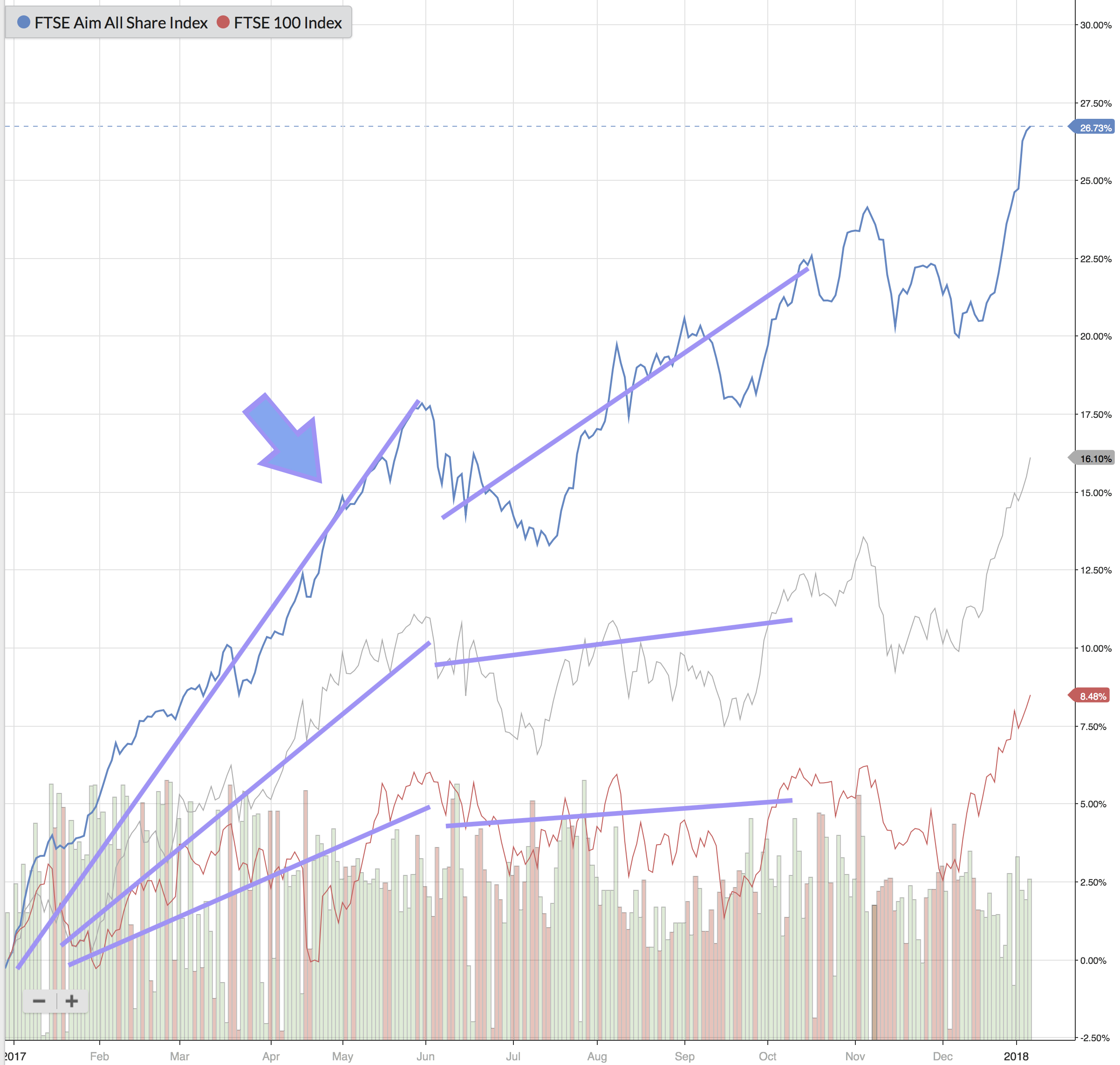 Also, please bear in mind, some months, my family didn't spend all my salary, so I managed to make some further deposits through the year. To simplify, to calculate gain, I just used:-
             (total gain / total deposits) x 100%
This underestimates the true performance - 1/3 of the value of the portfolio has not had the full 8 months invested. With time, hopefully as the value increases, my deposits mid year will be less significant. I'd be really interested to hear how you handle this, if at all. Do you have software for this? I expect you are going to tell me there is a feature in Stockopedia for this that I haven't noticed!! There is a share club I'm involved in at my old work place - they have some software for calculating a monthly unit value, then any deposits are made at that unit value. Maybe I'll set up something in excel.
I've found the "Never accept a loss greater than 8%" rule both challenging and rewarding. When I have applied it, it has saved me on several occasions from more significant losses. A couple of times I've sold just as the price started to recover and missed out on the recovery. Once with  Boohoo.Com (LON:BOO), I took a 10% loss - oops (previously reported incorrectly as 25% ). Overall, it has benefited me (I think - maybe some further analysis needed). 
I'm starting to get a feel for some of the bases, although, I'm not confident I could identify all the forms listed in the book
It has been great getting to learn and share with some of the other subscribers. I'm grateful for your generosity with time and ideas I've bought and read the Minervini book on the back of recommendations  - I think it is having a positive impact on my investment style.
What else in 2017? Oh - is anyone else with Barclays? Their new platform isn't working out well for me at all. I'm tech savvy, but I've made some trading errors (due to the unclear interface), I keep accidentally logging off. I think I may need a new broker in 2018. On a positive note the dealing fees have dropped and I stopped using the data service after subscribing to Stockopedia.
I haven't got any buys or sells in the pipeline (partly lack of research, partly nothing standing out to me. But over the coming few days, I'll be doing some research and I'll let you know my plans.

And finishing where I began with Gretchen Rubin and her Tendencies - thinking about it, although it holds me back forming routines,  my "Rebel" tendency is precisely what motivates me in trading. I find the idea of all of us sat behind a computer, dispersed around the country and out performing the fund managing finance wizards to be so subversive and motivating!
Plan for 2018 - beat the market by more!
Disclaimer:
As per our Terms of Use, Stockopedia is a financial news & data site, discussion forum and content aggregator. Our site should be used for educational & informational purposes only. We do not provide investment advice, recommendations or views as to whether an investment or strategy is suited to the investment needs of a specific individual. You should make your own decisions and seek independent professional advice before doing so. The author may own shares in any companies discussed, all opinions are his/her own & are general/impersonal. Remember: Shares can go down as well as up. Past performance is not a guide to future performance & investors may not get back the amount invested.
---
---