Can I CAN-SLIM? 8 - I'm Back - Looking Forward to 2018!
I'm back firstly - sorry for not writing for a couple of months - I'll be totally honest, I've been really lax with my trading - basically doing the bare minimum of protecting the assets, but not really moving forward, and no writing. And then I log on and see I have some really interesting comments left by thoughtful people. Thanks for those. I hope everyone is doing well and 2018 is kind to your investments!
So new year's resolution; Don't be so poor at writing in 2018!
 Does anyone else struggle to maintain momentum constantly? `To try to understand this, I recently read Gretchen Rubin's new book, The Four Tendencies. If you are not familiar with it, look it up - she basically reckons our typical behaviours fit into 4 tendencies, you can take a quiz to find out what you are here... I'm classed as "Rebel" and apparently we find routines very difficult! Anyway, I digress.
---
CANSLIM Progress

I'm quite pleased with the 8 months of CANSLIM trading, bearing in mind, I only bought the book in April. The favorable market has been helping, but over the same time period I've outperformed the indices. In  numbers:-
20% increase in portfolio value over 8 months (30% 12 month equivalent)
18 buys
13 sells
FTSE 250 7.94% (21/4/17 - to date)
FSTE 100 5.4% (21/4/17 to date)
AIM All Share 12.9% (21/4/17 to date)
The individual trades are outlined in the chart below (sorry for the hard to read formatting, I'm using the web version of excel):-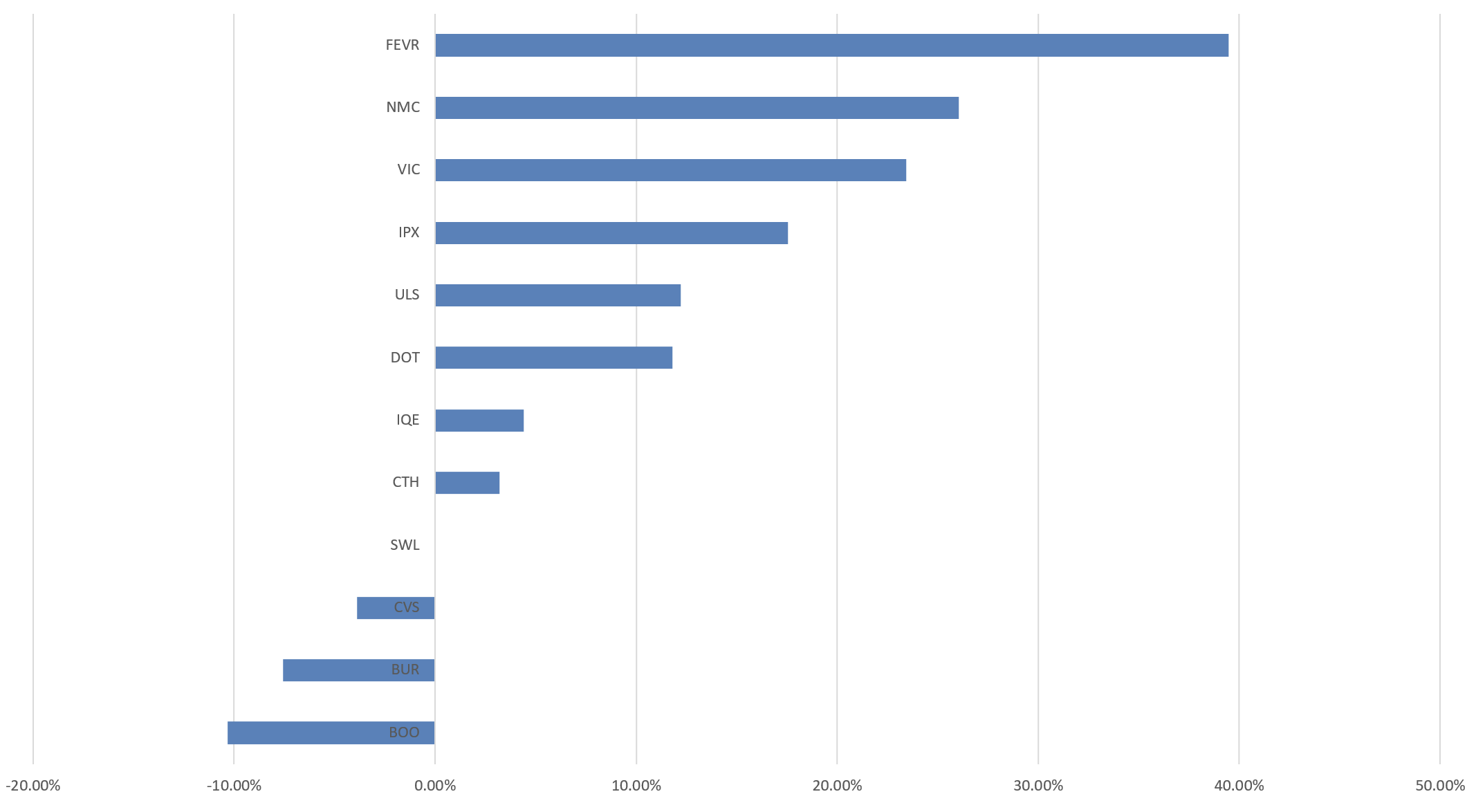 The good points from the chart are the gains were not limited to 1 or 2 trades, and most of the losses except BOO are limited to less than 8%. The 8 positive to 4 negative ratio is exactly where O'Neil suggests is likely with his method (1/3 failure rate) so, performance is in line with expectations outlined in his book.
Boohoo.Com (LON:BOO) was a sad story, covered earlier so I won't dwell - I threw away good gains on an ill thought out second buy resulting in a 10% loss on paper, but from where I was it was much higher.
Because I wasn't in in the market before 21/4/2017, I missed the big movements at the beginning of the year, so it has…

Finish reading with a 14 day trial
Already have an account?
Login here