Can listing platforms - Rightmove, AutoTrader and Scout24 - see off rivals?
Mirror mirror on the wall which UK listed company is the most profitable of them all?  The answer is the property-listing platform Rightmove, and Auto Trader is not far behind. Online listing platforms generate high returns on capital and tend to return the majority of free cash flow to investors.

In this article I will examine the investment cases for three online listing platforms: Rightmove, Autotrader and Scout24. They all enjoy market-leading positions and generate eye-watering profit margins.    
Online platforms charge sellers to list their products and benefit from powerful network effects. Buyers are attracted to the platform with the most listings and sellers want to be on the platform with most buyers.
The largest listing platforms are able to attract new listings without spending exorbitant amounts on marketing. They therefore have the scope to be extremely profitable given that third parties (sellers) provide the content.
A key risk is that rival platforms take market share and reduce listing fees and volumes. Disruptive competition is also a threat with Facebook recently launching Marketplace in Europe and Amazon taking market share from eBay.
Online listing platforms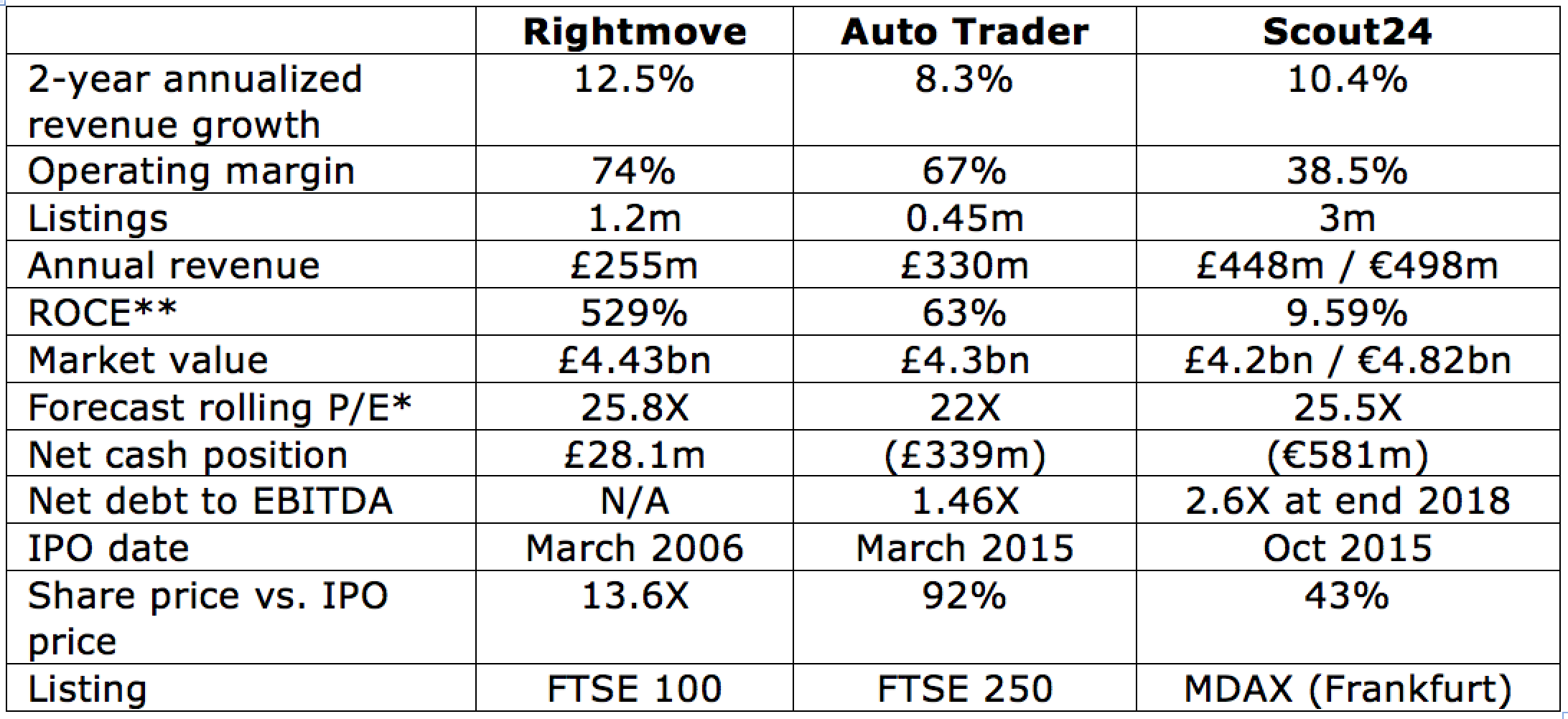 *Share price close on 31 August 2018  **Auto Trader and Scout24 have considerable goodwill on their balance sheets.
Rightmove and OnTheMarket: David and Goliath
Rightmove is UK's leading property listing portal and was founded as a joint venture between four estate agents in 2000.  The website was initially free and started charging for home listings in 2002 and rental listings in 2004.
Property advertising products were introduced in 2007 and now account for a third of total revenue.  A mobile app was introduced in 2009 and mobile searches are now a third of total searches.
Rightmove's network effect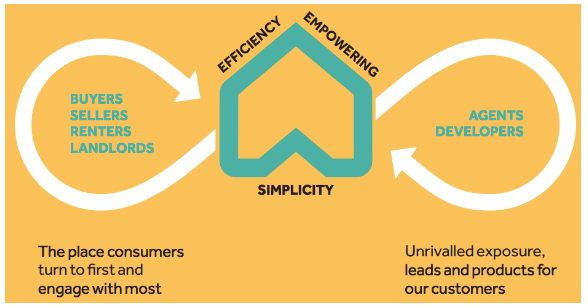 Source: Rightmove

Rightmove listed in 2006 at 335p and the recent 10-for-1 stock split makes the split adjusted IPO price 33.5p. Revenue was £33.6m in 2006 versus £243m in 2017 and the operating profit margin improved from 46% to 73% over the period.
These kinds of margins attract competition with Zoopla launched in 2008 and OnTheMarket launched in 2015. OnTheMarket generated £16m revenue in the year to January 2018 and listed in February.
Rightmove has maintained over a 70% share of traffic since 2015 and Zoopla currently has around a 20% market share. Onthemarket …

Unlock the rest of this Article in 15 seconds
Already have an account?
Login here