Carpetright plc - Will Shareholders be Rewarded Enough?

Share Price 39.7p (pre-open)
Market Cap £28.3m         No. of Shares 67.7m
Enterprise Value £51.1m
About the Company
Carpetright is the largest UK flooring company selling carpets, vinyl, laminated and beds. The company has over 400 stores in UK, Ireland, and Channel Islands as well as an online offering.
Carpetright's Website Offering

Interim Funding
The Company has now agreed, subject to the satisfaction of certain conditions, that the final repayment date of the Revolving Credit Facility will be deferred to 31 December 2019.  

Link to today's RNS announcement.

Risk money has got expensive with £17.25 million borrowed at 18% per annum on a monthly compound rate.  The company receives net £15 million to do what?
When the company does raise £60 million by equity fundraising, the 1st Meditor Loan of £12.5 million plus interest has to be repaid.  Essentially, the 2nd Loan is paying off the 1st Loan with an extended repayment date until 31 July 2020.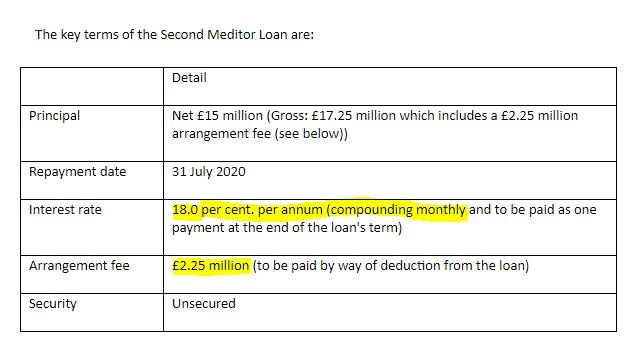 Equity holders take the greatest risk. Their return has to be larger than other capital providers, as they are at the back of the queue in the event that the company goes under. Existing shareholders may well be underestimating that risk in light of the interest rate charged by 2nd Meditor Loan. Obviously, these were the best terms possible from anywhere.  Meditor is a major shareholder, so it was either put up money or bust.
Trading Update on 30th April 2018.
"the Group anticipates reporting an underlying pre-tax loss for the year ending 28 April 2018 in the region of £7m to £9m."
Like for Like sales are declining 10.5% in the UK and 8.5% in the Rest of Europe in the final quarter. Consumers are reluctant to spend and the competition has got tougher.
Here is link for Result of CVA Shareholders' Meeting and Trading Update
They say past results should not be taken as a guide to future results. 

We now add in a £9m loss in 2018 for good measure.  Taking an average revenue per annum of £460m for the last 7 years gives us a…

Unlock this Article with a 14 day free trial
Already have an account?
Login here