Cenkos Securities (LON:CNKS) is one of my current favourite UK small-cap stocks, also apparently loved by the StockRanks system as it has a 91 StockRank, and a 98 QV rank: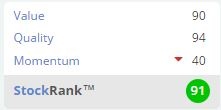 Quality: a rock-solid balance sheet with over £40m in cash, representing 1/3rd of the total market cap! 

Yes I know that broking is not a long-term high-quality industry, depending as it does on cyclical financial market conditions and on key personnel e.g. in mergers & acquisitions. But at least for the moment, business is very strong following its AA placing (both primary and now a follow-on) plus a big deal for Haversham, rumoured to be bringing in £40m gross, £20m net in fees. By itself, if true that would represent already 1/3rd of forecast revenues for 2015!
Returns on capital, on equity and operating margins are all predictably high, as is free cash flow...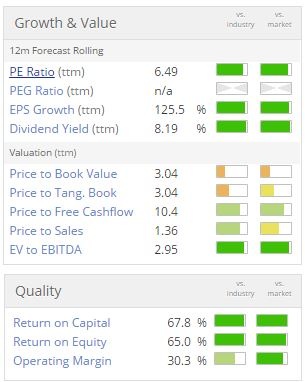 Value: 6.5x historic P/E (under 4.5x on ex-cash basis), 8% dividend yield (ex-dividend 10p today) and EV/EBITDA under 3x are all attractive valuation levels. Free cash flow yield is averaging well over 10%... Yes it is a broker, but these numbers are very, very cheap.
Momentum: Business momentum is strong, but you don't see it in consensus forecast upgrades because it is so poorly followed by professional analysts (i.e. hardly covered at all). Price momentum has been strong over the last few months following blowout financial results and a very strong dividend declaration.
Crucially, I see a good chance that the Cenkos deal pipeline will result in further IPOs or secondary offerings, resulting in strong fee generation for the company...
Opportunity: the stock has fallen 17p today, so 7p more than the ex-dividend amount, for no good reason as far as I can see.
Conclusion: Under 200p I see Cenkos Securities (LON:CNKS) as a very attractive proposition, particularly given the potential catalysts to come in the form of further deal announcements resulting in strong fee generation. 
And don't forget, there is that very generous dividend to tide you over while you wait!
And as always, DYOR...

Unlock this article instantly by logging into your account
Don't have an account? Register for free and we'll get out your way
Disclaimer:
My opinions only, not investment recommendations: Please Do Your Own Research
---
---

Cenkos Securities plc (Cenkos) is a United Kingdom-based independent institutional securities company. The Company's principal activity is institutional stockbroking. Cenkos provides corporate finance, corporate broking, research and execution securities services to small and mid-cap growth companies, and other companies, across a range of industry sectors, as well as investment funds. The Company offers its clients access to equity finance at various stages of their development. The Company's activities also include institutional equities and market making. It provides technical advice on all forms of corporate transactions, including initial public offerings (IPOs), fundraisings, mergers and acquisitions, disposals, restructurings and tender offers. The Company's subsidiaries include Cenkos Nominee UK Limited, Cenkos Securities (Trustees) Limited and Cenkos Securities Asia Pte Limited. more »

LSE Price