Central Asia Metals (CAML) - A quick review
Central Asia Metals (LON:CAML) is a copper producer. The company's main revenue driver is a plant in Kazakhstan that produces copper cathode. This product is then distributed to end customers, which are predominantly in Turkey. In addition to this plant, the group also has operations in Chile and is continuously evaluating other acquisition opportunities. In terms of strategy, the company aims to minimize debt and provide a dependable dividend to shareholders.

As with practically any metal producer the company's performance is largely determined by the underlying price of the metal, in this case copper.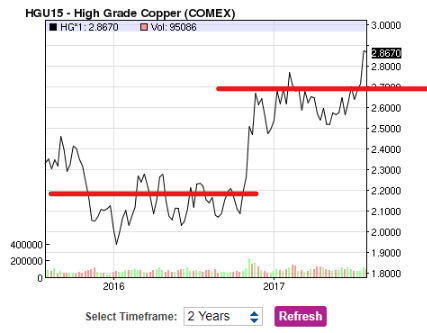 As can be seen above, there has been a marked increase in copper prices over the last 2 years. (Copper at circa $2.90/lb versus $2.21/lb, 2016 average). The effect of this years price rises will be seen in the next prelims due in April 2018. However analysts have slowly been increasing their forecasts: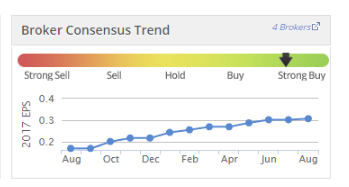 Well that's all well and good but what about costs? C1 costs are a standard metric used in copper mining as a reference point to denote the basic cash costs of running a mining operation to allow a comparison across the industry. 
CAML's costs are maintained firmly in the lowest quartile of the industry cash cost curve. 2016 C1 cash costs were $0.43 per pound (2015: $0.60 per pound) representing a 28% decrease year on year. This was due to several factors, with the most significant being the devaluation of the Kazakhstan Tenge in August 2015. So we need to look at currency: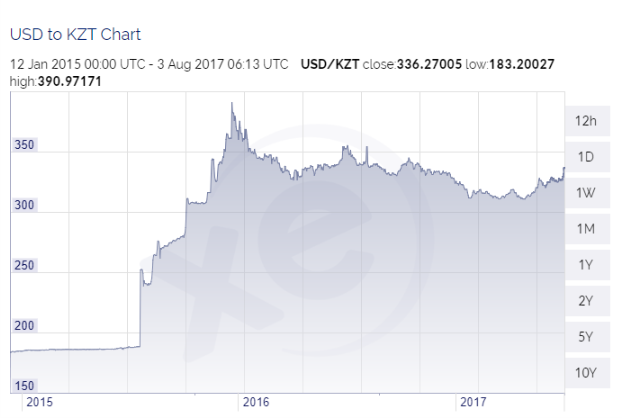 So yes, can clearly see we have no worries there!
Next to look at is the debt situation. Well, good news there; last annual report stated the company had cash of US$40m at the end of 2016 and is debt free. 

What about those extraordinary dividends currently yielding north of 7%?  The Company's dividend policy is to return a minimum of 20% of the gross revenues generated from the Kounrad project to shareholders. Put another way, those dividends are set to stay and materially increase over the coming years.
The coming years... just how much more production capacity is there? Answer "producing low-cost copper for at least another 14 years."
Ahhh but what about capex? No point in having all the above if all the money has to be blown on capex due to…

Finish reading with a 14 day trial
Already have an account?
Login here