Ceramic Fuel Cells secures first BlueGen sale in key US market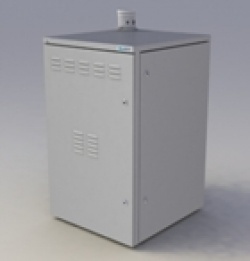 Ceramic Fuel Cells (LON:CFU), the company that makes high efficiency and low emission electricity generation units for homes and other buildings, has sold its first BlueGen generators in the United States to one of the country's largest energy companies. Ceramic Fuel Cells will install a BlueGen gas-to-electricity generator at the energy utility's engineering centre in California. The unit is scheduled to be installed in September 2010.

Ceramic Fuel Cells' local partner, California-based Smart Hybrid Systems, Inc, will provide local installation and support services, including integrating the BlueGen unit with thermal and electrical management systems as well as metering equipment. Smart Hybrid Systems, a US energy appliance manufacturer, also plans to develop innovative hybrid fuel cell and energy storage products using the Ceramic Fuel Cells solid oxide fuel cell as the core generator of electricity and heat.

About the size of a dishwasher, BlueGen is a breakthrough in small scale electricity generation. BlueGen uses patented fuel cell technology to convert natural gas into electricity and heat with very high efficiency. BlueGen units can generate electricity at a peak electrical efficiency of 60%, far higher than any other technology in the large global market for small scale electricity generation. When heat is recovered for hot water, total efficiency is up to 85% - twice as efficient as the current power grid.

By generating power close to where it is used, Ceramic Fuel Cells' products can meet the future demand for low emission electricity without the need for huge investments in electricity transmission and distribution infrastructure.

Brendan Dow, Ceramic Fuel Cells' managing director said: "It is a great achievement for us to have made our first BlueGen sale in the United States, to one of the largest utilities in the country. Together with our existing sales in Europe, Japan and Australia, this sends a strong message about the size of the global markets that Ceramic Fuel Cells is targeting. It is exciting for us that large utilities not only in the USA but throughout the western world are investing seriously in low-emission power generation."

Since late 2009 Ceramic Fuel Cells has secured orders for 50 BlueGen units from other major utilities and foundation customers in Germany, Switzerland, The Netherlands, the United Kingdom, Japan and Australia, including E.ON Ruhrgas (the largest gas utility in Germany), the German Gas Association, and Osaka Gas (the second largest gas utility in Japan).

Disclaimer:
As per our Terms of Use, Stockopedia is a financial news & data site, discussion forum and content aggregator. Our site should be used for educational & informational purposes only. We do not provide investment advice, recommendations or views as to whether an investment or strategy is suited to the investment needs of a specific individual. You should make your own decisions and seek independent professional advice before doing so. Remember: Shares can go down as well as up. Past performance is not a guide to future performance & investors may not get back the amount invested.
---
---

Ceramic Fuel Cells Limited is an Australia-based engaged in commercializing Solid Oxide Fuel Cell (SOFC) technology to generate electricity from natural gas and renewable fuels. The Company manufactures and markets SOFC products for small-scale, micro-Combined Heat & Power (micro-CHP) and distributed generation applications that co-generate electricity and heat for homes and businesses. It delivers BlueGen product to the market with orders in Europe and considerable interest in other key markets. BlueGen is a ready to install generator designed for a number of markets and installation configurations. BlueGen co-generates electricity for consumption and export to the grid and heat for hot water. Its Gennex fuel cell module is a set of fuel cell components designed to work together for efficiency and reliability. The subsidiaries of the company include Ceramic Fuel Cells (Europe) Limited, Ceramic Fuel Cells (Powder) Limited, Ceramic Fuel Cells GmbH and Ceramic Fuel Cells B.V. more »

Price