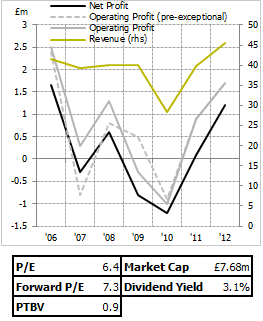 Continuing with the manufacturing theme here, today I'm looking at an company ostensibly similar to Castings. Chamberlin (LON:CMH) is also in the business of castings and related machined products - credit has to go to them for making it easy to find relevant and interesting information about their business. I like it when companies cater to ignorant laymen like me, for instance by breaking down their revenue into end-markets; 30% passenger and commerical cars, 31% in construction, safety/security and hydraulics, and the rest in smaller markets like mining, power generation, oil & gas and so on. It gives me a quick and easy feel for the business, which appears to be more diversified than Castings with a wider spread of products and less stock in a few major customers.
While what they do is a little similar to Castings in a broad sense, how they do it evidently isn't, as we quickly get to the cusp of the differences between the two companies: Castings and, it should be noted, Tricorn (another manufacturing company) interested me because of their stability of returns. The recession was noticable from their reports and their performance, but they continued to turn out operating profits. Outside of the recession, both of those companies earned good returns. Chamberlin's strength is less evident. Over the '07-'11 period in its totality the company lost money, and returns even before that were hardly spectacular - they were throwing off something like 8 and a half percent on their operating assets, with leases capitalised.
In a hoo-rah for market efficiency, you might say that's why Chamberlin is significantly cheaper than Castings. This is true. A question surrounding the relative valuations of the two, then, hinges on whether you think Castings's returns will get worse, or Chamberlin's will get better. It's notable that Chamberlin's share price has come down from ~190p in October 2012 - about double the current price. At the risk of succumbing to a generous helping of hindsight bias (everything's obvious when it's already happened!), I think that price substantially overvalues the company as it stands.
Here's the problem - we're presented with a company which has, over the last 10 years, made £9.7m in operating profits. My adjusted, after-tax operating profit figure sits at £7.7m for that time period. Given…

Unlock this article instantly by logging into your account
Don't have an account? Register for free and we'll get out your way
Disclaimer:
As per our Terms of Use, Stockopedia is a financial news & data site, discussion forum and content aggregator. Our site should be used for educational & informational purposes only. We do not provide investment advice, recommendations or views as to whether an investment or strategy is suited to the investment needs of a specific individual. You should make your own decisions and seek independent professional advice before doing so. The author may own shares in any companies discussed, all opinions are his/her own & are general/impersonal. Remember: Shares can go down as well as up. Past performance is not a guide to future performance & investors may not get back the amount invested.
---
---

Chamberlin plc is engaged in the production and sale of iron castings and light engineering products. The Company operates through two segments: Foundries and Engineering. The Foundries segment is a supplier of iron castings, in raw or machined form, to a range of industrial customers, which incorporate the castings into their own products or carry out further machining or assembly operations on the castings before selling them on to their customers. The Engineering segment provides manufactured and imported products to distributors and end users operating in the safety and security markets. The products fall into the categories of door hardware, hazardous area lighting and control gear. Its subsidiaries include Chamberlin & Hill Castings Ltd, Russell Ductile Castings Ltd, Exidor Ltd and Petrel Ltd. Its subsidiaries are engaged in manufacture and sale of engineering castings, emergency exit equipment, door closers, lighting, switchgear and electrical installation products. more »

LSE Price