China's stock market crashing; time for panic or restraint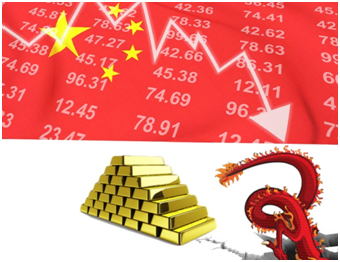 Fortune always fights on the side of the prudent.Critias
Lately, one cynic after another, some of which claim to be experts are all marching to the same drumbeat.  The Chinese economy is in trouble; the Chinese markets are going to continue crashing. The Shanghai index experienced an astounding advance over a brief period of time and so it should not have come as a surprise that such a stupendous rally would culminate with an equally brutal correction. The Doctors of  gloom and doom are over doing it and this was our recent response to our subscribers.
Not much to add here, except that it followed the project path. The fear has not peaked yet, so that means more downside is to be expected. It traded below 3000, and as long as it does not close below 3200 on a monthly basis, the bottoming action will gain traction. As it has already traded below 3000 and fear levels have not hit the extreme ranges yet, a monthly close below 3200 will drive this below 2800.  If the Chinese economy is dead, then there are no words to describe our economy. Our economy is based on smoke and mirrors. Alchemists are trying to create something from nothing, and so far the cocaine sniffing crowd is buying this. Market update Sept 1st, 2015
Stephen Roach the former manager of Morgan Stanley Asia seems to concur with this assessment. He made the following proclamation on the 3
rd
of September 201,.
Growth in China has slowed,  "but it's not going in for a crash...and that will present, I think, an opportunity for shares to re-evaluate the China threat, big time."
When the crowd panics, it takes a bit of time for the dust to settle down. Their confidence has been shaken, and they are letting their emotions do the talking.  When emotions take over, the reaction is almost always overdone.  When this occurs, the level-headed  investor is provided with a once in a life time opportunity to purchase shares in top rated companies for a fraction of their true value.  Prudence is still warranted, but for the brave of heart and  those that have a long-term view, opening positions in companies such as NTES, BABA, SOHU, HNP, CHA, etc., will most likely prove to a good call.  
Our V indicator is signifying that we are going to witness volatility on…

Unlock the rest of this article with a 14 day trial
Already have an account?
Login here