City of London Investment Trust: 46 years of dividend growth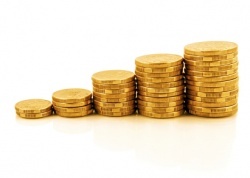 City of London Investment Trust (LON:CTY) is a UK growth & income beast that has consistently delivered above average yield to its investors. Conservatively ran by the same manager for over 20 years, it boasts one of the lowest charging structures in the UK fund market.
I spoke to its manager to find out more...
History
City of London has come a long way since it was set up in 1860 as City of London Brewery to acquire the then renounced city brewing company of Calverts. To readers not from London, the City of London refers to the historic square mile to the east of London that houses St Paul's cathedral and the financial district. So valuable was the property assets the brewery had within the City that it gave up brewing in the 1930's and sold the land for vast profit. It is that profit that seeded funding to the renamed City of London Brewery & Investment Trust and led to today's successful investment vehicle.
It wasn't till the 1960's that the connection to the brewing industry was discontinued altogether with the sale of the pubs the company owned. And it took till the early 70's when the investment mandate moved to Touché Remant for the name to be changed again to reflect the new reality.
The next big change for the trust came in 1991 when Touché Remant were acquired by Henderson Global Investors and appointed John Curtis to the role of portfolio manager. After a series of mergers and acquisitions at Henderson where it became at one point the UK subsidiary of a large Australian insurer, it now resides in shiny new offices in Liverpool St in the heart of the City but still with John Curtis as the portfolio manager.
46 Years!!!
History is one of the fascinating stories many investment trusts have to tell but it is never a reason to invest. What might be a reason is  4 6  Y e a r s  of unbroken dividend growth. Not only does City of London have the longest track record of dividend growth but it does it whilst paying a dividend that is around 25% more than the average of the market and its index the FTSE All-share with a current yield of 4.56%. That beats inflation hands down. And that's not all, over…

Unlock this article instantly by logging into your account
Don't have an account? Register for free and we'll get out your way
Disclaimer:
WhichInvestmentTrust.com is designed to give you the investor information which might help with your decision on suitable investments. It is not intended as a recommendation or as financial advice. We are NOT authorised by the FSA (Financial Services Authority) to give advice. We are NOT regulated by the FSA either. Instead you should use this site and the information within it for research purposes only. The suitability of the investments discussed here will depend upon your personal circumstance. If you are unsure about its suitability for you personaly then seek the counsel of an experienced financial adviser. Considered financial advice is often greatly undervalued and is of great use in navigating the complex universe that is both investments and holistic financial planning. You should also remember that when reviewing investments past performance has been shown to be an often poor indicator of future performance, and particularly so in the short term. Before making an investment it is important to consider the risk to your capital should the investment go down in value. Substantial loses can be experienced, again this is especially so over the short term. It is also important to consider that the nature of the investments featured on WhichInvestmentTrust.com are long term in nature and should NEVER be considered over a short term horizon. Predicting the direction of investment markets on a short term basis has been shown to be incredibly difficult, and no one here at WhichInvestmentTrust.com professes to have any such experience or qualification. Dice McCairn, Editor WhichInvestmentTrust.com
---
---

The City of London Investment Trust plc is a United Kingdom-based investment trust company. The Company's objective is to provide long-term growth in income and capital, principally by investment in equities listed on the London Stock Exchange. The Company will mainly invest in equities and in debt securities, such as convertibles, corporate bonds or government debt. The Company will not invest approximately 15% of its portfolio in any single investment on acquisition, nor will it invest over 15% of the portfolio in any other the United Kingdom listed investment trusts or investment companies. Approximately 60% of the portfolio by value will be invested in companies in The Financial Times Stock Exchange 100 Index. The Company invests in various sectors, such as oil and gas, basic materials, industrials, consumer goods, healthcare, consumer services, telecommunications, utilities, financials and technology. Henderson Global Investors Limited acts as the Company's investment manager. more »

LSE Price