Combining Economic Data and Price Volume Analysis to Forecast Market Returns
Fellow Subscribers,
In this blog post I will be using real GDP data combined with technical analysis (mainly price and volume) to help forecast my prediction for the S&P500.  Specifically, I will be using Wyckoff Analysis to help determine the course of future events now the index is in a clearly defined trading range.

It would be useful if you had at least a basic understanding of how the Wyckoff method works for determining price cycles and trading ranges.  I have several YouTube videos helping to explain this https://www.youtube.com/user/jcorsellis1.  However, the basic premise for the Wyckoff method is that prices, both stocks and indexes, move in 4 cycles then repeat:
Phase 1: Accumulation
Phase 2: Markup
Phase 3: Distribution
Phase 4: Markdown
I will start by analysing two charts - 1) S&P500 Weekly Chart (SPY ETF) from 2016 to present day; and 2) S&P500 Monthly Chart (SPY ETF) from 2009 to present day.  Following this I'll use the US real GDP YoY and look at US real GDP forecast.  I have used this chart from Hedgeye Risk Management, so it is not my own; I would recommend subscribing to their services.

First chart S&P500 (SPY ETF) Weekly Chart from 2016 - 7 March 2019:

What does this chart show us?
From the low point in 2016 (7 February) to the high point in 2019 (16 September) the S&P500 advanced circa 60%.  This is an average monthly gain of 1.4%, significantly above historical averages of circa 0.75% per month.
Using Wyckoff analysis we can identify a Wyckoff trend channel and establish overbought and oversold areas.  Such as the overbought area in Janaury 2018 which was followed by a sharp market decline.
Using wyckoff we can also identify the end of a trending environment and when a trading range has been established.  Further, we can then apply Wyckoff principles and economic data to determine whether the trading range is likely to be a distribution phase (followed by a markdown) or an accumulation phase (followed by a markup).  The Index is currently in a trading range, which will be discussed in more detail later.
Following the end of the trending environment the Index has now moved into a trading range.  Using Wyckoff analysis we can label key areas such as; BCLX (buying climax), AR (automatic reaction), ST (secondary test) and UT (upthrust) - so far.  
The Index is now at a key resistance point at the 2,800 level.  We know this is a key resistance level due to several failed weekly attempts to break above this price point; 1) ST within the trend channel 11 March 2018; 2) failure on the 14 October 2018; 3) failure on the 4 November 2018; 4) failure on the 2 December 2018; and 5) failure on the 24 February 2019.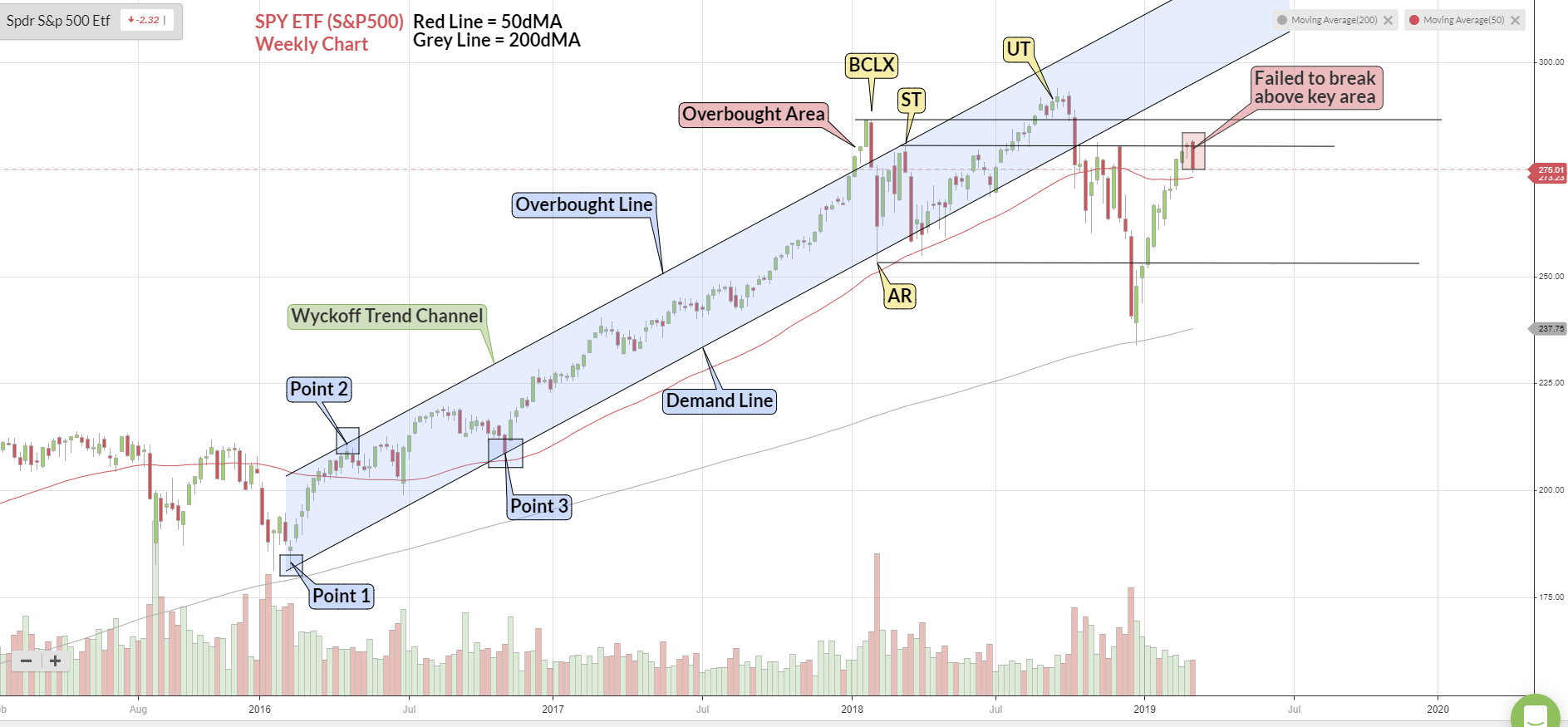 Second chart S&P500 (SPY ETF) Monthly Chart from 2009 - 7 March 2019

What does this chart show us?

From the low point in March 2009 to the high point in September 2018 the S&P500 advanced circa 339%.  This is an average month gain of circa 2.98% and significantly above the historical average of circa 0.75%.
We can again use the Wyckoff trend channel to identify overbought and oversold conditions.  The overbought condition in late 2014/15 was followed by a sharp market decline.  We can also see the majority of 2018 was spent in an overbought condition and in late 2018 / early 2019 the market again sharply declined.  However, the Index has bounced into another overbought area and is failing to break resistance as previously mentioned above.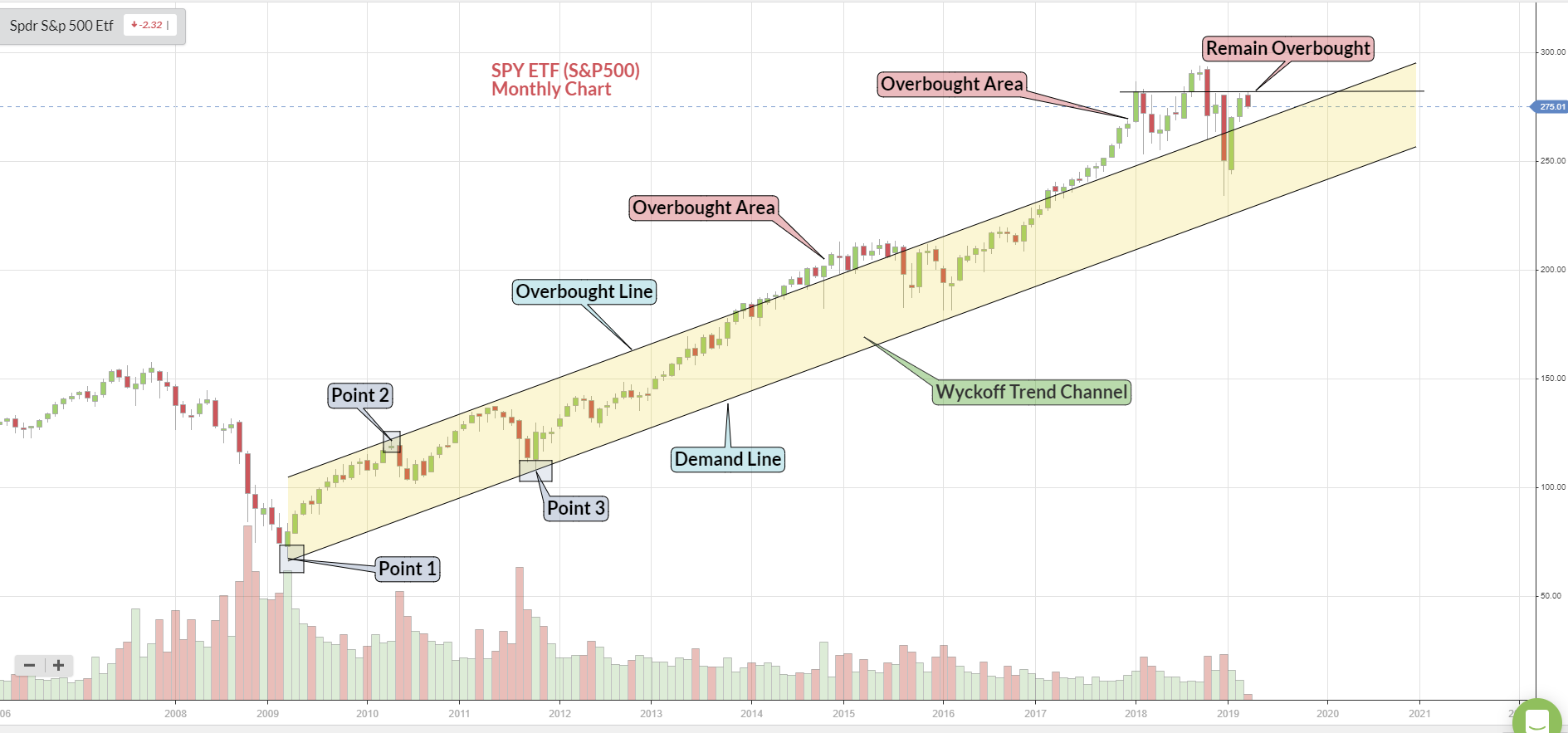 Below is a table of US real GDP YoY and US real GDP forecasts which I have used from Hedgeye Risk Management.  Again, I would recommend their services.

What does the chart below tell us?
In 2016 when the Index started its advance in price you can see from the chart below US real GDP YoY was coming from a low point in the cycle and continued to accelerate upwards to Q3 2018.  This closely correlates with our Wyckoff analysis looking at the 2016 - 7 March 2019 chart that the top of the market was in September 2018 where the 'UT' (upthrust) is labelled.  On the same chart significant selling volume followed the UT event.
Due to the above correlation in real GDP YoY growth and Index valuations we can say that real GDP YoY growth, accelerating or decelerating, is the key fundamental driver of Index valuations.
Having had US real GDP YoY peak, we can see that consensus estimates for US real GDP YoY continue to decrease throughout 2019.  Knowing that real GDP is a key fundamental driver of Index valuations, falling US real GDP YoY is likely to cause a decline in Index valuations.  I'll discuss this in great depth during the conclusion.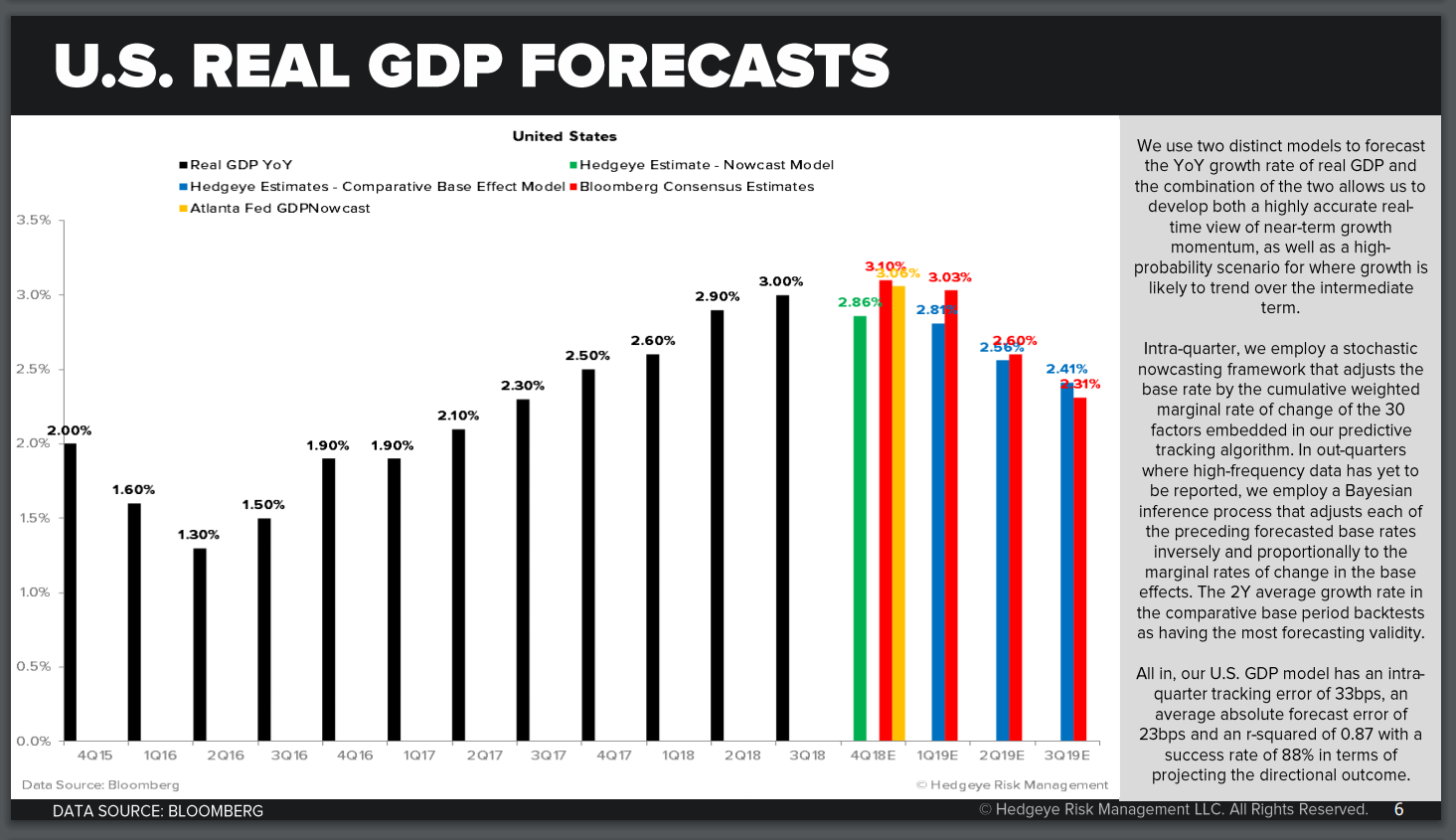 Conclusion:

Firstly, if we accept the logic of economic cycles and business cycles then we accept there are periods of growth (expansion) followed by periods of contraction.  Ray Dalio has done significant work on this that I'd recommend, here is a link to a video where he explains the concepts of the long-term and short-term debt cycle https://www.youtube.com/watch?v=PHe0bXAIuk0 the video is titled 'How the Economic Machine Works'.

The period from 2016 to late 2018 was a period in which US real GDP YoY accelerated helping to fuel an increase in Index valuations.  The consensus estimates are that during 2019 US real GDP YoY will decrease.  This is likely to cause a significant headwind for equity valuations and therefore Index valuations will fall.

So how does the economic data compare to our Wyckoff analysis of the price / volume and trend channels?

Looking at the 2016 - 7 March 2019 chart the economic data is confirming our interpretation.  The Wyckoff trend channel has clearly ended and the Index is now within a trading range.  Within the trading range we are trying to established whether it will lead to distribution or accumulation.  The details of how to do this are outside of the scope of this brief post, however, I have YouTube videos explaining this https://www.youtube.com/user/jcorsellis1.  Just remember, there are four phases to the price cycle; 1) accumulation; 2) markup; 3) distribution; and 4) markdown.  The index has undergone a significant markup phases compared to historical norms with several re-accumulations.  A distribution and markdown phase are normal (and healthy) parts of the price cycle.  In short, stocks do not go up forever.

So far within the trading range there is significant selling volume compared to buying volume.  This type of action is often associated with a distribution phase rather than accumulation.  During an accumulation phase we'd expect to strong hands (Institutions) acquiring shares from weak hands.  During a distribution phase the opposite happens and strong hands (Institutions) are offloading their shares; hence the significant selling volume.  The overall technical analysis coupled with the fact of consensus US real GDP YoY declining throughout 2019 leads me to the conclusion that the S&P500 is likely now in a distribution trading range and will enter a markdown phase in due course.  We can continue to update our Wyckoff trading range to find optimal trading opportunities on a risk vs reward basis.  We will also be able to use our Wyckoff analysis, combined with economic data, to enter the market close to when the next bull market begins.  I'll continue to update the chart in future blogs.

Furthermore, on the economic data front, global growth is slowing - see the continuing rounds of weakening economic data being published.  As a result, central banks have now made the pivot from hawkish to dovish.  The market may see this as a positive in the short-term, but remember why the pivot has happened; global growth is slowing.

Evidently there is a global debt issue, both for Governments and individuals, which was exacerbated by the failed attempt to use the disease (debt) as a cure for the disease (debt) in 2008.  The debt issue has been further exacerbated by artificially suppressed interest rates and significant fiscal stimulus around the world, when the next recession hits it could be as devastating as the Great Depression in the early 1930's.  This would concur with Ray Dalio's longer term debt cycle that happens everyday 75 - 100 years.  See also Ray Dalio's free PDF on 'The Big Debt Crisis' https://www.bridgewater.com/big-debt-crises/.  I will go into the potential ramifications of inflation soaring in later blog posts. 

Also in future blog posts I will look at what assets could perform best in such environments and where best to allocate capital.  For now, my strategy is to be nimble and spot shorter term trading opportunities using the Wyckoff method, my trading breakout process, and continually reviewing economic data.  I think holding Index tracker ETFs, plus sector ETFs, will be volatile and have significant downside risk.  Be prepared for significant downside potential in the S&P500.

Happy Hunting - JC
Disclaimer:
All information is for Educational purposes only. It is not to be taken as buy or sell decisions or financial advice.
---
---