Commodities, and banks
I was pootling around looking at commodities the other day. Here's the price of oil: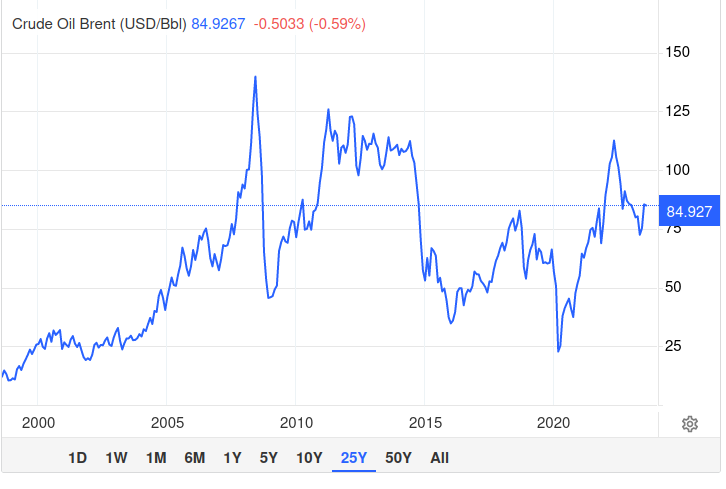 Also, the price of rapeseed: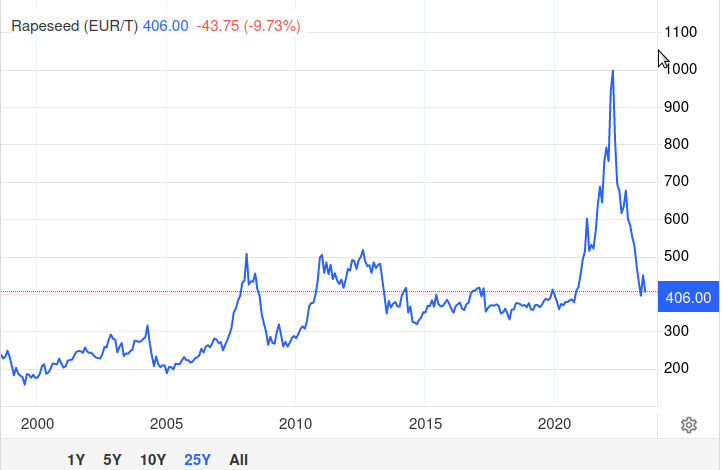 I had a look at other commodities, too, and there's a consistent pattern: c.2007, their prices shifted upwards. This corresponds to some of the lowest historical interest rates.

We are now, possibly,   entering a new "era" where interest rates are heading back to more historical norms. Will these rates stick, or will we head back down? I don't know, but I've always felt that post-2007 rates were too artificially low. There is considerable debate about all this, of course.
It got me to thinking about my Shell (LON:SHEL) holdings. Look at its chart over the last 20 years: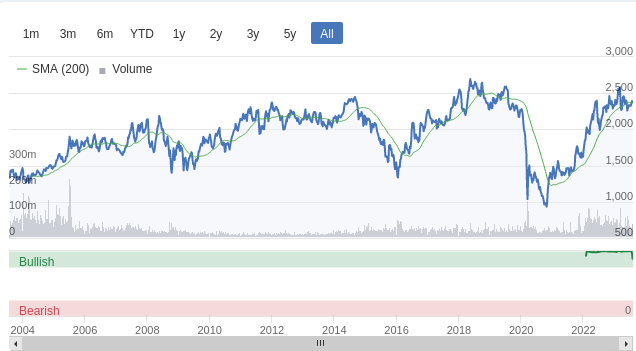 I think one thing to say is that the phrase "Never sell Shell" is a pretty lousy one. The share price hasn't moved that significantly over 20 years; about 2.6% pa. A company like BAE Systems (LON:BA.) has been more like 9%pa.

See also that it trades in a range of about 1500p to 2500p, more or less. So a trading strategy would be to buy when the price dips below 1500p, and sell when it rises above 2500p. As it happens, I bought SHEL in Jan 2021 at 1312p. I still hold, but in hindsight, I probably would have been better off selling out late last year. Perhaps somewhat foolishly, I have decided to hold on, because I had made the determination not to sell and more shares involuntarily during this tax year.
This brings us on to banks. I bought Standard Chartered (LON:STAN) in Jun 2022 at 633p. It's been a sluggish old ride, for sure, and we did have that SVB (Silicon Valley Bank) blow-up around March. Notice how the shares have significantly recovered since then. STAN is on a PBV of 0.56. I figure that banks could deserve a PBV of 1. Cheap, assuming your bank of choice doesn't collapse, a not-unprecedented occurrence. STAN currently has a ROE of 5.89%. Its historical figures would have likely been higher.
I'll note further that HSBC Holdings (LON:HSBA) issued a statement today. PBT rose $12.9b to $21.7b. Shares are up 2.3%. So banks are cheap, and their prospects are improving.
What I take away…

Unlock the rest of this article with a 14 day trial
Already have an account?
Login here