Companies reporting this week beginning on 16-05-16 (PART 1)
MONDAY
British Land
The owner of commercial and retail properties has seen its shares dipped from £9/share to £7.2/share in less than a year because "Bricks and mortar" retailers are struggling against its online counterparts.
With interest rates at record lows, renting out properties is still a very profitable business. Here a remainder of its stock performance since 2003: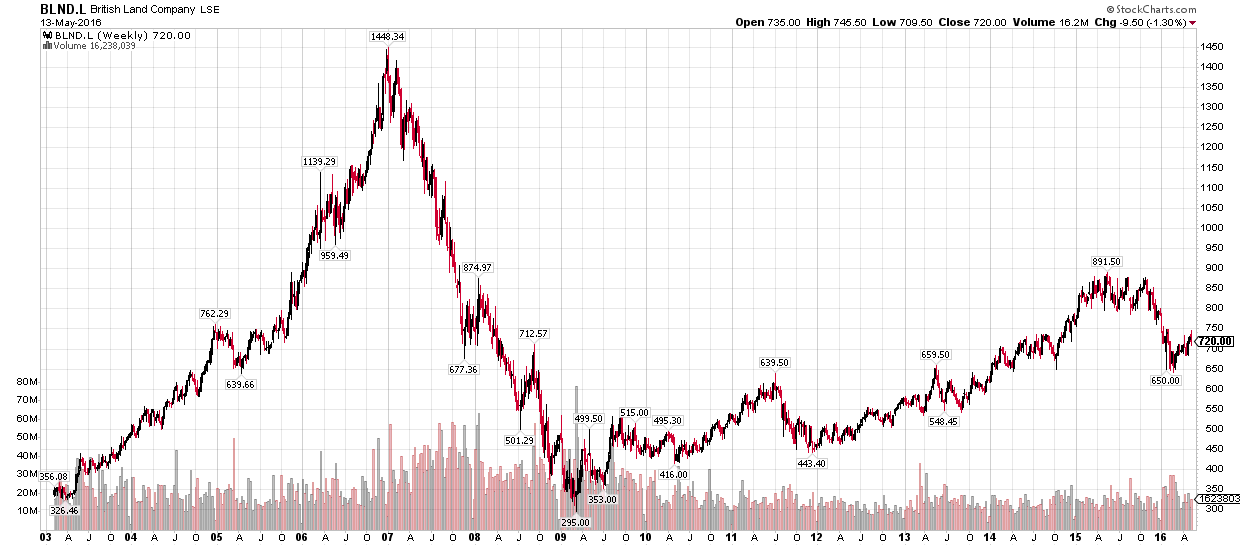 Source: Stockcharts.com.
(N.B.: For a clearer picture, click here.)
 These are some bullish points about British Land:
1. Debt deleveraging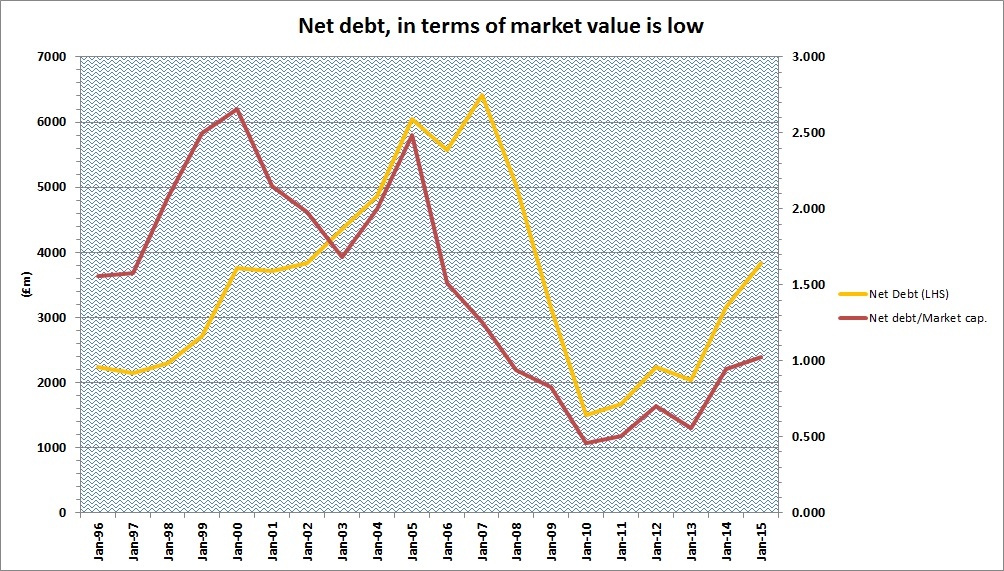 Source: British Land's annual reports.

The company has deleveraged "dramatically" with net debt falling from £5.8bn in 2006 to £1.6bn by 2010 (80% change from peak). It helps to lower its "net debt/market cap." ratio to record levels.
As property prices recover, it's not surprising that British Land has re-leverage its balance sheet to take advantage of lower interest rates.
2. Strong cash generation still covers interest payments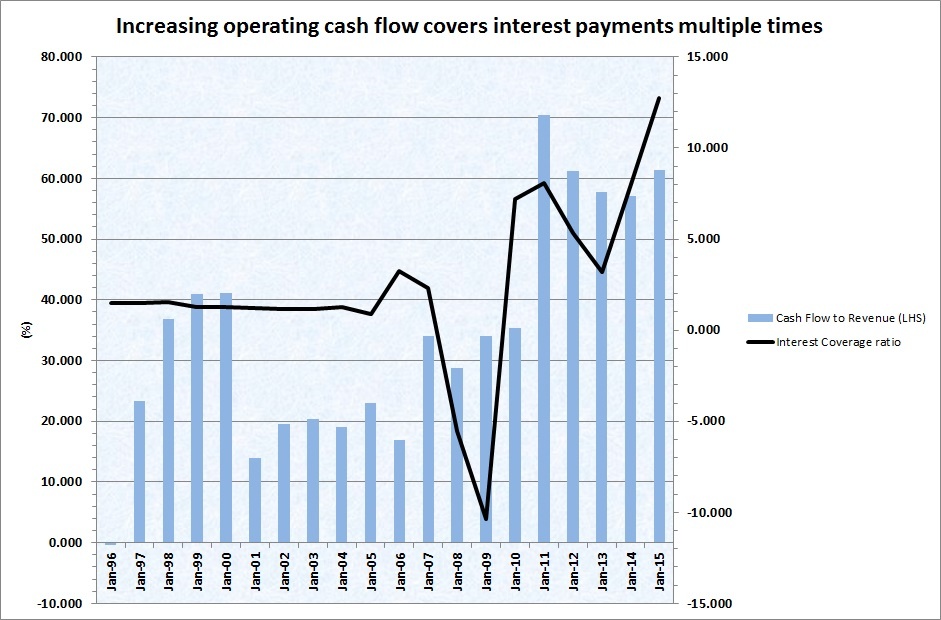 Source: British Land's annual reports.
Operating cash flow margins are around 60% and above, up from the 20% level. Interest coverage is covered 10 times over, up from the norm of 2%.
However, low-interest rates are a sign that the UK economy is feeble meaning returns are low.
1. Low asset return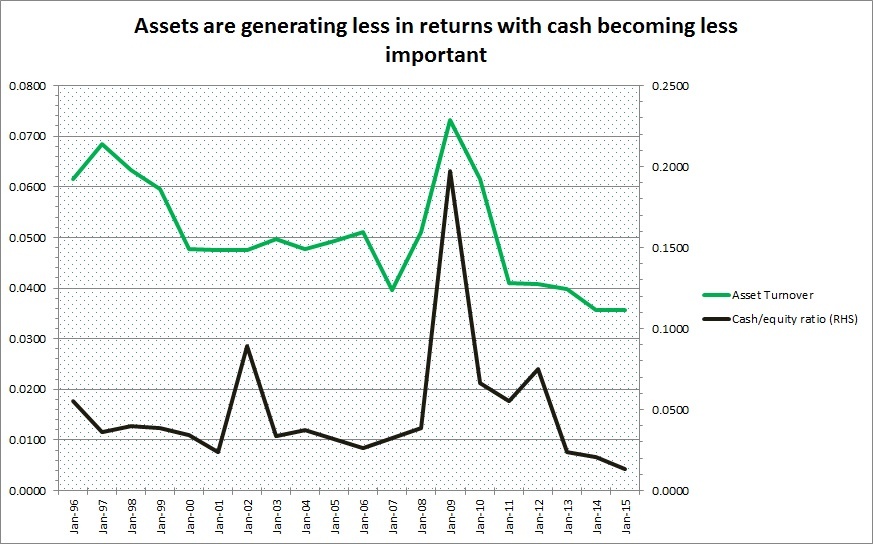 Source: British Land's annual reports.

The cash "component" is playing a less important on the asset side of the balance sheet as it accounts for 1.3% of the company's equity (it has historically average 4.8% in the last 20 years). Moreover, revenue is still 30% below its peak, since the GFC.
But, this did not stop the company re-valuing its properties portfolio, resulting in low asset turnover.
2. Debt growth is back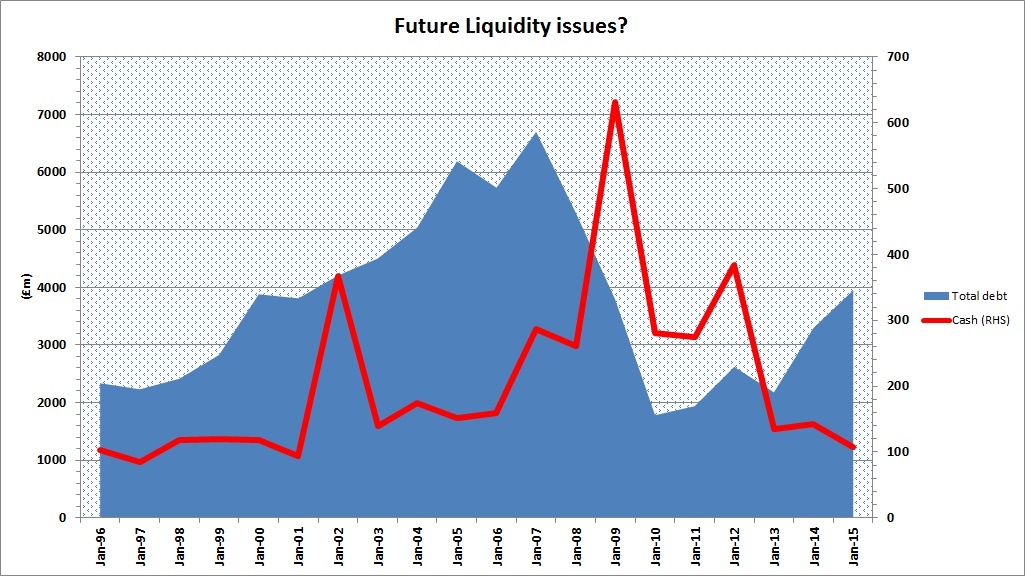 Source: British Land's annual reports.
Earlier, I mentioned the low levels of cash against equity. With the cash balance of £108m, this is the lowest cash position since 2001. But more interestingly, the debt to cash ratio now is at 36 times, a level not seen since 2001 and 2006 (both of which follows a share price decline).  
Investors should be aware of this last important point.
3. Markets have fully priced in British Land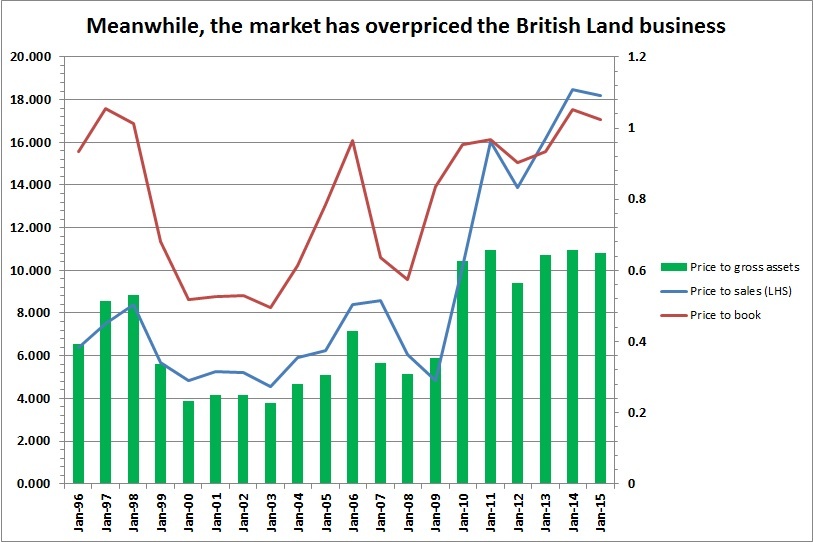 Source: British Land's annual reports.
As seen in the title, the markets have fully priced in British Land business.
Regarding book value, sales or its gross assets, British…

Unlock this Article with a 14 day free trial
Already have an account?
Login here