Cookson Group - Material discount to peers looks overdone?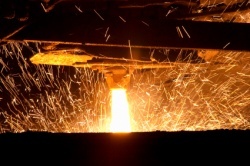 With the shares trading at more than 25% to peers there is the perception that this is a late cycle heavy industrial business. However, global steel production was up +31% in first four months and the Group's positive interim management statement on 26th April suggests that the material discount to peers looks overdone
THE BUSINESS
Cookson Group (LON:CKSN) is an industrial materials business specializing in Industrial Ceramics (58% of sales), Electronics consumables (27%) and Precious Metals (15%). The Group aims to add value to their customers' businesses by providing products, processes and services that allow them to increase the efficiency and quality of their operations. Cookson employs 15,000 people in more than 40 countries, selling its products in over 100 countries.
Ceramics (58% of sales)
The Vesuvius ceramics businesses mainly for steel industry (57%) put together with the Foseco ceramics operation that satisfied the Foundry market (28%). 38% Europe, 23% NAFTA, 28% Asia Pac and 12% ROW -  a good breakdown. Products are all consumables so depend on steel and foundry output. Big 30% falls in 2009 but now forecast to recover c.10% this year and 5% next year. End markets are varied with automotive steel and heavy engineering two of the biggest areas at opposite end s of the cycle.
Electronics (27%)
Business supplies consumables for PCBs, semi conductor and electroplating industry. E.g. solders/fluxes etc.  This business is much more biased to Asia Pac (43%) as this is where the market is. Europe 29%, US 23%.  End markets are all early cycle ( 76% consumer electronics, and 24% car electronics)
Precious Metals (15%)
A much smaller and more stable business. It actually saw higher profits in 2009. It supplies precious metals (Gold, Silver and platinum) and semi finished products to the jewellery trade to designers, wholesalers and retailers. 50% Europe, 50% US  and some export to Asia.
PEER GROUP - other industrial companies:
Tomkins (LON:TOMK)  @245p Mkt cap £2.2bn:   PE 12.2x for 2010  (10.2x 2011)
Invensys (LON:ISYS)  @273p Mkt cap £2.2bn:   PE 12.2x for 2010  (10.8x 2011)
GKN (LON:GKN)  @125p Mkt cap £2.0bn:   PE 9.9x for 2010  (7.5x 2011)
Imi (LON:IMI)  @648p Mkt cap £2.1bn:   PE 11.2x for 2010  (9.9x 2011)
Weir Group (LON:WEIR)        @914p Mkt cap £1.9bn:   PE 12.6x for 2010  (11.5x 2011)
SOME TRADE THOUGHTS
•         Strong value…

Unlock this article instantly by logging into your account
Don't have an account? Register for free and we'll get out your way
Disclaimer:
This document is issued by Fundamental Asset Management Ltd who are authorised and regulated by the Financial Services Authority.   Whilst every attempt is made to ensure the accuracy of the information provided, no responsibility can be accepted for any inaccuracy. The information provided cannot be relied upon as constituting a recommendation, nor construed as any offer to sell, or any solicitation of any offer to buy investments. No liability is accepted for any loss whether direct or indirect, incidental or consequential, arising out of any of the information being untrue and / or inaccurate, except to the extent caused by the wilful default or gross negligence of Fundamental Asset Management Ltd, its employees, or which arises under the Financial Services And Markets Act 2000. Past performance is not necessarily a guide to the future and that the price of shares, and the income derived from them, may fall as well as rise and the amount realised may be less than the original sum invested.
---
---

Vesuvius plc is engaged in molten metal flow engineering, principally serving the steel and foundry industries. It develops and manufactures high-technology products and solutions for supply to the steel and casting industries. The Company operates through two segments: Steel and Foundry. The Steel division consists of various product lines, such as Steel Flow Control, Advanced Refractories and Technical Services. Its solution is a fully integrated robotic spray application system with a coupled mixing and laser setting system for the accurate location of the tundish furniture and mix preparation. The automatic robotic mixing and application system is fully contained and shielded with automatic shutdown if someone enters the working zone inside the tundish stand. Its technology allows robots to handle various tasks, such as manipulating steel samplers and temperature or hydrogen sensors, and to distribute powder into the tundish. more »

LSE Price

The Weir Group PLC is a United Kingdom-based company, which is engaged in engineering businesses. The Company's business operates through three segments: Minerals, ESCO, and Oil & Gas. The Minerals segment is engaged in the provision of slurry handling equipment and associated aftermarket support for abrasive high wear applications used in the mining and oil sands markets. The Oil & Gas segment provides products and service solutions to upstream, production, transportation, refining and related industries. The ESCO segment provides ground engaging tools (GET) for surface mining and infrastructure. It also provides engineered GET solutions to infrastructure markets, including construction, dredging and sand and aggregates. Its products include pressure pumping and pressure control equipment, and aftermarket spares and services. It also provides equipment repairs, upgrades, certification and asset management and field services. Its brands include Warman, Linatex, Mathena and Gabbioneta. more »

LSE Price

GKN Limited, formerly GKN plc, is a global engineering company. The Company is engaged in the design, manufacture and service of systems and components for original equipment manufacturers. The Company operates in four segments: GKN Aerospace, GKN Driveline, GKN Powder Metallurgy and GKN Land Systems. The GKN Aerospace segment is a supplier of airframe and engine structures, landing gear, electrical interconnection systems, transparencies and aftermarket services. The GKN Aerospace segment is a supplier of airframe and engine structures, landing gear, electrical interconnection systems, transparencies and aftermarket services. The GKN Powder Metallurgy segment is a manufacturer of sintered components and a producer of metal powder. The GKN Land Systems segment is a supplier of power management products and services. It designs, manufactures and supplies products and services for the agricultural, construction and utility vehicle markets and industrial segments. more »

LSE Price