Dana Petroleum 2010 Annual General Meeting - Detailed Writeup and Notes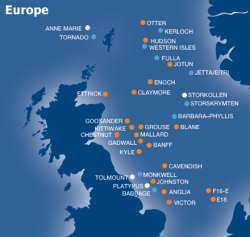 The 2010 AGM for Dana Petroleum Plc (LON:DNX) – it was their 13th if you are superstitious - took place on June 14th at the Marcliffe Hotel in Aberdeen. The AGM presentations and discussions covered a great deal of material so I'll give you bullet points rather than full text. What I'm aiming to do here is report the facts as stated at the time and leave you to draw your own conclusions. I should start by explaining that attendance required me to get up at 4am so as to check in at Luton by 6:15. Chaos in the security check area meant I reached the gate only just in time and was one of the last people to board. As luck would have it I found a seat next to Marben who was also making the pilgrimage. As always, his company improved the journey immensely. 
At the Marcliffe Hotel, Marben unleashed his inner boa-constrictor by wrapping himself around a full scottish breakfast considerably larger than himself. If my wife reads this, please note that I contented myself with a pot of excellent tea (I've had their coffee before) whilst I tried to lip read the nearby table where Chairman Colin Goodall was holding court with others from Dana. I failed. It must have been the scottish accents. Or the porridge....  Anyway – let's move on to the proceedings:
Present
There was the entire board of Dana – both executives and non-executives - as well as advisors to the company – including remuneration consultants and the registrars. There were about25-30 people who looked like private shareholders including some bulletin board regulars (Emptyend, Marben, King McKong, Jonnylite, etc. Sorry to those whose names escape me – it's not you, it's me) and then about  10 people in smart suits who might have been advisors or institutional investors (or simply members of staff gussied up in their best outfits). 
Introduction - Colin Goodall Chairman
 
AGM Presentation Part 1 – Tom Cross CEO
I have a feeling that up in the attic of Cross Castle there must be an oil painting that is looking the worse for wear, with paint flaking off and cracks and creases spreading inexorably as the frame slowly crumbles. Its subject looks thinner and fitter every year. He used to be about my age (well just a little younger) but these days he looks almost young enough to be my son. 
The acquisition of Petro Canada Netherlands was announced the morning of the AGM– details later
2009 Highlights
Bow valley acquisition
Drilled 17 wells including:


Rinnes
Fulla
Anchois
Tornado
Egypt
Norway

Hyperdynamics/Guinea farm-in
Reserves


Discoveries = 43 mmboe
Acquisitions = 12 mmboe
Reserve replacement = 300%

Projects


E18 now on stream
Ettrick now on stream
Babbage coming on stream in next few months
Barbara/Phyllis on schedule (2012/13)
Western Isles on schedule (sanction 12/10, Execution 2011/12) 

Notes on project/asset names


Barbara/Phyllis to be renamed Arran
"Western Isles" is new name for Hudson , Mellville & Rinnes. 
Melville = Barra; Uist = SE Rinnes; Lewis = W Rinnes; Harris = E Rinnes. 
Two further prospects situated in "central Rinnes" = Pabbay & Berneray 
Total P50 = 65mmbbls for Western Isles
2010 highlights to-date

  Exploration
Drilled 6 wells
Made 3 commercial discoveries


Papyrus
Platypus
E Beni Suef

Drilling currently/imminently

Bamboo
Monkwell
Blackbird
Lorcan

Total 18 wells in 2010
·New licences

Projects
Babbage
Barbara/Phyllis
Western Isles
Production Profile
208 producing wells
78% N Sea
81% oil 
Currently = 39,000-40,000 boepd
Excluding petro canada contribution 


Year-end expectation = 37,000 – 41,000
2011 expected to remain flat 

With petro canada acquisition 


Perhaps year-end rate will start with a 5??
Development Projects = 5
Appraisal Projects = 22
Reserves increased from 194 mmboe at end 2008 to 223 at end 2009
100 mmboe of reserves are currently in production
Materiality of Exploration Programme increasing

2007 programme targeted 3 billion boe unrisked = 100 million boe risked
2010 programme is targetting 3.5 billion unrisked = 300-600 million boe risked
Change in materiality derives from bigger % interests net to Dana
2009 Preliminary Results

Production = 38,700 boepd
Revenue = 397.3 million 
Ebitdax = 227.7
Profit = 56.4 million
Net debt at end 2009 = £24 million 
Gearing = 22%
2010 capex
Production + development = 119 million
Exploration + appraisal = 115.9 million
Liquidity
New RBC $900mn facility
Convert put should be covered.
AGM Presentation Part 2 – Stuart Paton Technical & Comm. Director
HSE
Long exposition on this subject
Biggest issue seems to be road traffic accidents in Egypt
Current Production
36 fields
208 wells
Oil:gas = 81:19
2009 Production was less than planned due to issues at 

2010 Production expected to come in at 37k-41k
Issues


Gas price dynamics
Infill opportunities
NW Europe
21 fields = 78% current total production
E18 started 06/09
Ettrick started 8/09
Infill potential


Cavendish
Johnston
Goosander
Jotun
Otter

Growth potential from developments at


Babbage
Western isles
Barbara/phyllis
Egypt
E Zeit 


Dana = 100%
Current production = 4000 bopd
Water cut increased on C2
ESP failure
Potential to increase by workovers, infill and optimisation
New targets being assessed

Western Desert


3 fields
Operated by Eni (1) and Apache (2)
Workovers = 40 in 2008 and 30 in 2009
New development wells = 18 to-date
Reduced capital budget in 2009 = reduced activity
East Beni Suef (Dnx 50%, op = Apache)


Production disappointing because of delays in bringing fields on stream
3D seismic recently acquired
Exploration licence extended
Recent discoveries due on stream this year

·West Abu Gharadig (Dnx 30%, op = ENI)


Active drilling programme to stabilise production

Qarun (Dnx 25%, op = Apache)


Recent horizontal well programme
Recent frac programme
Issues with production facilities
3D seismic in 2009
Gas project 2010
Development timeline
· 2005 

2006 

2007 

2008 

2009 

· 2010 

· 2011 

· 2012 

· 2013 

Ettrick Project (Dnx 12%, Op = Nexen)
Gas and oil
Acquired via Bow Valley
4 production wells + injection
Production ramp up affected by compressor and other problems
Reserves and production turning out better than forecast
Significant additional potential in field and nearby also better than previously expected as shown by recent wells

Babbage Project (Dnx 40%, Centrica 13%, Eon = Op)
Gas
First phase completed, fraccing in progress
1st production planned mid 2010
Phase 2 = 2-3 more infill wells if phase 1 OK
Significant upside potential towards south east
Western Isles Development (nee Rinnes) (Dnx = 65% and Op)
Oil
4 separate accumulations
P50 reserves = 65 mmbo
Significant potential in further fault blocks = 35 mmbo
Project go ahead expected 12/2010
Might farm out
First oil = 01/2013
Barbara/Phyllis Development Project (Dnx = op)
Gas
Plan is 3-4 wells tied back to Lomond
FEED started last week
Project go-ahead expected end 2010
First gas expected Q4/2012
Exploration Programme

2009
17 wells targetting 68 mmboe
7 successful discoveries = 60 mmboe
Booked 43 mmboe
Exploration spend = £145mm
Finding cost = $4/boe
Morocco – Tanger-Larache (Dnx 15%)
Anchois gas discovery 03/09 
Estimate = 100 bcf
Anchois derisked a lot of other gas prospects
At least 7 more similar prospects already mapped
3D seismic in progress
Expect large number of additional prospects
Drilling 2011/12
First gas production 2013/14
Gas prices in line with European tariffs
Good fiscal terms
West of Shetland
TOTAL putting in gas infrastructure helps DNX develop any finds there
West of Shetland – Tornado (Dnx 30%, Faroe 10%)
Gas and oil discovery 10/09
P50 = 350 bcf
No further appraisal required
Anticipate joint development with Suilven
West of Shetland – Anne-Marie
Drilling due July 2010
Analogous to Rosebank
West of Shetland – Other
Multiple multi-TCF prospects already identified
Drilling in 2011
Norway-Fulla (Dnx 10%)
Gas discovery = 40-80 mmboe
Close to existing infrastructure
Commercial interest expressed by 3rd parties
Norway – Eitri & Jetta (30%)
Oil
Proximity to Jotun = low development cost
Decision on development by mid 2010
Infill drilling potential
2010 Exploration Drilling Programme
 

 

Dnx %

spud date

gross

P50-P10

mmboe

status

Egypt

Papyrus

Bamboo

Rad-1x

Nefertiti

EBS (4 wells)

N zeit bay (2 wells)

50%

50%

100%

65%

50%

100%

12/09

03-06

01

05-07

H1

04-08

10-15

100-200

 

20-40

8-15

10-20

gas discovery

dry

dry

rig contracted

1 discovery to date

1st well drilling

Faroes

Anne-marie

25%

07-09

90-300

spud imminent

UK

Platypus

Monkwell

Tolmount

Blackbird

45%

40%

45%

12%

03

05-06

07

06-07

23-44

10-15

17-35

10

gas discovery

drilling

 

drilling

Netherlands

K3-4

2%

02

34-40

non-commercial disco

Norway

Storkollen

25%

04

75-132

dry

Mauritania

Cormoran

36%

09

400-780

rig contracted
Mauritania
LNG and CNG studies in progress
Cormoran drilling before end 2010
Cormoran will use new Maersk rig, built in Singapore and now enroute
Could be "several TCF"
May be liquids rather than gas
Pelican economic if another 2+TCF at Cormoran
Guinea
Acreage = 29,000 km2 
Dnx = 23%
Hyperdynamics looking to bring in a major who will become operator
2D acquired
3D to be acquired summer 2010
Drill well before end 2011
Jubilee look-alike prospect
AGM Presentation Part 3 – Tom Cross CEO
Work Programme for 2010-2011
Too much detail to reproduce here
Opportunity Pipeline – Europe & International
Too much detail to reproduce here but NB TC singled out Morocco as particularly exciting 
AGM Presentation Part 4 – Tom Cross CEO

Petro-Canada acquisition
Cross made a detailed presentation on the acquisition. I haven't got time to go into it right now but will come back to it separately in the next week or so if I get time. NB: Worth just saying 67mn bbls of potential upside in the acquisition
AGM Presentation Part 5 – Colin Goodall – Chairman
The formal business of the AGM – lots of resolutions and voting and overwhelming proxy votes cast on behalf of investment funds who didn't attend and investors who've never even heard of Dana.
Pre/Post AGM
As always there were opportunities for informal face-to-face discussions with management before and after the meeting. These were extremely informative and valuable but my notes are not up to scratch so I can't report on this part of the proceedings.
Post-Match Analysis
Stockopedes and Fools had a pub lunch at No 19 (I think that's the name?) just round the corner from Dana's offices. Great craic but can't say the same about the pub. I would like to propose that next year this session is relocated to the Moonfish Cafe in Correction Wynd (what a great name) which does sensational food and excellent wine – not sure what their beer is like.
Travel survival guide
EasyJet's flights are often delayed but this time the return was cancelled at the last minute which meant I was stranded in Aberdeen with 24 hours to kill. EasyJet's passenger services were utterly inadequate – one girl to deal with the entire plane full of passengers. Moral – don't fly Easyjet. Fortunately I was able to gatecrash a social gathering being held that evening by local Fools who proved very welcoming. Less fortunately I was billeted at a flop house in a rough part of town. 
Highlights and triumphs of the next day at large in the big city....
Super-efficient bus service with friendly passengers who talk to you!!!!!!!
Fabulous coffee at J Lewis espresso bar – friendly staff
Gap selling knickers and socks in singles
M&S selling decent polo shirts at £12
Moonfish Cafe – sensationally good food – excellent wine – great service – modest bill – can't recommend it highly enough (It's not a cafe at all – more a bistro kind of thing – but boy do they know what they are about in that kitchen.) see www.moonfishcafe.co.uk
Books&beans - internet cafe – friendly and efficient – clean and comfortable – good coffee – cheap – see www.booksandbeans.co.uk
Provost Skene's House – great 16th century house right in city centre, some fine paintings and remarkable painted ceilings/panelling. See provostSkenesHouse
The whisky shop at the airport
CAVEAT
There may be significant errors and omissions in the material above. Use it at your own risk
ACKNOWLEDGEMENTS
Thanks to Emptyend and Marben for correcting some of my errors and omissions. Responsibility for any errors that remain is entirely mine.
Disclaimer:
The author may hold shares in this company. All opinions are his own. You should check any statements that appear factual and seek independent professional advice before making any investment decision.
---
---