Daniel Nickols Interview: On the hunt for small-cap growth
Daniel Nickols has been running the Old Mutual UK Smaller Companies Fund since January 2004. In that time he's forged a reputation for adept stock-picking in both up and down markets. Indeed, his £1 billion fund is one of the best performing in its sector over the past five years, with a 122.4 percent cumulative return.

Daniel and his team of seven portfolio managers and analysts hold around 100 positions in the fund. And while he insists he's largely agnostic as far as investment style goes, he's clearly focused on hunting down explosive small-cap growth shares.
Fast growing smaller companies can be highly rewarding yet extremely perilous investments. Navigating this terrain has been a career-long specialism for Daniel, who speaks with an air of calm but also deep enthusiasm for the types of companies in this part of the market.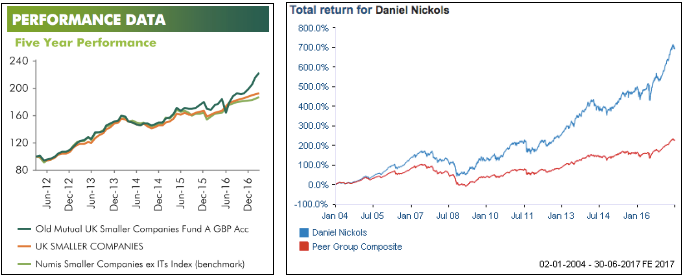 One of the eye-catching features of his approach that he's previously tilted the fund allocation based on his assessment of the economy (and its future direction). So at times it has been positioned using top-down and bottom-up analysis.

But Daniel is very much a stock-picker. And from that perspective - as he explains - his team are looking for three key attributes in a stock. What ties those attributes together is the view among many investors that small-caps just don't get enough research coverage. Using that as a starting point it's possible to study forecasts and find errors and likely areas where the market is underestimating companies. With a process for doing that, Daniel's successfully built a fund for all conditions...
Daniel, the Old Mutual UK Smaller Companies Fund has been very successful over a long period. At over £1bn, how challenging is it to manage a small-cap fund of that size?
With small-caps, it's as much art as it is science. In terms of managing the number of positions, over time we've typically had between 90 and 110 within the smaller companies portfolio. That range of holdings has been more a function of just trial and error and experience than a scientifically targeted number.
I would readily admit that I've benefitted massively from having a great team around me all through my career at Old Mutual, and not least my former boss, Ashton Bradbury. He left the business at the end of 2014 and I owe…

Unlock the rest of this Article in 15 seconds
Already have an account?
Login here