Dealing with the ups and downs of Joel Greenblatt's Magic Formula
One of the arduous challenges faced by investors is dealing with periods of underperformance. Different investing styles tend to suit different market conditions. So it doesn't matter what the strategy is, there'll always be times when it just doesn't work. For those with a preference for a certain style, the discipline is in staying the course and sticking with the rules.

Few will know this better than followers of Joel Greenblatt's Magic Formula. Greenblatt, an American fund manager, is behind a strategy that uses a simple combination of value and quality in its search for winners. It looks for good businesses at bargain prices, which Greenblatt claims "is the secret to making lots of money" (in his book, The Little Book that Beats the Market).
The trouble is that even cheaply priced, good stocks don't always perform well as a whole in the stock market. For instance, investors in US markets have found in recent years that very expensive growth stocks can stay popular for a surprisingly long time. In these phases, nobody wants to buy value stocks, no matter how good are. And even when value does come into fashion there are times when individual shares simply implode. And that's exactly what we saw this week...
How the tide turned for the Magic Formula
Last December I wrote about the fact that Stockopedia's tracking of a screen inspired by the Magic Formula was on a bit of a roll. It's gone on to rocket during the past six months. Joel Greenblatt said that despite the down years the strategy would outperform - and it seems to be doing just that. Except...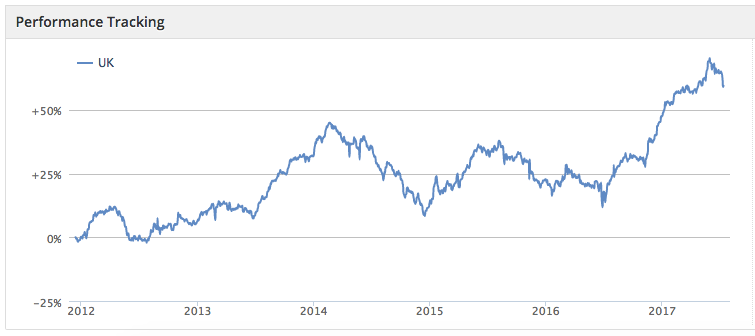 Take a look at that chart and it's quite clear that an impressive run over the past year has ground to a halt. To be fair, equities have drifted during June and July, so some slowdown might be expected. But the last week has been terrible, and there's a good (well bad, really) reason for that - Carillion.

Carillion just missed out on being brought into the Magic Formula folio at the end of March, but made the grade for the June rebalancing two weeks ago. Unfortunately, Carillion's massive profit warning this week means the portfolio is sitting on a 70% loss on that position.
Now, hypothetically speaking, if the Guru Strategies applied…

Unlock the rest of this Article in 15 seconds
Already have an account?
Login here