December 2019 Portfolio Update
Another year over and a new one just begun. If 2020 ends up anything like 2019 then I'll be very happy as the year ended with a bang despite the stomach-churning ride. Looking back over the year it's striking just how deeply unpleasant it was to be invested over the summer. In fact if I had sold in May and returned on St. Leger's Day I'd have been right on the money. If only investing was that easy.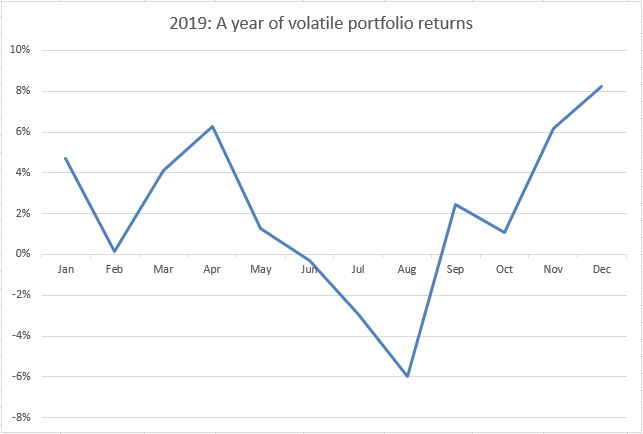 For December what's happily clear is that I achieved an almost clean sweep of winners with only Burford Capital being the laggard. Story of the year really and their yawning lack of news-flow isn't helping much. On the winning side it's hard to pick out any particular companies although Ramsdens has powered ahead after putting out decent results. Instead I put this punchy performance down to a sense of relief after the election combined with the knowledge that, for better or worse, the Brexit deadlock has been broken. In other words this performance isn't down to my superior stock picking skills so much as the result of a rising tide making every investor's Christmas a little brighter.
Anyway the scores on the doors were:
Risers: RFX 24%, VLX 19%, BOWL 19%, SDI 16%, PCA 15%, FRAN 13%, SBIZ 12%, SPSY 12%, GRG 10%, AFX 9%, IGR 8%, JDG 8%, QTX 7%, KETL 7%, GAW 7%, GAMA 6%, FDM 6%, HYNS 6%, HAT 4%, NRR 3%, III 3%, CRW 2%, SCT 2%
Fallers: PPH -2%, BUR -14%
All of these positive returns created an excellent rise of 8.2%, pushing the YTD remarkably up to 23.4%, which I'm very chuffed about. As a result of my sales early in the month my cash level is up at 15% which is just fine with a new year in the wings. In retrospect selling into the election (as noted below) wasn't my best idea of the year but my new holdings have got off to a good start and it's easier keeping track of a smaller portfolio. The only thing that remains is to wish everyone a very Happy New Year and much great success in 2020.
Purchases
Strix Group Bought at 181p - December 19
This top-up to my initial position in Strix is a bit of an experiment in breakout trading. The backdrop to this is that…

Unlock the rest of this article with a 14 day trial
Already have an account?
Login here