Defensive stocks - 2 buy and 1 sell
The last couple of weeks have been choppy for most of the international stock markets, with UK FTSE 100 swinging between 7140 and 6940 points, US index S&P 500 shuffling between 2815 and 2640 points and India based Nifty 50 index trading between 10600 and 10000 points.

Consequently, in the shorter term, it is not easy to determine which direction world indices may go, but most of them have broken below their uptrend channels in the medium term charts and are waiting for the next course of action which will eventually be first reflected in the short term chart.

To bring down uncertainty in the market, companies like FMCG, Pharma and Logistics help tide over market volatility. They are considered defensives, as traders and investors use them as a hedge to safeguard their portfolios from major downside. But company internals are equally important. If a company is not doing very well from inside, it may turn out to be a poor investment irrespective of market direction.

We look at three international stocks today, two FMCG and one Pharma and Health Care.
Astrazeneca Plc (AZN.L) Close: 6311.00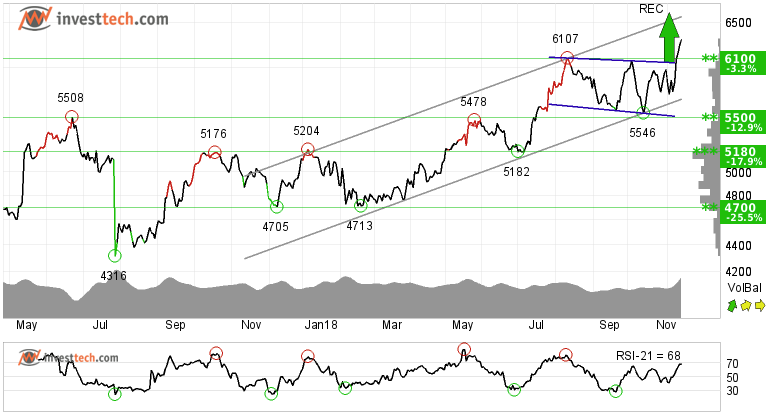 Headquartered in UK, listed on both US and UK stock exchanges, the Anglo–Swedish multinational pharmaceutical company ASTRAZENECA PLC is inside a rising trend channelin the medium term. This signals increasing optimism among investors and that the company's prospects continue to be promising in the coming future. Further rise in stock price is suggested.
The stock price has given a new buy signal from a rectangle formationand a break up through the resistaneat 6058 pence and now is at all time high. Further rise to 6614 or more is signaled. The stock has support at 6090 and 5730 pence respectively in the short term chart.
Investtech's outlook (one to six months): Buy
RECKITT BENCKISER GROU (RB.L) Close: 6236.00
RECKITT BENCKISER GROUP PLC has broken the floor of the rising trend channelin the medium term, which indicates a weaker initial rising rate. It also gave a negative signal from a head and shoulders formationand broke the support at 6400. Further fall to 5815 or lower is signaled. The Consumer Defensive stock chart shows that the next support is around 5600 pence.
RSI below 30 shows that the momentum of the stock is strongly negative in…

Unlock the rest of this article with a 14 day trial
Already have an account?
Login here