Diageo off the rocks
The world's largest spirits group Diageo generated 1.3% organic volume growth and 2.8% organic net sales growth in the year to June 2016.  This follows on from a fall in volume in the previous year with flat organic net sales.  Diageo's three strategic priorities in the current year are Scotch, US spirits and India.
Diageo's latest trading update stated that the financial year to June 2017 has started well.  The momentum in place in the last fiscal year appears to be flowing through to a stronger top line performance.
The objective through to fiscal 2019 is for mid-single net sales growth with this a marked increase on the 2.8% generated last year.  Diageo is also looking to achieve a 100bps organic operating margin improvement by fiscal 2019.
If these targets can be achieved then Diageo is set to deliver robust profit growth over the next three years.  Diageo is already a very profitable business with the organic operating margin in fiscal 2016 coming in at 27.1%.
Diageo's six "global giants" generated 40% of net sales last year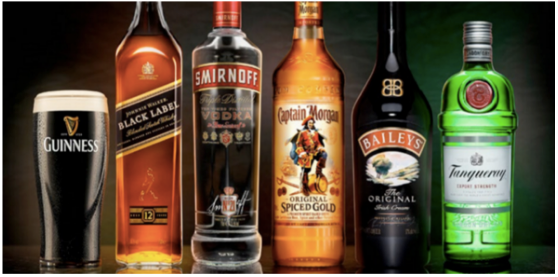 Source: Diageo Factsheet
Diageo's three priorities in the current fiscal year to June 2017 are Scotch, US spirits and India.  In fiscal 2016 Scotch made up 24% of net sales while North America is Diageo's most important market at nearly half of operating profit.
India is a key growth market for Diageo with the group owning a 55% controlling stake in India-listed United Spirits Limited (USL).  This exposure will allow Diageo to benefit from the growth in India's middle class.
North America returned to organic volume growth for Diageo in fiscal 2016 at 1.1% versus a 2.9% decline in fiscal 2015.  In Asia Pacific the pace of organic volume decline slowed to 0.1% from 3.4% decline in fiscal 2015.
Diageo turns around in fiscal 2016: year to June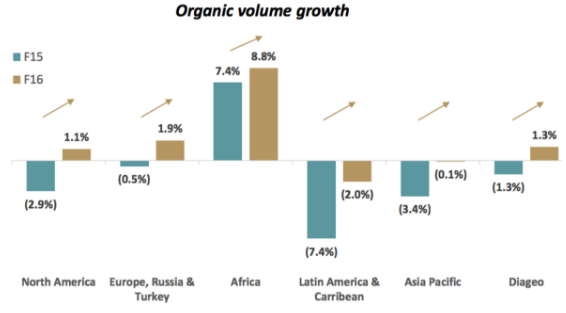 Source: Diageo investor presentation

Looking at the different product lines and Scotch was the key driver, representing nearly a quarter of net sales in fiscal 2016.  Vodka was in second place at 13% of net sales and North American Whiskey generated 8% of net sales.
Scotch saw no change in organic net sales last year but this was an improvement from the 5% decline in the previous year.  Diageo's key Scotch brand, Johnnie Walker, is a globally recognised brand in its category.
Diageo's net sales…

Unlock the rest of this Article in 15 seconds
Already have an account?
Login here