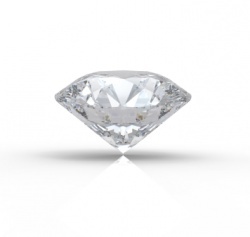 Sparkling in a corner of my portfolio is Diamondcorp (LON:DCP).  We are waiting for exciting news that could propel this little known company into the limelight.  
The Lace mine operated in South Africa for 31 years from 1900 to 1931 and only reached the 240m level. Approximately 750,000 carats were recovered from Lace during this period, at an average grade of 16 carats per hundred tonnes. Records showed that the grade increased at depth, with up to 21 carats per hundred tonnes having been recovered at the deepest level. In addition to the surface mining operation, a vertical shaft was sunk between 1928 and 1930 to a depth of some 340 metres, but this was never used to access the kimberlite as the mine was shut down in 1931.  Diamondcorp is in the process of bringing the mine back into production.

Earlier this week they announced via RNS that the new decline has successfully accessed kimberlite at the -260 meter bulk testing level. They also confirmed that the mine has been dewatered to -280 meters and that the 1.2 million ton per annum dense media separation plant at Lace has been recommissioned and audited in readiness for the processing of fresh kimberlite. Lace is expected to have a +25 year mine-life and is serviced by tarred roads, and has sufficient water supply and electricity from two sources.
We are now waiting now for the bulk testing to take place and from that the market will learn the mining grades and will be able to put a value on the mine. Mining will then begin. DCP hopes production will peak at 400k carats per annum by 2016. 
The diamond market collapsed in 2008 but has recovered strongly. A recent parcel of run-of-mine tailings sold by DiamondCorp at $94 per carat vs $33 per carat received in May 2009 at the bottom of the market. Firestone Diamonds recently sold 4850 carats at an average of $181/carat. The current market capitalisation for Diamondcorp (LON:DCP) is  £22.5m. They have sufficient funds to complete the decline.
I first bought in October 2010 and have traded in and out, missing most of the recent price decline. It's not without risk but in my opinion, aside from the usual mining hiccups that can occur, the only thing that stands in the…

Unlock this article instantly by logging into your account
Don't have an account? Register for free and we'll get out your way
Disclaimer:
Please keep in mind that all comments made by Susan Marmor are for educational purposes only and should not be construed as investment advice regarding the purchase or sale of securities, options, futures or any other financial instrument of any kind. Consult with your investment advisor before making an investment decision regarding any securities mentioned herein. Susan Marmor assumes no responsibility for your trading and investment results. Susan Marmor does not warrant completeness or accuracy for any observations made herein, or warrant any results from the use of the information. Susan Marmor may have a position in the securities and/or otherwise employ trading strategies that may be consistent or inconsistent with the provided strategies. There is a very high degree of risk involved in any type of trading. Past results are not indicative of future returns. Securities, options, futures and any other financial instruments can go down as well as plunge.
---
---

DiamondCorp plc is a United Kingdom-based diamond producer. The Company is operating the Lace Diamond Mine. The Company's Lace diamond mine is located approximately 200 kilometers southwest of Johannesburg in the Free State Province of South Africa. The Company's segments include Lace Diamond Mines (Pty) Ltd and All other segments. Approximately 38.4 million tons of kimberlite have been outlined in the Lace pipe between the 240 meters and 855 meters level, containing over 9.4 million carats of diamonds at an average estimated reserve grade of approximately 24.4 carats per 100 tons. The Lace Diamond Mine operation is located in the northern part of the Free State province in South Africa, over 200 kilometers from Johannesburg, approximately 30 kilometers from Kroonstad and over 30 kilometers from Viljoenskroon. more »

LSE Price