Did Robin Hood have the secret to portfolio management?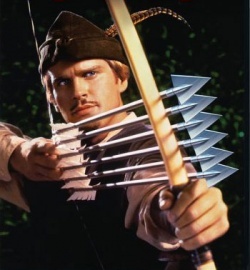 When it comes to rebalancing a portfolio, industry advice tends to focus on making sure that your exposure to stocks, bonds and other assets matches the risk you can stomach. But it's worth remembering that the same goes for a portfolio that's 100% invested in shares. On the one hand rebalancing can stop a portfolio drifting and becoming over-exposed to a small number of stocks. On the other, there is evidence that it can help you squeeze an extra return from something that most investors instinctively fear - volatility.
In this series on Portfolio Management we've been exploring how investors can manage their risk in rules-based, equally-weighted stock portfolios. Stock market volatility - the ebb and flow of daily price swings - is part of the risk that investors take for owning shares. A popular topic recently (based on research that dates back 40 years) is that low volatility shares may actually outperform high volatility shares over time. But rather than choosing between the two, there may be a way of surfing the volatility wave, and even earning a profit premium from it, simply by having a well diversified portfolio that's rebalanced regularly.
Steal from the rich, give to the poor...
One of the big behavioural obstacles to rebalancing is that it means trimming strong performing positions and bolstering the underperformers. In his book Market Sense and Nonsense, Jack Schwager calls this "Robin Hood investing", or "taking from the winners and giving to the losers". To test its impact, Schwager crunched US data from between 2005 and 2010. He found that eight out of 10 randomly selected portfolios from 10 fund managers produced better risk / returns when they were rebalanced monthly than those that weren't rebalanced at all. Now, Schwager stresses that his results are not conclusive proof that rebalancing improves performance and lowers risk. Rather, what he found merely supports the argument. But Schwager isn't the only one to suggest that rebalancing can actually improve returns...
In 2012, US investment adviser Parametric Portfolio Associates looked at whether it was possible to profit from volatility. What they found hinged on the point that, apart from being associated with risk, volatility also has a big influence on how returns compound over time. What does that mean? Well, to borrow Parametric's example, let's take two stocks - Apple and Cisco. Over 20 years one dollar invested in each grew to $34…

Unlock this article instantly by logging into your account
Don't have an account? Register for free and we'll get out your way
Disclaimer:
As per our Terms of Use, Stockopedia is a financial news & data site, discussion forum and content aggregator. Our site should be used for educational & informational purposes only. We do not provide investment advice, recommendations or views as to whether an investment or strategy is suited to the investment needs of a specific individual. You should make your own decisions and seek independent professional advice before doing so. Remember: Shares can go down as well as up. Past performance is not a guide to future performance & investors may not get back the amount invested. ?>
---
---