Does a 68% share price decline sounds Tasty PLC to you?
Tasty PLC saw turnover from £10m to £45m in six years. The growing restaurant chain is the owners of Wildwood restaurants and DimTs (serves Asian cuisine).
If you want to know about the owners of Tasty PLC, see HERE.
According to Big Hospitality, UK diners is likely to spend £54.7bn on eating out by 2017. 
No wonder Tasty is looking for a slice of that market.
Despite the super competitiveness of the restaurant industry, Tasty PLC is expanding at a rapid pace. So, an insight on whether it is a successful growth company requires the following research:
Look at the change in free cash flow;
Store metrics;
Operating lease and rent;
What constitutes cash inflow?
Cash generative assets;
The situation with capex and sales;
Circumstances involving financing;
Outlook on the restaurant industry;
Market valuation.
So, let's begin.  
A Tasty's Content
My one problem with Tasty PLC
Lack of free cash flow. More accurately negative free cash flow.
I know people would point out it's in an expansion phase. They are doing it to take advantage of economies of scales. (increasing sales overcome high fixed costs leading to higher margins)
However, the business been in operations for over ten years.
Exhibit 1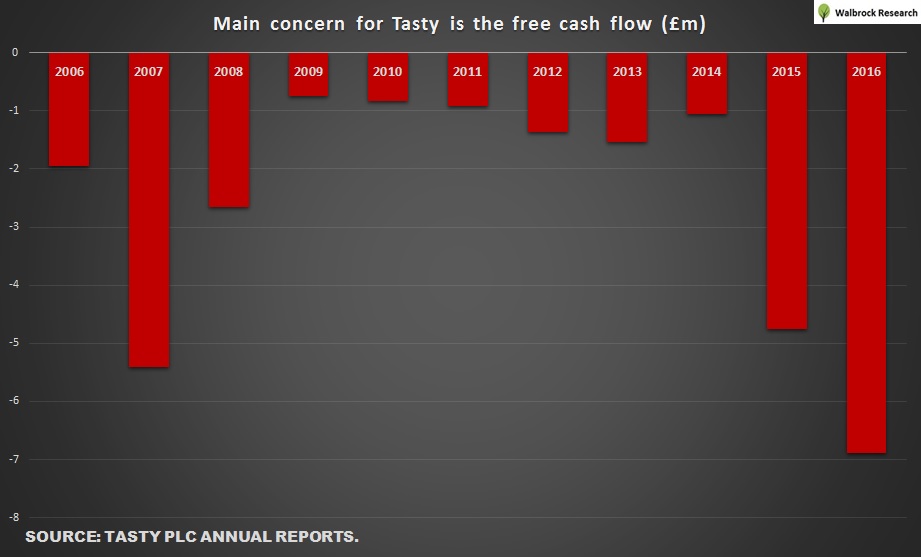 Since their 2006's IPOs, shareholders saw minimal share price appreciation. (IPOs price £0.52/share, compared to today's share price of £0.71/share, a 35% gains). There were no dividends paid during this period.
Revenue been growing, but are management paying attention to operational efficiencies
Although, revenue went up 17-fold in the last 10 years to £46m sounds impressive. Better yet, you got to know if operations are increasing its efficiencies.
Metrics such as revenue per store and revenue per employee is more useful than plain sales numbers.
Exhibit 2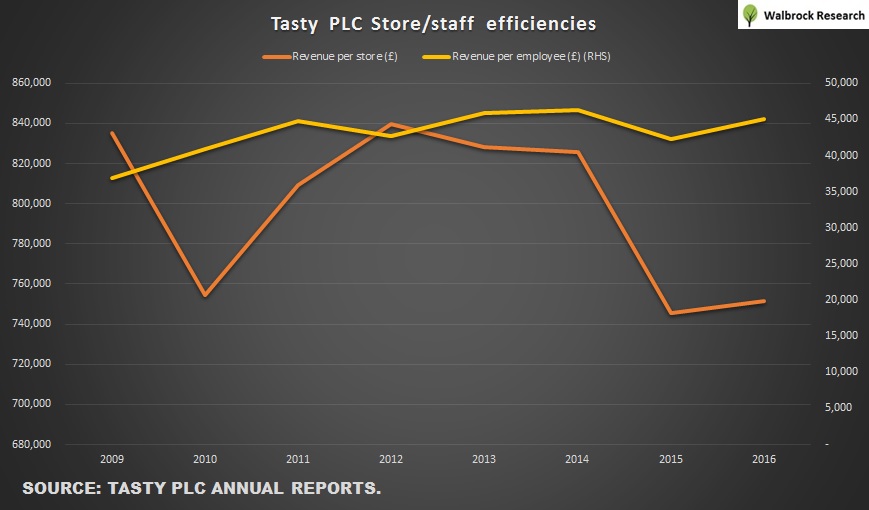 Revenue per store gyrates between £740k and £840k, where in past two years it was at the lower range. That's because Tasty was accelerating new store openings at a double-digit pace (2015: 12; and 2016: 13), compared with single digits.
Besides, opening a new store requires time for it to operate at full till. So, we question, if:
The new stores were dragging down the average sales per store?
Or, are the older stores achieving revenue…

Unlock the rest of this Article in 15 seconds
Already have an account?
Login here