Does Unilever have "expensive defensive" written all over it?
Unilever is one of those defensive income stocks investors love to love.
In fact, investors love Unilever shares so much they've pushed the price up from £25 in 2015 to a recent high of £45.
Does this mean Unilever is an "expensive defensive"? High quality, but overpriced?
Unilever: A defensive growth stock in a world of frightening volatility
Investors love Unilever because it's pretty much the closest thing you'll find to a sure thing in the stock market.
It sells everyday branded consumer products like Domestos detergent, Dove soap and Magnum ice cream to millions of people around the world.
These items are priced at a premium relative to unbranded alternatives, and that premium ends up as profits on Unilever's income statement and dividends in shareholders' pockets.
Because these products are bought every day by millions of people, Unilever's revenues, earnings and dividends have been very steady over many, many decades.
The company's recent performance looks like this: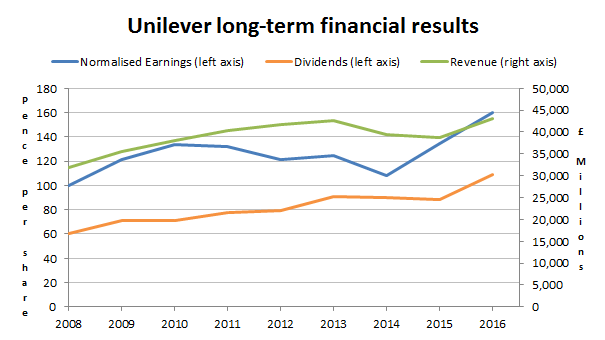 As you can see, the general trend is upwards, and while earnings declined for several years following the financial crisis, the normal state of affairs (i.e. earnings growth) has been resumed.
Cautious, defensive dividend investors just cannot get enough of this stuff, especially when the Unilever Fact Sheet says that Unilever's dividend has increased by 8% per year since 1979!
And the latest annual report has this to say:
Over the last 5 years our dividends have increased 7% per annum and our share price is up by around 50%

The company also has other attractive features, including:
High profitability: High margin branded products have given Unilever an average return on capital employed (ROCE) over the last decade of 15%, well above the market average of 10%.
Reasonable capex requirements: With no need to build retail stores or relatively little need to invest in factories and other equipment, Unilever's capex-to-profit ratio has averaged an undemanding 44% over the last decade.
No excessively large acquisitions: Acquisitions can destabilise an otherwise stable business, but Unilever has not been overly aggressive with its acquisitions. Over the last ten years, total acquisitions came to just 23% of total profits.
In summary then, Unilever appears to be a genuinely great company and up to this point, I've been unrelentingly positive about it.
However, it is possible to view Unilever through glasses which are decidedly less rose-tinted.
Unilever's days as a growth…

Unlock the rest of this article with a 14 day trial
Already have an account?
Login here