Does yesterday's result from Bellway PLC mark a turning point in the company's fortune?
It's another great year for homebuilder Bellway, as sales came in at £2,957m, marking nine years of growth.  During that period, it manages average sales growth of 17.65% p.a. with the latest sales growth below average of 15.6%. However, we must consider two things about Bellway: -
1). Homebuilders are cylindrical companies;
2). The company's sales are at record levels.
For Bellway, it is generating 118% more sales this year, then during their previous peak in 2007.
Sales support
Like all homebuilders there are two things supporting its revenue, rising average selling price and selling more homes.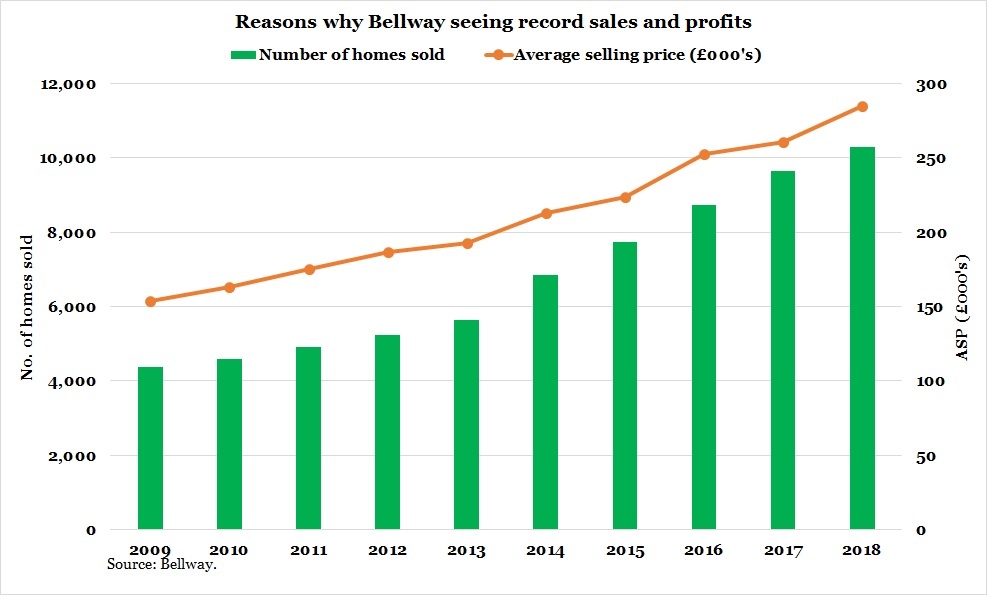 Bellway's profits (like sales) is on their ninth year of growth. But, how long can profit grow?
I mentioned earlier, homebuilders are cylindrical businesses. There is a time when profit stops growing and reverse course. That is prevalent when average selling price falls and the volume of homes sold starts to fall.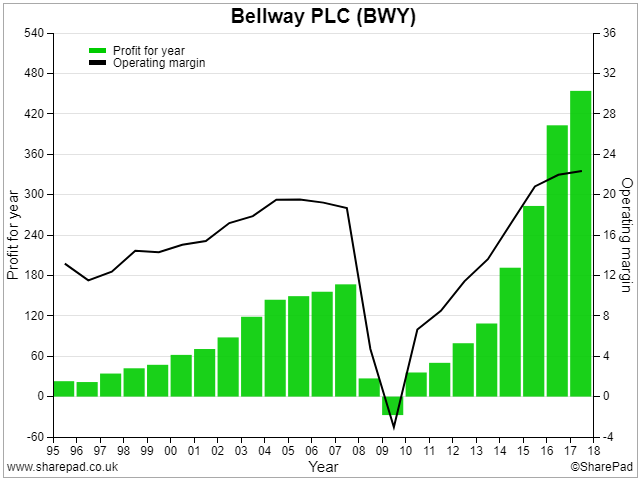 However, predicting when profits will reverse is very hard, as you can see from the chart above. Also, there are lots of factors to consider, which range from wages, affordability, mortgage rate, government help (aka intervention) and the performance of the overall economy.  
For the sake of simplicity, let's observe two things from the graph above and today's results: -
1). Bellway's latest net profit of £520m is 213% greater than their previous peak in 2007.
2). Also, Bellway's operating margin has beaten its previous peak, four years ago, and experience a slight fall of 20bps to 22.1% from 22.3%.  
A glance at Bellway's PE ratio shows the company's valuation is cheap at 7 times multiple, as earnings are at record levels.
The traditional assumption is Bellway is super cheap, but for cylindrical companies, there is a different interpretation.
Rules to adhere: When PE ratio is high (like in their 20's), and earnings were beginning to recover, it signals a GREAT TIME to invest, as long there is DEMAND sustainable, especially when the sector is important to the country and its people.  But, as the PE ratio starts getting cheaper when profits are record levels for a while, then it's SIGNALLING high probability slower earnings in the future.   A sign of peak earnings, fast approaching.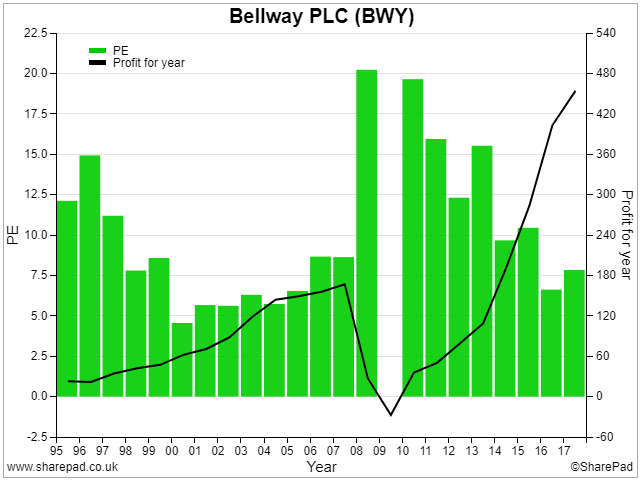 (P.S. Latest…

Unlock the rest of this Article in 15 seconds
Already have an account?
Login here