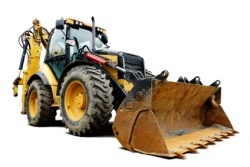 Three weeks ago I wrote about LCFR's 'excavator' investment strategy, which is essentially about finding companies with products which improve productivity and are able to be sold internationally. There was an article recently in Stockopedia which provides a very readable analysis of how economies function over the long term and draws conclusions which endorse the 'excavator' investment strategy.
The investment template followed by LCFR has proved effective at identifying teams with the knowledge and ability to:
a) identify a significant and important worldwide problem calling for a productivity improving solution,
b) develop an economic solution to the problem, and
c) commercialise the solution to create shareholder value.
Such companies are 'Game Changing' within their selected sectors.  However, in my experience, investors need to be capable of exercising considerable patience in order to fully realise the returns which such companies can provide.
An example is Elektron (LON:EKT) (in which I have a shareholding) which reported its interims last week. In 2001 I met an engineer who was in the final stages of completing a programme of grooming and selling non-core subsidiaries for Spirent – he was considering looking for another large company for which to carry out similar work – I suggested the alternative of looking for a bombed out AIM company containing a commercial nugget. The upshot was that he was appointed executive chairman of Elektron in early 2003, when the share price and market cap were 2p (vs. 32p currently) and £1 million (vs. £34 million currently).
What initially interested me about Elektron was its subsidiary Bulgin Components which had been trading for c.70 years and had a very good reputation amongst engineers for supplying innovative connectors, with a particular reputation for cost effective products for harsh conditions – this positioning enabled it to achieve high margins and sell internationally.
The company was bombed out because in the 1990s the board decided to use the 'boring' Bulgin platform as a springboard to join the dotcom boom – unsurprisingly this strategy failed. The incoming chairman in 2003 was faced with having to stem the cash outflow resulting from the dotcom strategy, which needed some additional funds in order to implement his proposed programme – the then existing major shareholder wanted to block the fundraising in order to avoid…

Unlock this article instantly by logging into your account
Don't have an account? Register for free and we'll get out your way
Disclaimer:
This note was prepared by LCF Research Limited using information provided by the subject company's management or publically available news sources. No representations are made nor warranties given (express or implied) in relation to accuracy and completeness. This document is not an invitation to invest in the subject company and does not purport to contain all the necessary information that a prospective investor might require. LCF Research Limited recommends prospective investors to conduct their own thorough independent analysis of the subject company and the information contained in this note or referred to above.
---
---

Elektron Technology plc is a holding company. The Company is engaged in designing, manufacturing and marketing products that connect, monitor and control. It operates in two segments: Connectivity, and Instrumentation, Monitoring and Control (IMC). Connectivity comprises two complementary product families: Bulgin and Arcolectric. The Company's products are helping its customers to quantify real-world environments, process this data and act on the results. Its products include sealed connectors, Switches, indicators, battery, fuseholders, ophthalmic instruments, nanopositioning and sensing equipment, and vehicle power management systems. The Company's Checkit offers a wireless solution providing work management software and automated monitoring. Its subsidiaries include Elektron Technology Corporation, Elektron Technology PTE Ltd, Elektron Technology UK Ltd and Elektron Technology (Shanghai) Trading Limited. more »

LSE Price