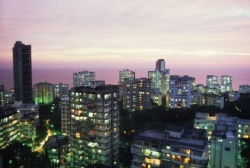 The purpose of this article is to set out an "emerging market" investment thesis that I understand a number of Stockopedia contributors follow, and allow for discussion and investment ideas within that thesis. Here in the UK and, I believe, in many "developed economies" (including the US, Eurozone and Japan) we have a pretty poor view of the economic outlook, as reflected in stock markets in those economies. What many fail to realise, however, is that large parts of the rest of the world do not see things that way. I am fortunate to have relatives and investing colleagues that are either based in "emerging economies" (EEs) or have recent direct experience of them. The message I am hearing is that whereas we experienced a "global financial crisis" (GFC) in the developed world, the GFC had relatively little impact on the emerging economies, where it was experienced as little more than a blip on a path of rapid growth which is now continuing.
The IMF's World Economic Outlook, updated July 2010,  supports this thesis with the following historic & forecast chart: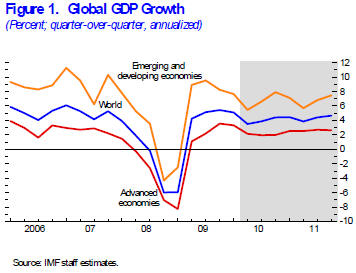 I'll highlight near term growth forecasts for some selected EE countries:
| | | |
| --- | --- | --- |
| Country | 2010 % GDP Growth | 2011 % GDP Growth |
| | | |
| China | 10.5 | 9.6 |
| India | 9.4 | 8.4 |
| Brazil | 7.1 | 4.2 |
| S Korea | 7.4 | 8.0 |
Many Stockopedia contributors and I invest in natural resource companies. These are indirect plays on EE growth, as a driver for demand for natural resources, as the slow pace of growth in developed economies and a strong push towards more efficient consumption of natural resources is unlikely to deliver much demand growth (if any) from those quarters.
However, it also possible to invest directly in these EE countries. In recent years the emergence of ETFs investing directly in EEs has made such investment much easier for retail investors than it was in the past. The relatively low charges of such index tracking ETFs also help to minise "frictional costs" for the investor. Some examples of such ETFs are:
Further details of these ETFs can be found here: http://uk.ishares.com/en/rc/funds/overview/EMEQ_CNTRY. Investment trusts such as JPMorgan Indian Investment Trust (LON:JII) also offer another means of gaining exposure.
Over…

Unlock this article instantly by logging into your account
Don't have an account? Register for free and we'll get out your way
Disclaimer:
The author may hold shares in this company, all opinions are his own and you should check any statements that appear factual and not rely on them before making an investment decision. The author is NOT a qualified analyst nor authorised to give investment advice. Whilst the author is a director of ShareSoc, all views expressed are entirely his own and not necessarily those of ShareSoc.
---
---

JPMorgan Indian Investment Trust plc is an investment holding company. The Company's objective is to achieve capital growth from investments in India. The Company also invests in companies, which earn a material part of their revenues from India. The Company will not invest in the other countries of the Indian sub-continent nor in Sri Lanka. The Company does not invest over 15% of its gross assets in other United Kingdom listed closed-ended investment funds (including investment trusts). It does not invest over 10% of its gross assets in companies that themselves may invest over 15% of their gross assets in United Kingdom listed closed-ended investment funds. The Company invests in a range of sectors, including financials, information technology, materials, consumer discretionary, consumer staples, utilities, energy, telecommunication services and healthcare. JPMorgan Funds Limited (JPMF) acts as its alternative investment fund manager and company secretary. more »

LSE Price